Castello Summer of Blue — Wedge Salad with Warm Honey, Figs, and Blue Cheese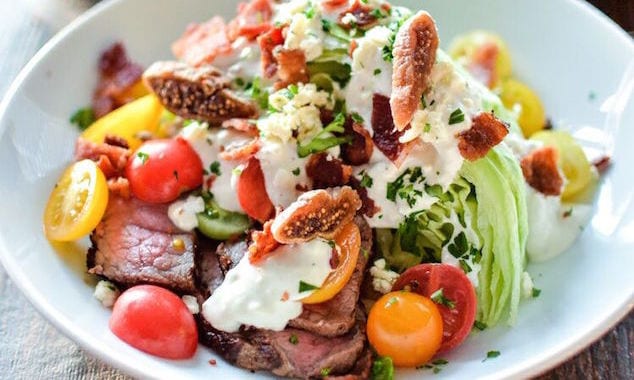 PARTNER POST – Get inspired with creatively crafted Castello Blue Cheese as we celebrate a Summer of Blue with #BluesdayTuesday.
Iceberg is topped with heirloom cherry tomatoes, crispy bacon and sliced sirloin. What sends this classic salad over the edge is homemade blue cheese dressing with sweet raw honey and figs.
By Justine Sulia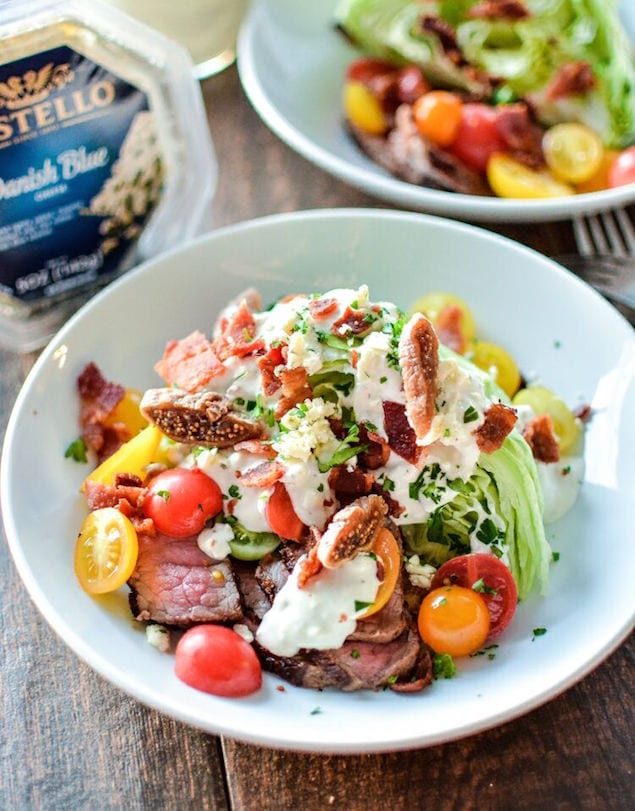 Happy Tuesday, everyone! It brightens my rainy spring day to be able to share this classic wedge salad with warm honey fig blue cheese. It's a little bit of sunshine on an otherwise icky day.
It should come as no surprise that I love to grill (and eat) outdoors. I mean that's what summer is all about, right?! While grilled foods are number one when it comes to outdoor eating and picnics, the side dishes are a close second. This is where this classic wedge salad comes into play. It seriously is the perfect side dish. Iceberg wedges are topped with fresh heirloom cherry tomatoes, crispy bacon and sliced sirloin. Pretty traditional (less the steak of course), right? What sends this classic wedge salad over the edge is the homemade blue cheese dressing. You guys, it's amazing. A traditional blue cheese dressing recipe is combined with sweet raw honey and finely chopped figs.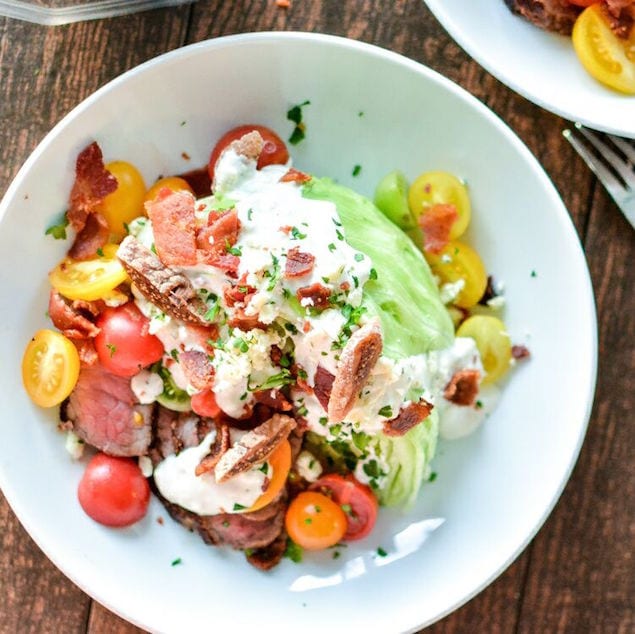 As I basically become obsessed with blue cheese in the summertime, Castello has become my new go-to brand for blue cheese. The tangy characteristics are balanced with delicious sweet and salty flavors that are ideal to top a grilled burger or to transform into the perfect dressing to pour on top of this classic wedge salad. From crumbled, soft, and spreadable, to a sliced blue cheese perfect for melting with floral notes, Castello has a wide range of unique blue cheeses. Check out Castello's website for more information on their cheeses.
Recipe for this classic wedge salad with warm honey fig blue cheese is below! Pair it with a pale ale and have a wonderful day everyone! xo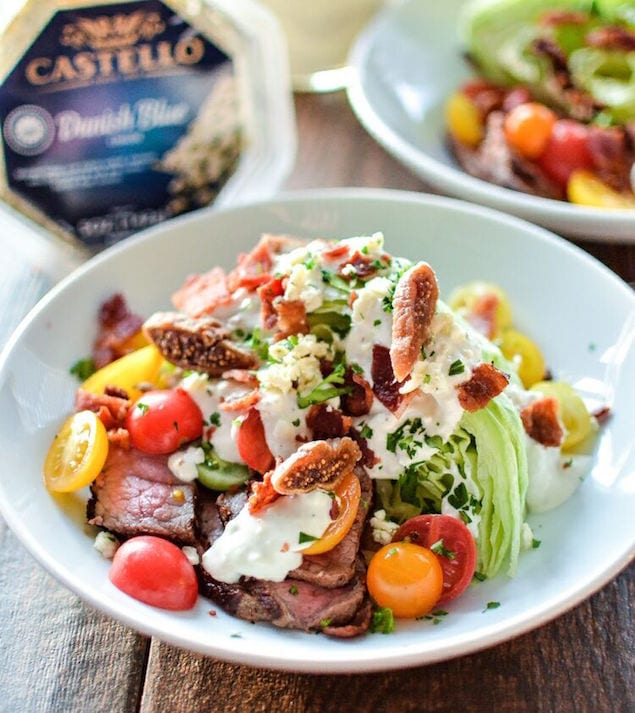 Castello Summer of Blue — Wedge Salad with Warm Honey, Figs, and Blue Cheese
Iceberg topped with cherry tomatoes, bacon and sliced sirloin is sent over the edge with a homemade blue cheese dressing with sweet raw honey and figs.
Ingredients
Warm Honey Fig Blue Cheese Dressing
⅓ cup mayo
⅓ cup sour cream
¼ cup buttermilk
2 tablespoons whole milk
2 tablespoons raw honey
1 tablespoon white wine vinegar
¼ teaspoon black pepper
4 ounces Castello Crumbled Blue Cheese
4 dry Mission figs, finely chopped
Classic Wedge Salad
8 ounce petite sirloin steak
salt and black pepper
1 tablespoon unsalted butter
1 large head of iceberg lettuce, cut into 4 equal-sized wedges
1 cup heirloom cherry tomatoes, cut in half
4 strips of bacon, cooked until crisp and chopped
2 ounces Castello Crumbled Blue Cheese
5 dry Mission figs, sliced
fresh parsley (for garnish)
Instructions
In a medium bowl, whisk together the mayo, sour cream, buttermilk, whole milk, honey, white wine vinegar and black pepper until smooth and creamy. Fold in the blue cheese and chopped figs. Cover and refrigerate until you are ready to serve.
Season your steak generously with salt and black pepper. Preheat a large griddle pan over medium-high heat. Add 1 tablespoon of butter and melt. Once melted add the steak and cook for 3-4 minutes on each side (for medium rare). Remove from heat and set aside to rest. Once rested, slice the steak against the grain in long, thin strips. Set aside.
Assemble your salads by layering sliced sirloin, cherry tomatoes, bacon, blue cheese and figs on 4 iceberg salad wedges. Drizzle with the warm honey fig blue cheese dressing and garnish with fresh parsley.
Enjoy Immediately!
Justine Sulia
I am the writer, publisher and photographer behind Cooking and Beer. Over at Cooking and Beer, I am combining bold and inspirational cooking (and baking) with the best craft beer I can get my hands on!