Carrot and Spinach Muffins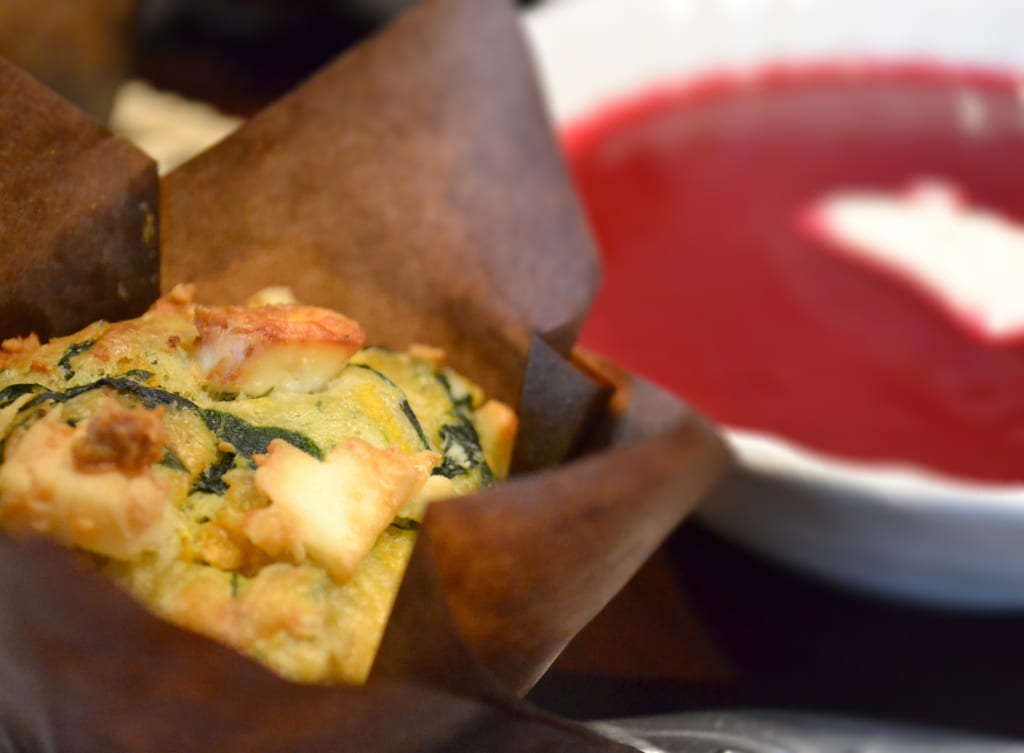 Packed full of spinach, grated carrot and buttery onions and with the occasional burst of a crunchy pumpkin seed, these are definitely much more healthy than a regular muffin.
By Helena Berthon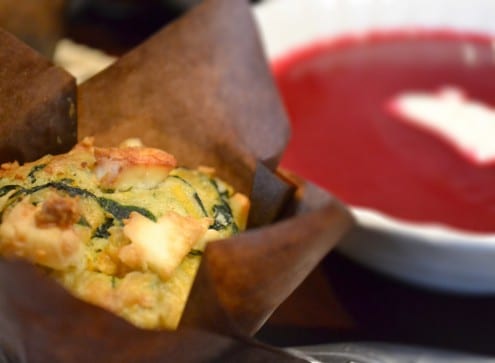 I've never had a problem with carrots.
They are a generally inoffensive vegetable – with a mellow flavour and a crisp and crunchy bite, what's not to like? Whizzed up with a grating of fresh ginger and butter, they make a luxurious and velvety soup; they are the perfect veggie filler to meaty stews and casseroles, and, unlike most vegetables, they can swing over to the sweet side in sugar-laden creations such as an extravagant, cream cheese icing-layered carrot cake. YUM.
This all changed last week. I had a major carrot nightmare – a traumatic experience that made it impossible for me to look at carrots in the same way again. Whilst tidying up the roof at work, I came across a mysterious, unlabelled bag. In a monotonous day of clearing and cleaning, this was an intriguing find – furtively concealed behind the swinging shed door, I was lured in by its ambiguous contents. HUGE mistake. I don't think the phrase "Curiosity killed the cat" has ever applied so fittingly to a situation. In the future, whenever I hear that inquisitive voice in my head musing "Hmmm, I wonder what's in there….just a little peek can't hurt…", I will silence it more speedily than Bug's Bunny's carrot-gnawing choppers. As soon as I peered into the bag, I realised the obscenely foolish error of my ways. Inside, was a barely identifiable honking orange mulch swimming in a fly-infested lake of carrot juice: a lethal mixture that was letting off one of the most toxic, gag-inducing odours that has ever attacked my poor, unassuming nostrils. The remains of carrots that had obviously died a very slow and torturous death.
The image of these mouldy festering carrots has been alarmingly imprinted on my brain since – an image that I want to conceal deep deep down, away from all my happy root vegetable memories. It needed to be supplanted by a recipe from carrot heaven, usurped by a treat that would banish the smell and sight of last week's carrot horrors. This recipe comes from veggie-loving Hugh Fearnley-Whittingstall who has just completed a TV series solely focused on vegetables. I am not normally a fan of savoury muffins, but these were terrific. Packed full of spinach, grated carrot and buttery onions and with the occasional burst of a crunchy pumpkin seed, these are definitely much more healthy than a regular muffin, but do not sacrifice on flavour. I decided to crumble a few nuggets of feta on top of each muffin which adds a delicious salty tang and creates a wonderful golden cheesy top. I snaffled my first one straight out of the oven with a steaming bowl of home-made beetroot soup. Scrummy.

Carrot and Spinach Muffins
Packed full of spinach, grated carrot and buttery onions and with the occasional burst of a crunchy pumpkin seed, these are definitely much more healthy than a regular muffin.
Author:
Helena Berthon, adapted from Hugh Fearnley-Whittingstall
Ingredients
80g unsalted butter, melted and cooled, plus 10g for frying
1 onion, finely diced
2 tsp ground cumin
150g spinach, tough stalks removed and very finely shredded
250g plain flour
2 tsp baking powder
½ tsp bicarbonate of soda
1½ tsp salt
2 eggs
275g whole milk yoghurt
150g carrots, grated
40g pumpkin seeds, toasted
100g feta (optional)
Instructions
Heat the oven to 200°C/400°F/gas mark 6 and line a muffin tin with 12 paper cases.
Warm the 10g of butter in a large frying pan and sauté the onion with a pinch of salt until soft and translucent, about 10 minutes. Add the cumin, stir for a minute, then add the spinach and stir until wilted and soft. Cool.
In a large bowl, whisk together the flour, baking powder, bicarbonate of soda and salt. In a jug, whisk the melted butter, eggs and yoghurt. Pour the wet ingredients over the flour and stir with a spatula until just combined. Do not overmix. Fold in the cooled onions and spinach, the carrots and seeds. Spoon into the cases and crumble the feta, if using, over the top of each muffin. Bake for about 18 minutes, until a toothpick comes out clean.
Helena Berthon
Helena is a huge foodie making the most of the explosive gastronomic scene in London, England. She has had her own food blog, http://hellyfillsherbelly.com, for almost two years in which she combines recipes and food styling, with witty and engaging stories. At the moment, she's working all hours in the world of food television, which although hard work, is the perfect opportunity to taste some top notch food. She loves eating, restaurants and cooking, and can't imagine a life that doesn't revolve around food.