Step up your cold brew coffee game with crushed cardamom pods for a fun infusion. Enjoy on a warm morning or stir it into your next cocktail creation.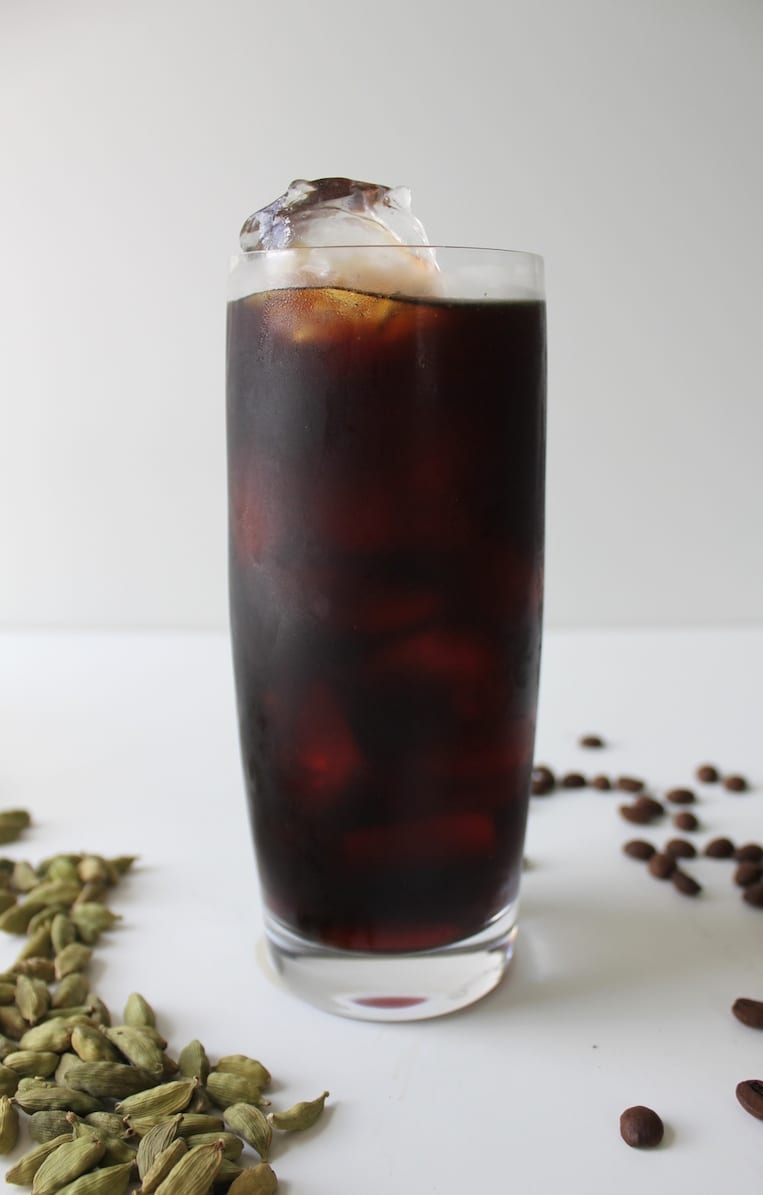 I've shared before about making cold brew coffee at home. It's easy and can be done inexpensively. Making cold brew doesn't require a brewer designed for the cause, but it does make it more convenient. You can make delicious cold brew coffee without a special device, just use any glass or plastic container that can hold a few quarts of water and be prepared to strain it out with a paper filter at the end into a separate container.
I love to keep a batch of cold brew coffee in the refrigerator for those afternoons when I have to get somewhere quickly and don't have time to brew something, but would love some coffee. Also, for cocktails. Having a batch of cold brew on hand makes cold coffee cocktails incredibly convenient.
I really like how cold brew coffee takes on a round, velvety mouthfeel and how the lack of acidity accentuates the natural sweetness in the coffee, often pulling out those foundational low notes. And just as coffees differ in flavor, every coffee takes on different characteristics when brewed using different methods, for example in a Chemex vs cold brew.
I brought back a bag of Wrecking Ball's Pillow Fight Espresso* (It is okay to use a coffee that says espresso for something other than espresso? My take – absolutely. Roasters will roast coffees for espresso to highlight the characteristics in the coffee that make it taste especially delicious when brewed as espresso, but you'll find that coffees roasted for espresso are also delicious when prepared as brewed coffee or cold brew.) from a recent trip to California. Pillow Fight is a blend of Ethiopian heirloom varieties, pulped-natural and fully-washed along with a coffee from Brazil. I was curious to see how it faired as cold brew, so I made a batch and found that it took on a really lovely dark chocolate and caramelized citrus sweetness in the process. I made a batch of it with crushed cardamom pods to add spice to the mix. I loved the results of infusing the cardamom along with the coffee and I highly recommend it. Try it with a coffee or coffee blend that emphasizes flavors like sweet citrus, honey, chocolate, vanilla.
You'll need 8 cardamom pods, crushed with a mortar and pestle and 1/2 lb of coffee (250 grams), ground at medium grind similar to what would be used for a Chemex, and your chosen cold brewing vessel.
Add the crushed cardamom pods and ground coffee to your chosen container and slowly add 6 cups of cold water, pouring in a circular motion as you add it. Once all of the water is integrated, use the back of a wooden spoon or spatula to submerge the grounds. Cover the container loosely with a towel and let sit undisturbed for 12 hours. Remove the towel and filter out the grounds through a paper coffee filter. Refrigerate and enjoy within one week. Try it with a scoop of ice cream!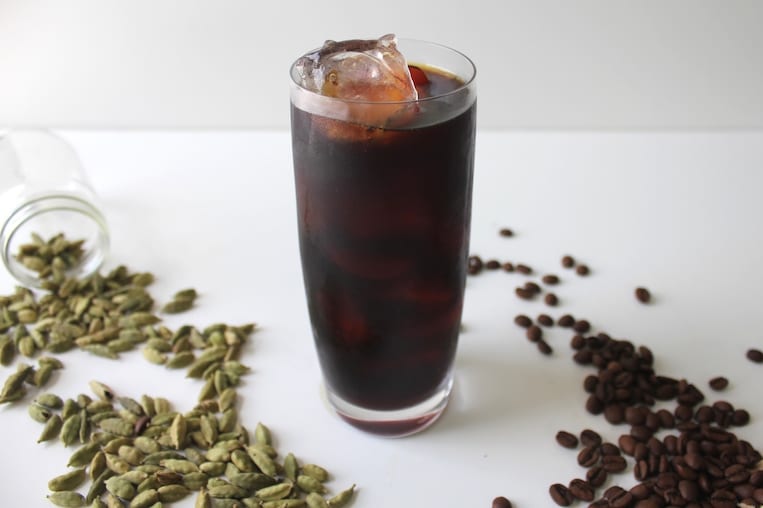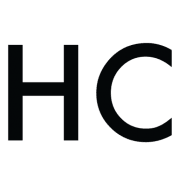 Mallory Leicht
Mallory is a food and beverage blogger and organizer of flavor-focused workshops with Chase the Flavors, a do-it-yourself resource with a Midwest perspective that celebrates savoring the special in every occasion with recipes and everyday inspiration in the kitchen, home, and beyond. Mallory is a librarian with a special interest in information access across new technologies, seed libraries, audiobooks, and non-dowdy cardigans. She loves to see the ways people use libraries to bring their dreams to life and believes that information access and education empower joyful, creative living. Beyond blogging and books, is coffee. Mallory keeps connected with the specialty coffee industry as a competitions committee member for the Specialty Coffee Association of America, helping judge deliciously inspiring coffee competitions.