Cajun Style Roasted Almonds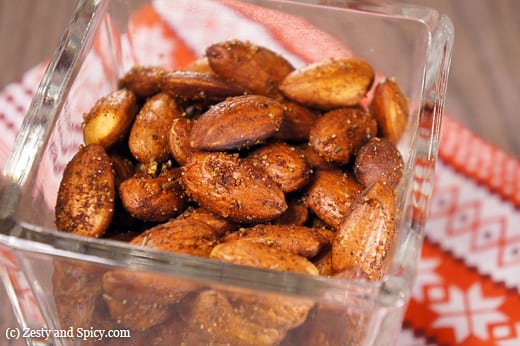 Enjoy this super simple cajun style roasted almonds recipe, courtesy of Ariel Rebel.
By Ariel Rebel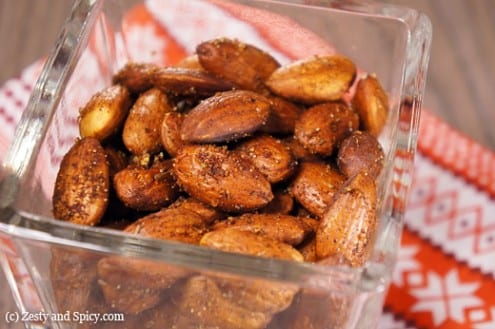 I always have nuts laying around in my house. Either roasted with spices or just raw, I love them all. It's a great and healthy way for me to get a boost of energy and make sure I eat all the good fat and control my blood sugar to get me through the day at the computer or on the go at a photo shoot.
Cajun Style Roasted Almonds
Enjoy this super simple cajun style roasted almonds recipe, courtesy of Ariel Rebel.
Ingredients
1 cup of raw almonds
1 teaspoon of olive oil
1½ teaspoon of cajun spices (preferably homemade)
Instructions
Pre-heat your oven at 325 and line parchment paper on a baking sheet.
In a mixing bowl, toss around the raw nuts, olive oil and only 1 teaspoon of cajun spices.
Roast the almonds in the oven for 20-25 minutes. Once out, sprinkle the last ½ teaspoon of spices on top of the warm nuts, mix gently to make sure all nuts are covered by the extra spices and wait till they cool down before eating them, so the excess oil dry up and they don't burn your mouth.
Ariel Rebel
Canadian food blogger, model and web designer Ariel Rebel was born in Montreal in 1985. Her love for food started at a young age by looking at her grand mother cooking pie after pie while she was trying to steal some uncooked dough from the counter. Ariel inspiration for recipes comes from her French Canadian roots mix with all her traveling memories and the countless hours she spent running around Montreal to taste all the different culinary cultures. Her passion for cooking big dinners for her friends and family never ceases to increase every year and that's what motivate her to keep learning new skills while experimenting in her kitchen at much as she can. On her blog (ZestyandSpicy.com) Ariel shares with the world her passion for flavorful and healthy recipes while blogging small pieces of her life as a model and a web entrepreneur.