During winter months, usually soup is on the table more often than salad. Even out the score with this cabbage, persimmon, and roasted salmon salad.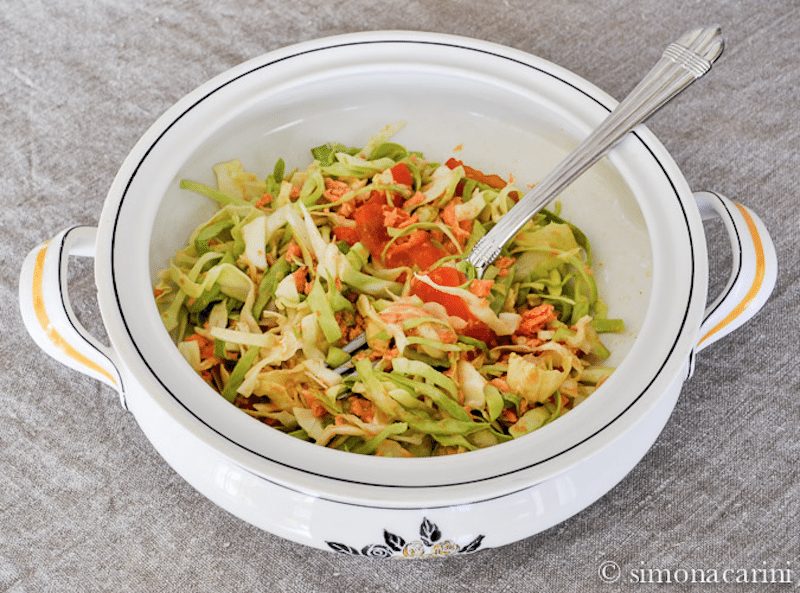 This year, I am having an intense relationship with raw cabbage. It's not that I discovered it, but I've been reminded how much I like a salad of finely shredded cabbage, and how much I enjoy playing with it, adding various ingredients and tasting the results.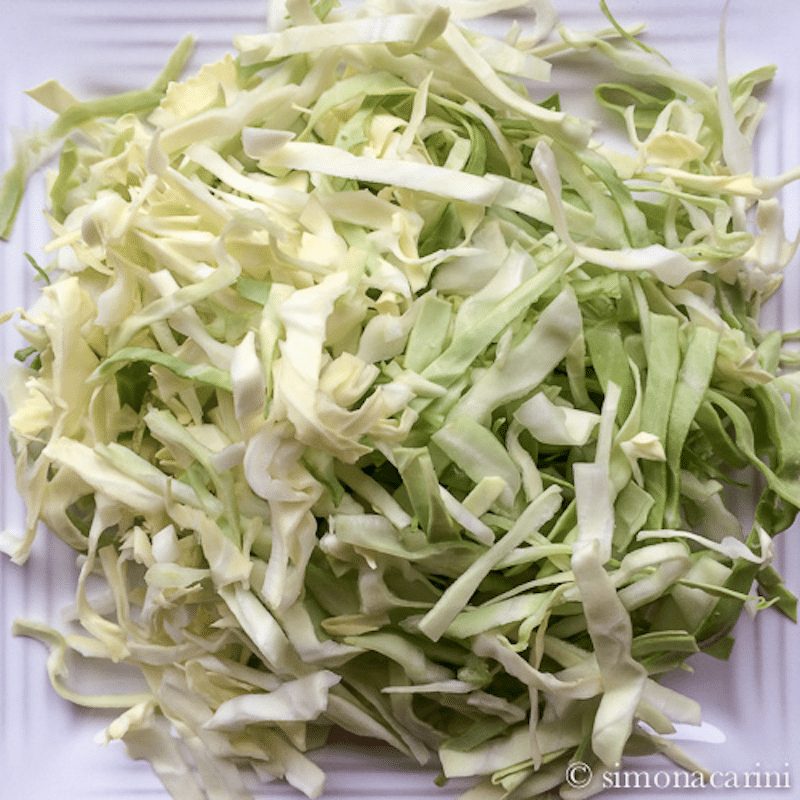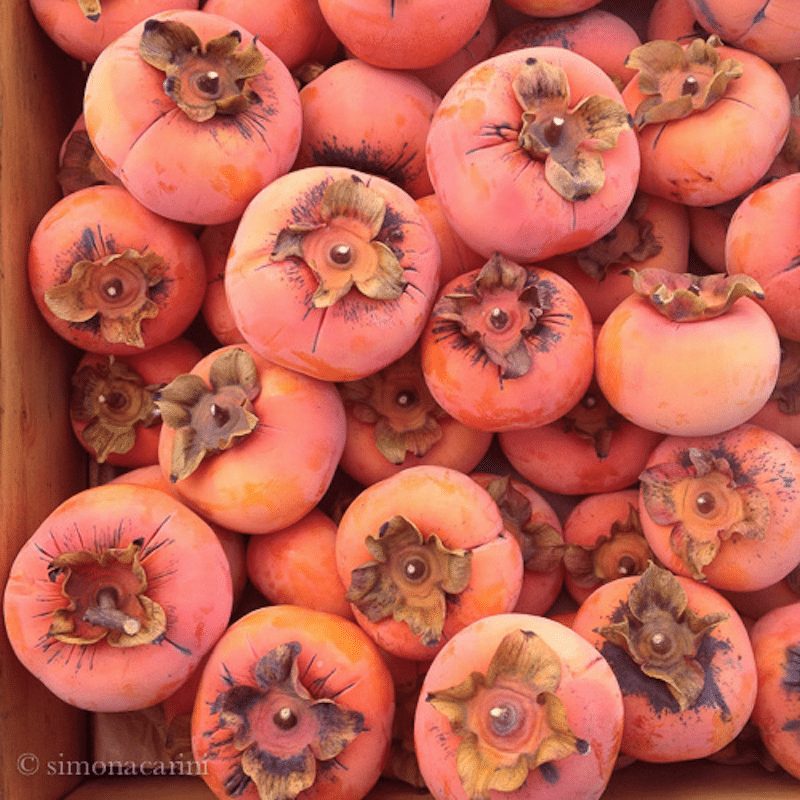 I recommend you give it a try: it is easy, fast and gives a very nice result. I also prepared black cod (a.k.a., sablefish) in the same way as the salmon, and was happy with my decision. I usually purchase king salmon (a.k.a., chinook) or coho, rigorously wild-caught.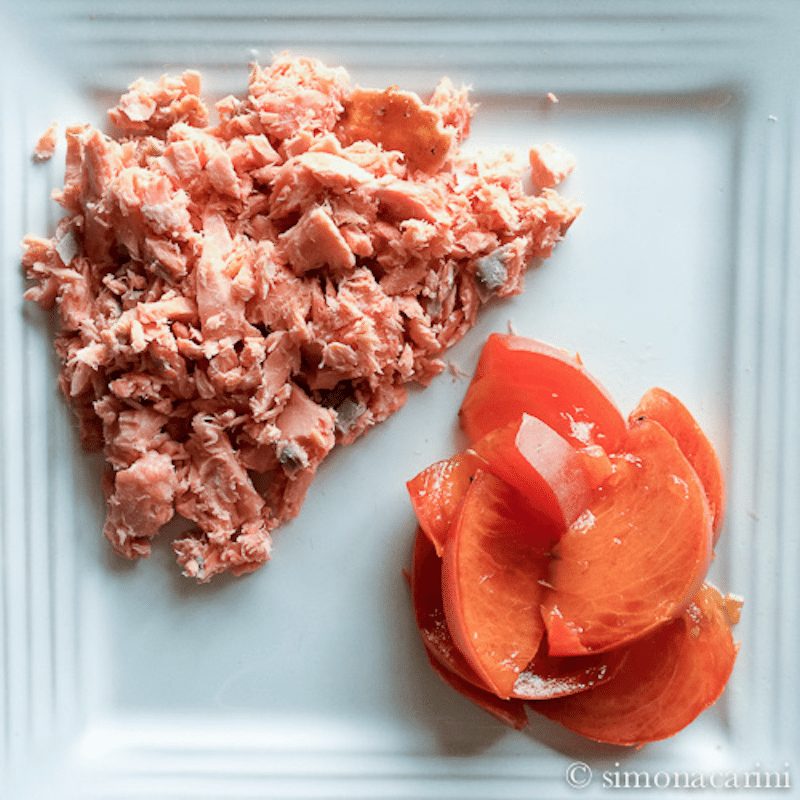 I made roasted sesame tahini and tahini sauce for an earlier recipe and have since used the sauce with various vegetables always with nice results. For this salad, I made a batch without garlic. Tahini sauce offsets persimmon's sweetness and brings together the rich, oily salmon with the crisp, fresh-tasting cabbage.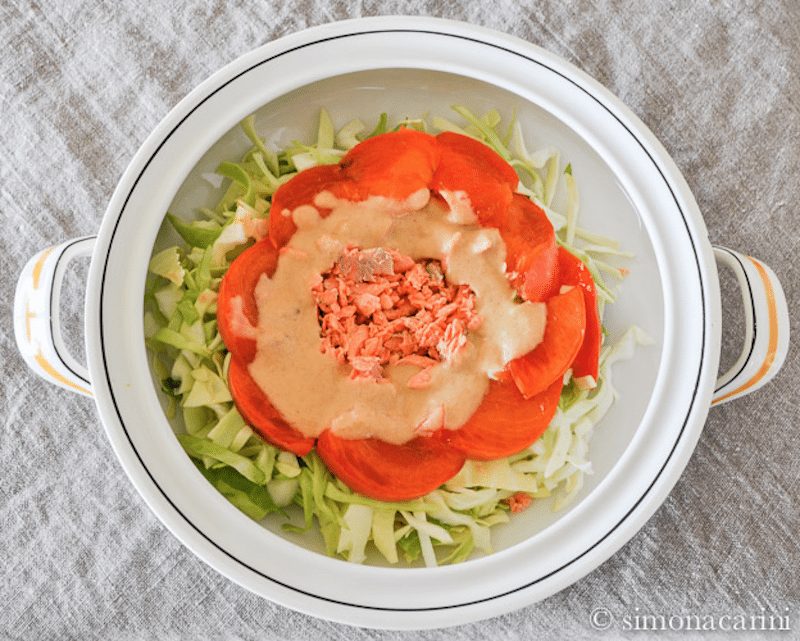 Cabbage, Persimmon, and Roasted Salmon Salad
Ingredients
1 cup /150 g / 5¼ ounces white sesame seeds
2 tablespoons / 30 ml extra-virgin olive oil
¼ teaspoon fine sea salt
Ingredients for tahini sauce:
¼ cup / 60 ml tahini, homemade or store-bought
¼ cup / 60 ml water
4 teaspoons / 20 ml fresh lemon juice
¼ teaspoon fine sea salt
Note: the recipe I used previously4 includes: 2 roasted garlic cloves, peeled and crushed OR 1 garlic clove, peeled and minced. I omitted the garlic in the tahini sauce for this salad.
For the salad, for each person:
2 ounces roasted salmon
½ medium Fuyu persimmon
4 ounces finely shredded cabbage
⅛ teaspoon fine sea salt, or to taste
2 tablespoons / 30 ml tahini sauce
Note: Fuyu is a non-astringent variety of persimmon. It can be eaten when firm or it may be left to ripen (and soften), as preferred.
Instructions
How to make toasted sesame tahini
Toast the sesame seeds in a dry skillet on medium heat until they are tanned and fragrant. Shake the skillet often or stir the seeds with a spatula. This will take just a few minutes, so guard the seeds like a hawk: they will burn easily. Transfer the seeds to a plate and let cool completely.
Process the sesame seeds in a small food processor or blender until a thick paste forms. Add the olive oil and process until smooth. Add sea salt and process briefly to distribute. Transfer the tahini to a glass jar and refrigerate until ready to use.
How to make tahini sauce
Rather than raw garlic, I prefer to use roasted garlic, whose flavor is more muted. As I use the oven often, it is easy for me to wrap a few unpeeled garlic cloves in foil and put them in the oven for 10-15 minutes, depending on the oven temperature.
Whiz all the tahini sauce ingredients until smooth. You will get more than you need for the beans, but this sauce can be used to dress roasted or steamed vegetables.
How to compose the salad
If the roasted salmon is refrigerator-cold, warm it up slightly. Flake the salmon.
Wash the persimmon, halve it, pull away the stem and use the knife to remove the core. Slice half for the salad. If the slices are long, halve them crosswise.
Plate the salad: season the cabbage with the sea salt and toss. Distribute the salmon and the persimmon on the cabbage bed. Drizzle the tahini sauce on the top.
Serve with additional tahini sauce on the side. Each person will toss the salad before eating.