This cheesy, savory gratin makes a great vegetarian main, or you could save the recipe to serve as a luxurious holiday side dish.
By Bowen Close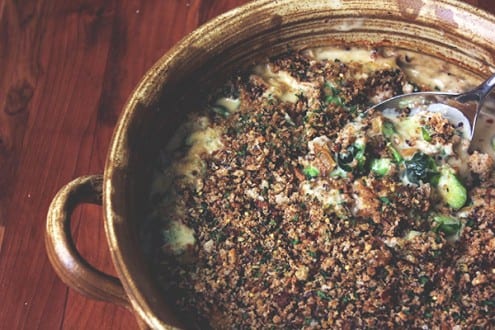 Brussels Sprouts and Caramelized Onion Gratin
This cheesy, savory gratin makes a great vegetarian main, or you could save the recipe to serve as a luxurious holiday side dish.
Ingredients
2 Tbsp. butter, separated
1 cup bread crumbs (I have a mix of all kinds of wheat breads in my bread crumb bag; if you use white they may not end up quite as brown as the photos above)
2 tsp. lemon zest (around 1 small lemon)
Small handful of chopped parsley
1 lb. brussels sprouts, trimmed of rough/dirty outer leaves and tough ends and halved
1 Tbsp. flour
1 c. milk and or heavy cream
Around 4 oz. grated Gruyere/swiss cheese, or other cheeses (in this case I used a mix of goat cheese and grated mozzarella and Parmesan, because that's all we had – it ended up sightly too rich, though, so if you're using something richer than Gruyere consider reducing the amount)
1-2 Tbsp. whole grain mustard
Pinch of chili flakes (optional)
¼ cup caramelized onion, about 1 onion's worth (and when I made this I was a little pressed for time, so I didn't fully go through the full caramelization process, just until it was deeply golden and tender – that's okay)
Salt and pepper
Instructions
Heat oven to 400F. Bring a medium pot of salted water to a boil.
Prepare bread crumb topping: Melt 1 Tbsp. butter and combine with bread crumbs, lemon zest, and parsley in a small bowl. Set aside.
Cook brussels sprouts: Boil brussels sprouts in prepared pot of water for 7 minutes. They should be mostly tender by this point, but will continue to cook in the oven. Strain in a colander or remove with a slotted spoon and place in a large mixing bowl.
Make the sauce: Melt the other 1 Tbsp. butter in a small-to-medium pot. Add the flour and whisk until combined; cook another minute while whisking to reduce the floury taste. Pour in the milk and/or cream at a moderate speed, whisking constantly. The mixture may thicken drastically at first; that's okay. Whisk until combined and cook for 2-3 minutes to help the sauce thicken. Turn off the heat and add the cheese, mustard, and chili flakes (if using). Stir to combine and salt and pepper to taste.
Combine and bake Pour off any cooking liquid that has accumulated in the bowl with the brussels sprouts. Add the sauce and the caramelized onion, and salt and pepper to taste. Spread in a baking dish and top with the bread crumb mixture. Cover with foil and bake for 15 minutes, then remove the foil and bake for another 5 minutes or until golden brown and bubbly. Let sit for at least 10-15 minutes before eating.
Notes
Storage/making ahead: This dish can be prepared unbaked up to 5 days ahead of time, covering well and refrigerating until baking and not making or adding the bread crumb topping until right before baking. If baking from cold, bake for an additional 5 minutes with the foil and then without the foil as much as needed to be warmed throughout. Fully baked, it can be made up to 5 days ahead of time and stored covered and refrigerated, and can be reheated in an oven.
Bowen Close
Bowen Close believes that food should make people happy and healthy, and loves bringing together people with creative, delicious food made from the heart. She loves making farm-inspired, flavorful dishes with sustainable ingredients - whether that's a big plate of roasted veggies, a towering chocolate layer cake, or a cocktail utilizing backyard ingredients - and collects recipes and other food-related stories on her website, Bowen Appétit. She is a chef, cooking instructor, and food writer living in Southern California with her husband and fully stocked pantry.