A decadent holiday salad of raw brussels sprouts gets a special touch of warm, crispy baked goat cheese with bright squash and pomegranate.
By Nicole Gaffney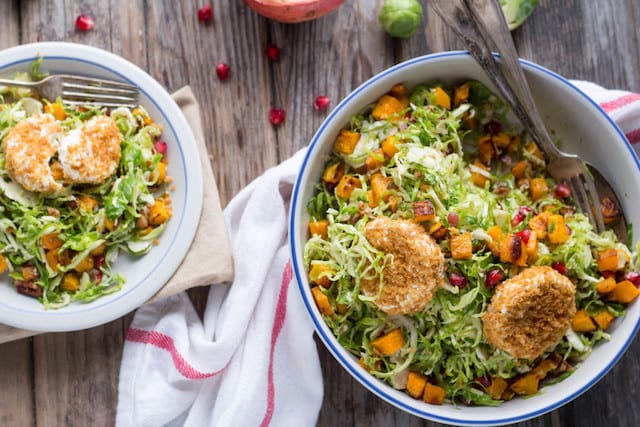 Whenever I hear someone gush about how much they love brussels sprouts, I can't help but laugh to myself because seems like just yesterday they were regarded as one of the most despicable vegetables on the planet. They've gone from being the most hated to the most loved vegetable in the country practically overnight. What was once only served completely cooked to death and smelled like rotten eggs has now been adopted by chefs all over as being one of the most versatile and exiting vegetables to play with.
We've all come to appreciate the crispy, caramelized flavor of a well-roasted sprout, but have you ever tried them raw? Sliced nice and thin, raw brussels sprouts have a texture more tender than cabbage, but more substantial than lettuce. They can stand up to a myriad of bold toppings and dressings without ever taking over. Raw brussels sprouts are sweet, mild and fresh – a far cry from the putrid, mushy spheres that was once all we ever knew they could be.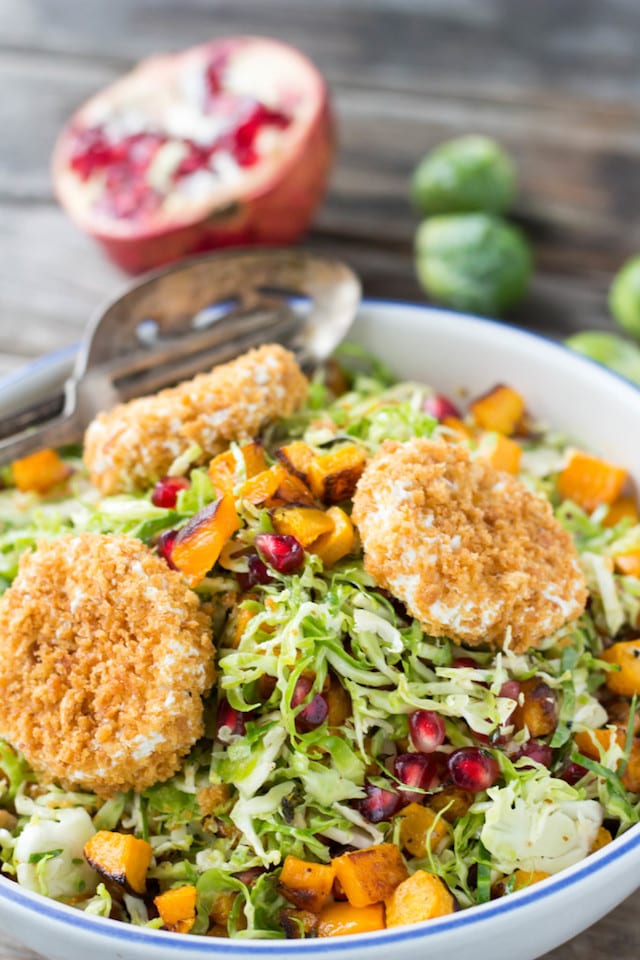 Now, that fried goat cheese? That's where it's at. If there's anything that can improve goat cheese in the first place, it's coating it in crispy breadcrumbs and warming it to an oozy, gooey state. But having to go through the process of frying solely for an accent on a salad seems a bit exorbitant. We're home cooks, which means we need to do all the clean up ourselves, and that makes unnecessary frying out of the question. So to solve the problem, I've developed a method of first toasting the breadcrumbs, coating the goat cheese and then gently warming in the oven. You get the same overall effect with only with a fraction of the effort.
To all my holiday manu procrastinators out there, consider adding this one to your long list of options. Nearly all elements can be made in advance, it's healthy while still being a little bit decadent and it's totally on trend for fall. Plus, the best part? Kids will eat it, too.
Print
Brussels Sprout and Butternut Salad with Pomegranate and Crispy Goat Cheese
A decadent holiday salad of raw brussels sprouts gets a special touch of warm, crispy baked goat cheese with bright squash and pomegranate.
Author:

Nicole Gaffney

Category:

Salad, Side
FOR THE SALAD
1

small butternut squash (about

1.5

lbs, peeled, seeded and diced fairly small)

1 tablespoon

olive oil
campaignIcon Coupons
salt and pepper to taste

1

lb brussels sprouts

1/2 cup

pomegranate seeds

1/4 cup

chopped pecans (toasted)
FOR THE GOAT CHEESE
8 ounces

goat cheese

1 cup

panko bread crumbs

1 tablespoon

olive oil
FOR THE VINAIGRETTE
1

small shallot (minced)

1 tablespoon

apple cider vinegar (or white wine vinegar)

1 tablespoon

coarse grain mustard

1 tablespoon

honey

1/2 teaspoon

salt
freshly cracked pepper to taste

1/4 cup

extra virgin olive oil
Instructions
FOR THE SALAD
Preheat the oven to 425 degrees. Line a sheet pan with parchment, then toss the diced butternut squash with olive oil salt and pepper. Spread out evenly on the pan, and roast for about 20 minutes until browned and tender. Allow to cool
Slice off the bottom of each brussels sprout and remove any brown spots. Use the slicing blade of a food processor, a mandolin, or a sharp knife to finely shred them, and place into a bowl. Top with the squash, pomegranate seeds and pecans. Set aside while you make the dressing and goat cheese.
TO MAKE THE GOAT CHEESE
Preheat the oven to 350 degrees. Toss the breadcrumbs with olive oil until each piece is coated. Spread evenly on a baking sheet, then place in the oven for about 10 minutes, checking and stirring every so often to ensure they toast evenly. When the breadcrumbs are golden brown throughout, remove from the oven and allow to cool to room temperature. Lower the oven to 325.
Slice the goat cheese into 6-8 medallions, then press each one into the cooled breadcrumbs to coat on all sides. Place on a sheet pan, and then hold in the warm oven until ready to serve (at least 10 minutes, but no more than 30).
While the goat cheese is warming, mix up the vinaigrette. Combine the shallots, vinegar, mustard, honey, salt and pepper in a small bowl. Slowly stream in the olive oil while whisking until emulsified. Taste for seasoning and adjust as needed.
Toss the salad with the vinaigrette until nicely coated, then arrange on a serving platter. Remove the goat cheese from the oven and arrange over top of the salad. Serve immediately.
Notes
*All elements of the salad can be made ahead of time and stored separately: shred the sprouts, roast the squash, remove pomegranate seeds, toast pecans and breadcrumbs, mix vinaigrette, slice and coat the goat cheese in breadcrumbs. When ready to serve, warm the goat cheese in the oven for about 20 minutes, then toss the rest together with the vinaigrette. Top with warm goat cheese and serve immediately.