Healthy eating advocates often tell us to eat the rainbow. This is a colorful and healthy Pomegranate Orange Salad. It's light, tasty and filled with juicy oranges, tart pomegranate seeds, healthy avocado, and crunchy almonds. Keeping with healthy it's topped with a light honey-sweetened dressing.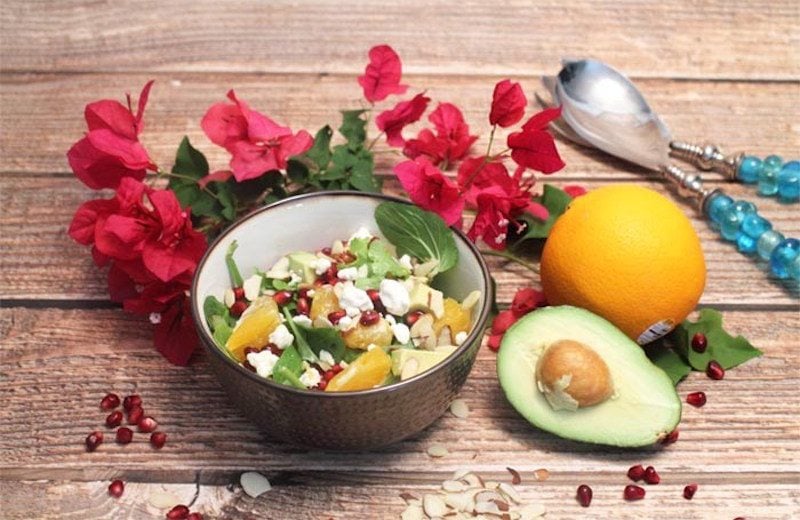 Mixed Greens – are packed with both vitamins and minerals including Vitamins A & C, folate, magnesium, potassium and iron. The perfect combination for a strong immune system.   
Oranges – are packed with Vitamin C and plenty of antioxidants. This fruit can help lower blood pressure and works as a powerful anti-inflammatory. 
Pomegranate Seeds – much like oranges, are a rich source of Vitamin C and antioxidants. They contain important dietary fiber and are high in anti-inflammatory properties. Eating pomegranate seeds has been shown to protect against certain cancers as well as Alzheimer's.
Avocados – contain a vast array of vitamins including K, C, B5, B6, and E as well as potassium. Potassium provides a reduced risk of high blood pressure and heart attacks. The monounsaturated fat they contain is a heart healthy fat & a great addition to any diet.
Sliced Almonds – similar to avocados, have a high level of monounsaturated fats, the same fats found in olive oil, which reduce the risk of heart disease as well as cholesterol levels.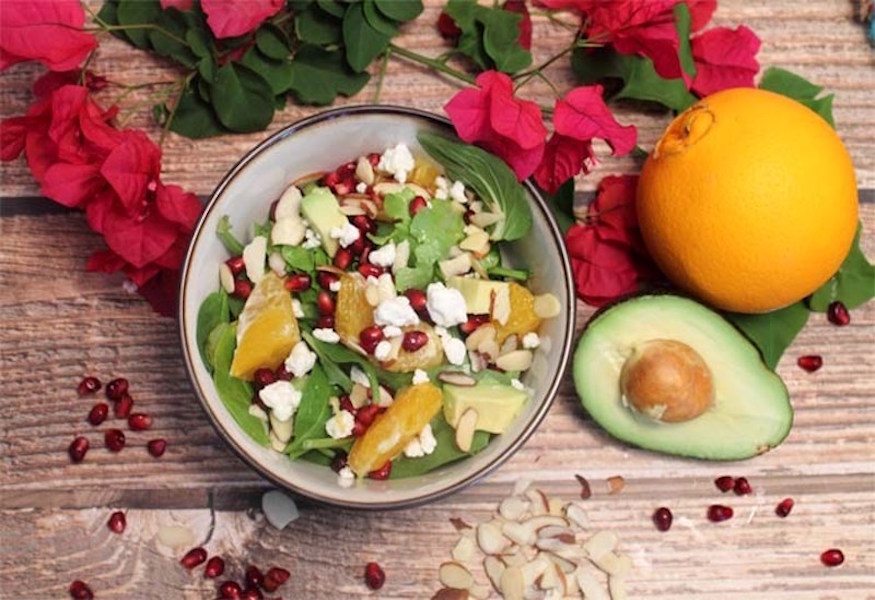 Wouldn't you agree that this is an excellent salad to add to your diet in 2017?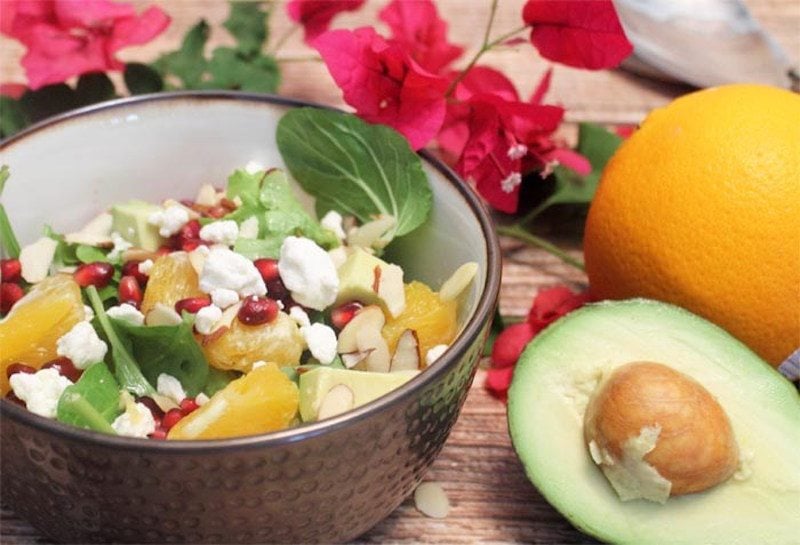 Bright Pomegranate Orange Salad
Ingredients
Salad
7 cups fresh pre-washed mixed greens
3 navel oranges, peeled, divided into sections & halved
¾ cup pomegranate seeds
1 avocado, cubed
½ cup crumbled goat cheese
⅓ cup sliced almonds
Dressing
¼ cup orange juice (or about the juice of 1 orange)
1 teaspoon orange zest
2 Tablespoons rice wine vinegar
1 Tablespoon honey (can add more if you like a sweeter dressing)
⅛-1/4 teaspoon salt
¼ cup extra light virgin olive oil
Pinch of ground pepper
Pinch of cayenne pepper (optional)
Instructions
Place greens in a large salad bowl. Top with remaining salad ingredients.
Prepare dressing by vigorously whisking all ingredients together.
Pour over salad, toss gently and serve immediately.
Notes
Note: If not serving salad immediately, combine all salad ingredients but cheese and almonds. Make dressing and store separately. When ready to serve, add cheese and almonds to salad and toss with dressing.