Sweet smelling, but surprisingly dry tasting, Scurry is the perfect breakfast or bunch beer. Because we all need one.
Scurry

Type: Dark Honey Ale, Kottbusser
Location: Brewed by Off Color Brewing, in New Jersey
Alcohol: 5.3%
Pair With: Smelling of honey and molasses, this deep beer is great with grilled meats. Better yet, have this beer at breakfast with a giant plate of waffles or pancakes drizzled with maple syrup.

Aroma: Notes of honey, caramel, molasses and oatmeal
This beer is tricky, it smells sweet, but on the palate is dry and delightful. Its a great combination that doesn't let either tastes become boring or overwhelming, but rather lets the sweet and savory play together and create a balance. Plus, as usual, the label is fun.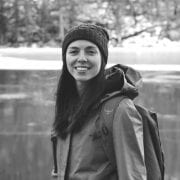 Annelise McAuliffe
Mandatory family outings to the Detroit farmers' market and nightly home-cooked meals cultivated Annelise's respect and curiosity for food. A graduate of The Culinary Institute of America, she spends her free time in New York City recipe testing, eating breakfast all day, and dreaming up international culinary adventures.