Sprinkled with blood orange slices and pomegranate seeds, you won't believe you are eating kale with this beautiful salad. 
By Vicky Cassidy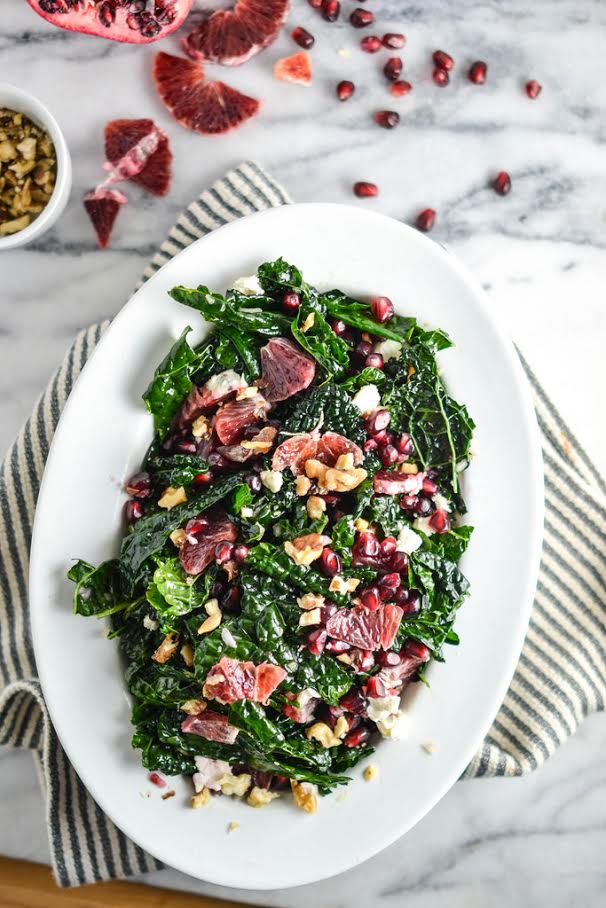 Is performing a spa treatment on a leafy vegetable perhaps less crazy than it sounds? After multiple meals, my conclusion is: it's not weird, totally worth it, takes 5 minutes.
I've been making massaged kale about once a week. If you've ever eaten a salad of raw kale, you are all too familiar with that feeling of your temples starting to hurt because you have to chew so hard. Cooking kale, of course, softens and tames the greens, but also completely changes the taste. Massaged kale though? It's the best of both worlds—the flavor of fresh, raw kale but with the texture that's pleasant to eat. It's mind-bogglingly different. And I don't throw that made up word around casually.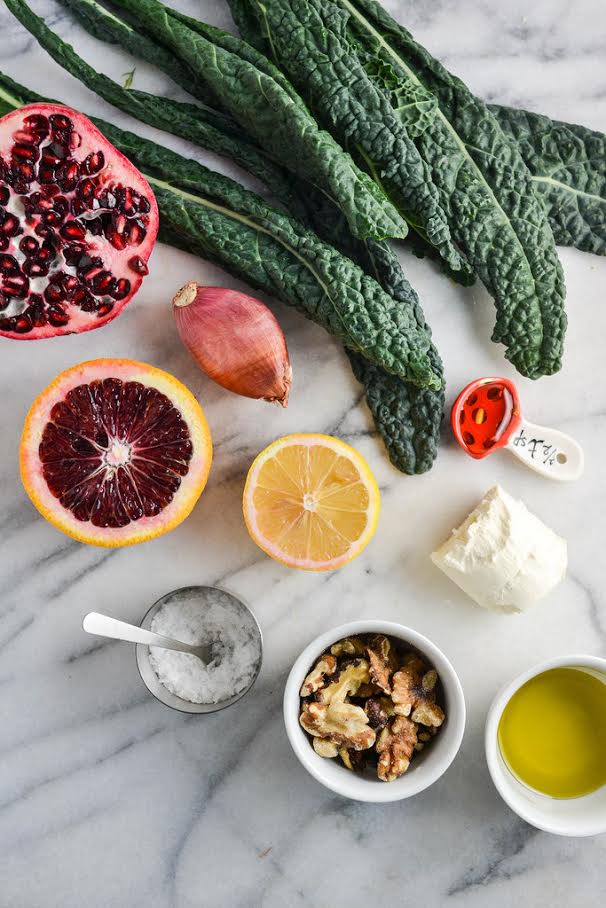 My go to preparation has been tossing the massaged kale in a tahini, Dijon mustard, and lemon juice dressing, but this week I decided it was time to try something different. Why not make the perfect winter salad out of it? I imagined myself touting the health benefits of pomegranates and all the vitamins and anti-oxidants you get from blood oranges.
But for now I'll focus on the preparation, which is basically this: after you've lovingly (love is required) massaged your kale, dump all the other ingredients on top of it and toss it gently. Oh and when you peel your pomegranate, do it in a bowl of water. The seeds will sink and the pith will flow and you'll avoid the countertop mess that comes with pomegranate juice. That is a pro tip.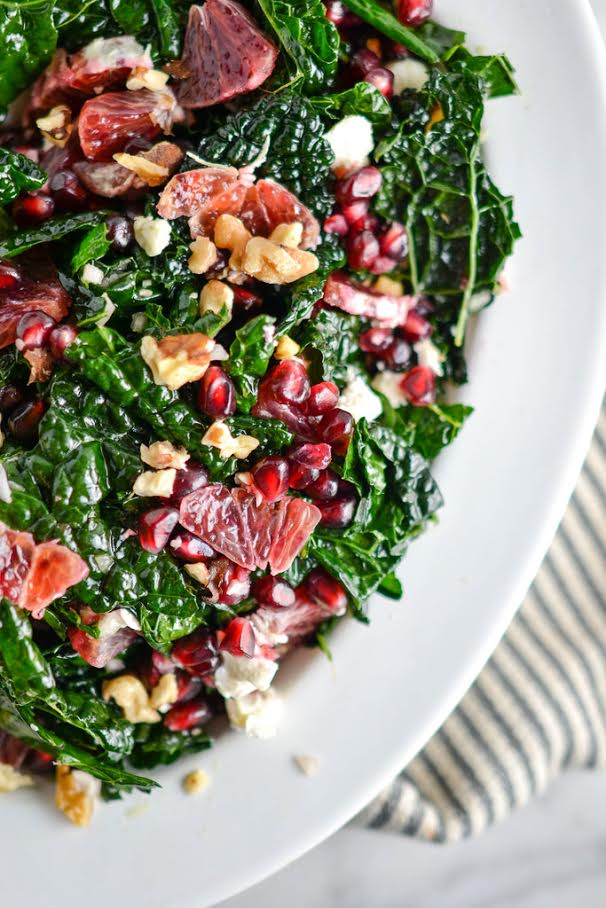 Massaged Kale Salad Topped With Blood Orange and Pomegranate
Sprinkled with blood orange slices and pomegranate seeds, you won't believe you are eating kale with this beautiful salad.
Ingredients
For the massaged kale:
1 bunch lacinato kale, stems removed, torn into large pieces
1 tablespoons olive oil
1 tablespoon lemon juice
1 teaspoon sea salt
For the salad:
1 shallot, minced
1 tablespoon olive oil
1 teaspoon lemon juice
½ teaspoon honey
1 blood orange, peeled, sliced into thin rounds
seeds from ½ a pomegranate
2 ounces goat cheese, crumbled
¼ cup walnuts, chopped
Freshly ground black pepper to taste
Instructions
Place kale in a large bowl and pour olive oil, lemon juice, and sea salt on top. Using your hands, massage the kale leaves, working the olive oil, lemon juice, and salt into the leaves. If you've got some large leaves, tear them into smaller pieces as you go. Continue to massage for about 5 minutes, until kale is a vibrant green and has broken down. Set aside for at least 10 minutes.
Meanwhile, in a small bowl, whisk together shallot, olive oil, honey, and lemon juice. Pour over kale and toss to coat.
Top kale with blood oranges, pomegranate seeds, goat cheese, walnuts, and a little bit of black pepper.