Heather Sharpe serves up a plate of delicious berry blondies with passion mint coulis.
By Heather Sharpe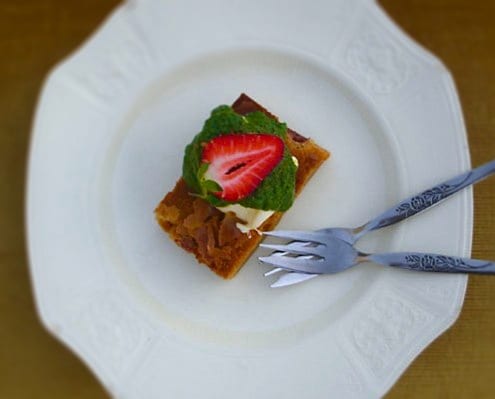 I have been lucky enough to be doing some recipe and menu development for Gabriel Chocolate, a single-sourced chocolate company near my house. I have previously talked quite extensively and amorously about them here.  That of course, was before I got to start working with them.
Recently Gabriel Chocolate has started producing a "white chocolate." I am enamored. It's not as sickly sweet as the other white chocolates I've tasted before, you can actually see the grains of vanilla bean in the(almost) whiteness of the bars and it makes a way better base for cooking because it doesn't just take over with a sticky sweetness. Yum.
See Also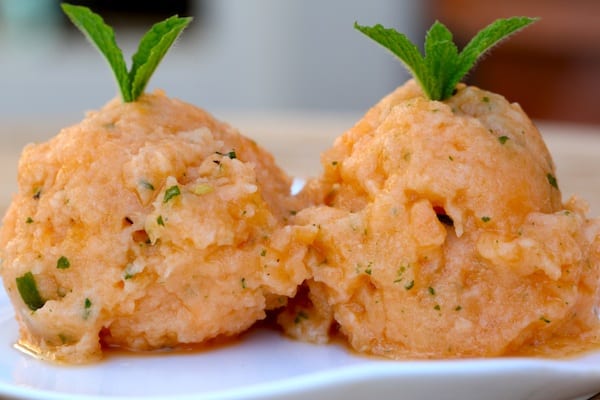 As a result of this recent addition to their chocolate repertoire, I have started to develop a blondie recipe to be sold in the cafe. If you haven't heard of blondies before, they're brownies but with white chocolate.
What follows is a recipe for the berry blondies which are often sold in the Gabriel cafe and have been heartily approved by customers and staff alike. So here you go, readers, a not-so-trade secret with a few key additions to make them more dessert-esque.
Berry Blondies with Passionmint Coulis
Ingredients
blondies
200g white chocolate
120g butter
1 egg
2 egg yolks
80g castor sugar
½ tsp vanilla extract
100g plain flour
⅔ cup frozen mixed berries (or blue, rasp or fresh strawberries)
sauce
⅔ a cup mint leaves (compressed into the cup to measure)
juice of 1 lime
1½ tbsp castor sugar
⅓ cup passionfruit pulp
double cream and extra berries to serve (optional)
Instructions
Preheat your oven to 160C
Line a medium sized brownie/slice tray with baking paper.
Double boil the white chocolate and butter, stirring gently but regularly, to ensure they are well combined and don't stick, until both are just melted.
Remove the chocolate from the heat, set aside to cool slightly.
Using a hand held or stand mixer, beat in your egg one by one, beating until well combined.
Beat in the sugar and vanilla extract until combined.
Beat in the egg yolks, then the flour.
Finally, fold in your berries with a spatula, try to avoid doing this for too long as it stains the mixture.
Pour into the baking trays, then even out the mixture to about 3-4 cm thick.
Bake at 160C for 1 hr, then lower to 120C, bake for a further 15 minutes.
Turn the oven off, but leave the blondies inside until the oven has cooled.
When ready to serve, quickly prepare your coulis.
To make your coulis, blend all the ingredients, plus 2-4 tbsp of water in a blender or food processor until smooth.
Heather Sharpe
A frequenter of farmer's markets and fan of things free-range and organic, Heather concerns herself with trying to live/eat/cook more ethically and sustainably. Her playful approach to flavour combinations promotes the idea that cooking healthy, more ethical food is an attainable goal, even with our hectic lifestyles. Heather's recipes have been published in Metior Magazine and Dash Magazine, Heather also not-so-secretly blogs as the culinary super-hero, The Kitchen Crusader.