A drool-worthy beef tartare recipe from Restaurant Raimondi in Lake Como, Italy  – Bellissimo!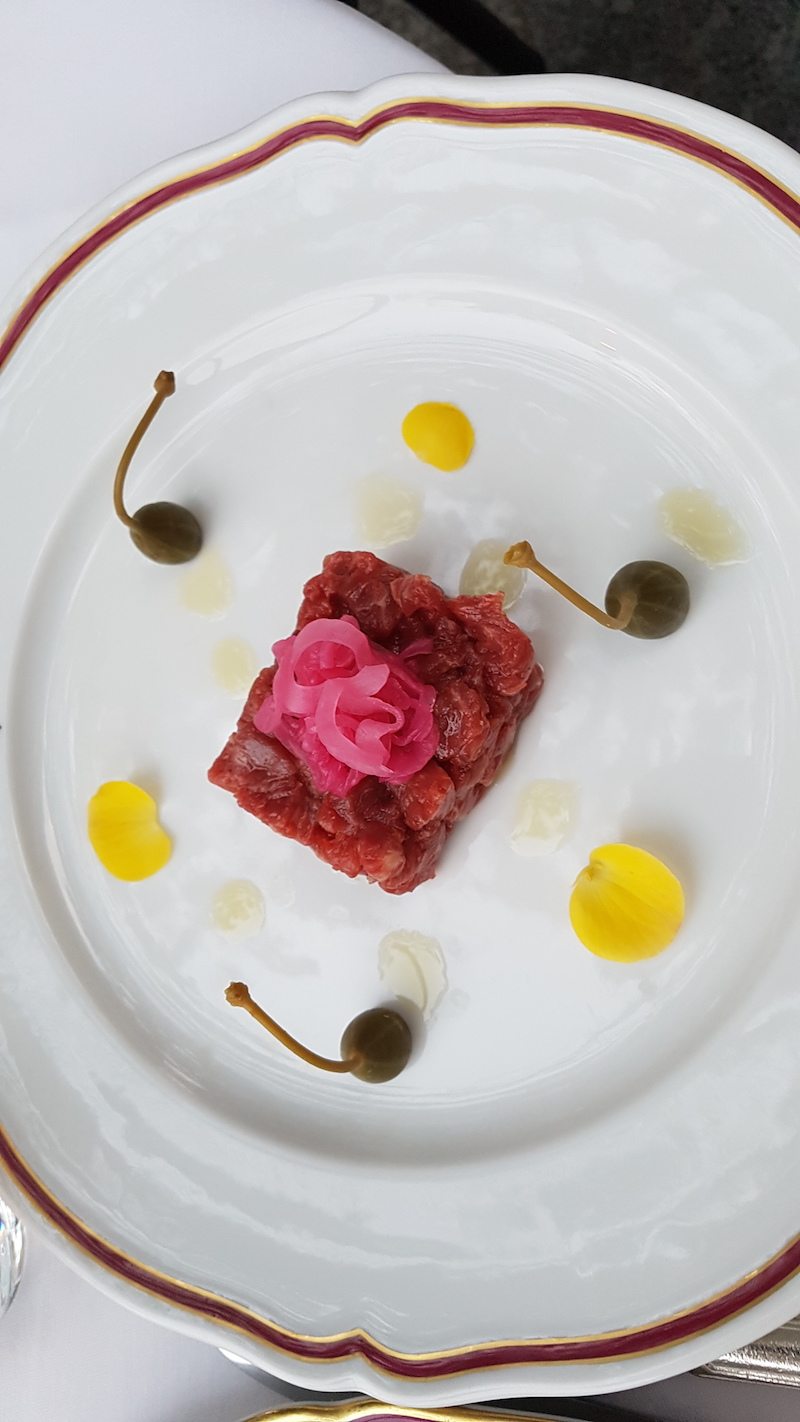 There is something very special about Lake Como. Sure George Clooney has made it UBER famous but before it was a hot-spot for celebrity spotting, it was and still is a magical place to visit.
Recently I was lucky enough to call it home for 2 nights with my family. One of the best restaurants I stumbled on was oddly enough in a hotel
Hotel Villa Flori sits on the Western side of Lake Como, offering amazing views ( yes! you were really must go the gym on the top floor and check out the view) but the restaurant really stands out too.
Chef MARCO PEVERELLI of Restaurant Raimondi has cooked for some pretty big celebrities including Robert DeNiro and his risotto ranks as one of the best I've eaten in Northern Italy. Bellissimo!
Chef Marco shares one of his dishes with me, Beef Tartare
Ingredients
800 gr  Beef Fillet
250 gr  Red Onion
100ml  Olive oil
250 gr  Lemon sauce
50 gr    Chives
100 gr  Caper fruits
10 gr   Salt
5 gr   White peppercorns
Proceed:
Skin the onion and slice thin it.
Put the onion in a container with warm water, lemon and a little bit of salt. Leave it marinated for an half an hour and then drain.
Cut the fillet with knife in small squares pieces and put everything in a container. Season with oil, lemon, chives (sliced thin), salt and pepper.
Compose the meat as an hamburger. Put the meat in a plate and add on the red onions (season with extra virgin olive oil) and capers around the plate.
Michelle Tchea
Michelle Tchea is a 4-time bestselling author. Her books include, Building a Perfect Meal, My Little SoHo Kitchen, Signature Dishes (Australia's Best) and Chefs Collective. Her work can be found in other leading luxury travel and food magazines including Travel+Leisure Asia, SMILE, NUVO Magazine and The Telegraph