Served with wide noodles, try this traditional stir fry of tender, thinly sliced beef and greens.
By Ang Sarap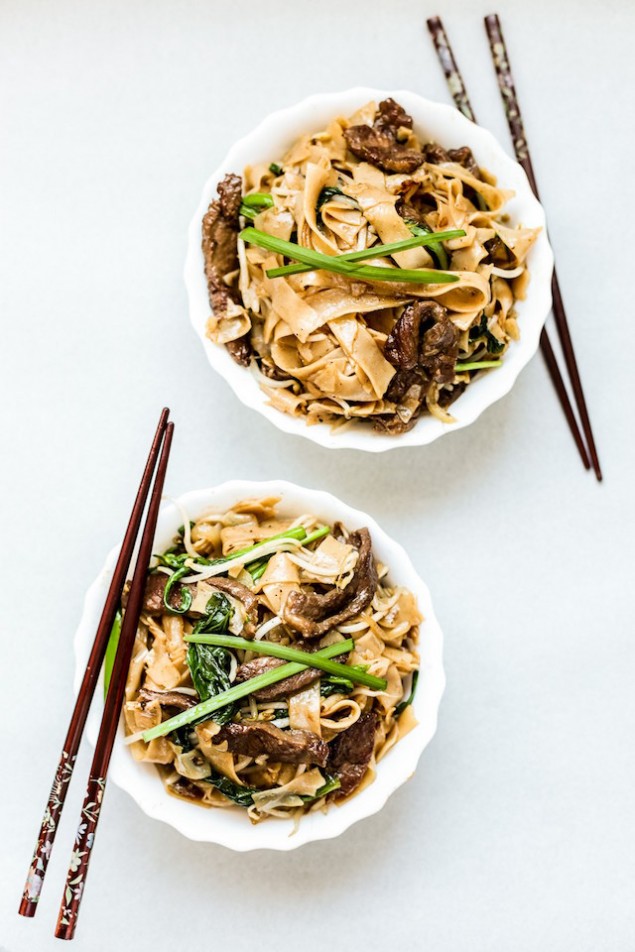 I rarely use flat rice noodles in stir fries because it's quite hard to handle but after I learned a technique to working with them, I cook the noodles nonstop.
Now I used the same technique my wife uses in preparing her pancit. I don't even need to cook the noodles, instead I just soak them in boiling water for 3 to 5 minutes depending on the thickness of noodles, this makes them more manageable in stir frying as they not yet fully cooked yet and very fragile, but they are soft enough to handle.
Today we will be making a Chinese staple, the Beef Chow Fun. It's a simple stir fried rice noodle dish with tender thinly sliced beef pieces and some green leafy vegetables seasoned with soy sauce, it's an all in one quick and easy dinner recipe.

Beef Chow Fun Noodles
Served with wide noodles, try this traditional stir fry of tender, thinly sliced beef and greens.
Ingredients
Stir Fried Noodles
400g (14 ounces) wide rice noodle
1 small bunch chives, cut into long section
2 cups bean sprouts
1 bunch choy sum
1 tbsp soy sauce
1 tbsp dark soy sauce
1 tsp brown sugar
1 small white onion, sliced
3 thin slices of ginger
salt
oil
Beef
300g (10.5 ounces) thinly pounded out beef
½ tsp baking soda
1 tbsp cornstarch
1 tbsp Chinese cooking wine
1½ tbsp soy sauce
1 tsp sesame oil
2 tbsp oil
Instructions
In a bowl combine together baking soda, cornstarch, Chinese cooking wine, soy sauce and sesame oil, mix well.
Add the beef and using your hands mix it well to distribute the marinade evenly, set aside for 15 minutes.
Place wok in a stove top and place in really high heat, once it starts to smoke add oil and swirl it around to coat the surface.
Let it reach the oils smoking point then add the beef in single layer as possible, leave it there without mixing for 30 seconds to a minute until brown on one side. Turn to the other side and leave it again for another minute. Now start to stir fry, continue doing so for 2 minutes. Remove beef from the wok.
Soak rice noodles in boiling water in a big bowl for 3 minutes, drain then set aside.
Combine the soy sauce, dark soy sauce and brown sugar, set aside.
Using the same wok add 2 tbsp oil bring heat to high then sauté ginger and onions.
Add the choy sum and stir fry for 30 seconds.
Add the noodles and the soy sauce sugar mixture, stir fry continuously for 2 minutes until sauce is evenly distributed. Add small amounts of water if needed so it does not dry out.
Add the beef back together with the bean sprouts and chives, season with salt if needed then stir fry for 30 more seconds.
Remove from wok, serve while hot.