Legendary dishes are always welcome, right? Kalle Bergman brings Mr Lindström to the table, a 100 year old classic Swedish dish.
By Kalle Bergman – Photo By Mads Damgaard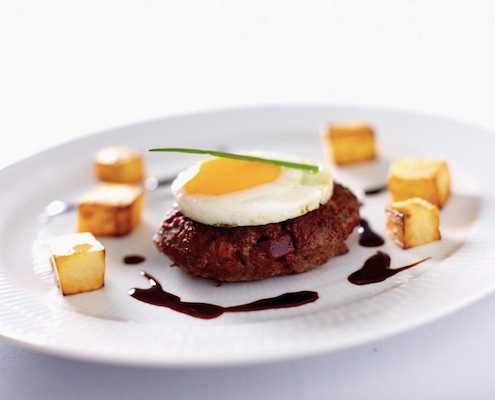 Time for a Swedish legend to appear on Honest Cooking. Welcome Mr Lindström and his famous and elegant beetrot-infused beef patties to centre stage. Beef A La Lindström is actually thought to have Russian roots (the originator Henrik Lindström grew up in S:t Petersburg), and you can certainly trace the use of beetroots and capers in the meat to eastern- and central european cooking. But today Beef A La Lindström is considered to be an ultra classic Swedish dish, and at the Witt Hotel in Kalmar where Mr Lindström first introduced it about 100 years ago it's still on the menu every day.

Dinner Time: Beef A La Lindström
The classic Swedish beef patty dish, inspired by Mr Lindström's original recipe.
Ingredients
Beef patties
1 Ib (450g) of ground beef
¼ Ib (115g) of ground pork
1 Anchovy fillet, finely chopped
4 Free range egg yolks
2 Tablespoons of capers, chopped
3 Tablespoons of pickled beetroot, finely diced
1 Large potato, boiled and finely diced
1 Onion, finely chopped
1 Tablespoon of mustard
Salt & pepper
Organic butter for frying
To serve
8 Potatoes
4 Free range eggs
Organic butter for frying, and for thickening the sauce
½ Cup (1,25dl) of good beef stock
Salt & black pepper
Chives for garnish
Instructions
Blend all the ingredients for the beef patties in a large mixing bowl until they are all very well mixed. With your hands, form 4 large beef patties and fry them over medium heat in butter for about 5 minutes on each side. When done, deglace the pan with the beef stock, and let reduce to half. Thicken the sauce with a knob of butter and season with salt and pepper.
Peel and dice the potatoes and fry them in a little butter and vegetable oil on low heat until golden brown on the outside and soft on the inside – about 15 minutes.
Fry the eggs and serve on top of the beef patties. Place the fried potatoes and drizzle the pan sauce around the beef and garnish with chives.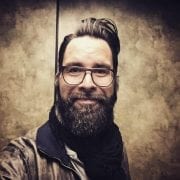 Kalle Bergman
Kalle Bergman is a food writer and media entrepreneur who is the founder of Honest Cooking. As a food writer, his writing has been regularly featured in publications like Gourmet, Los Angeles Times, Huffington Post and Serious Eats. He is obsessed with simple food, more often than not from his native Scandinavia.