Freshen up your baking repertoire by introducing matcha green tea powder to your pastries and cakes. Matcha, the most nutrient dense form of green tea, gives a  pretty green tint and a bit of personality to classic treats. Just subtly sweet and earthy in flavor, matcha blends with anything from poundcake to chocolate. Try a recipe with matcha for your St. Patrick's Day spread or any springtime occasion.
By Kate Devine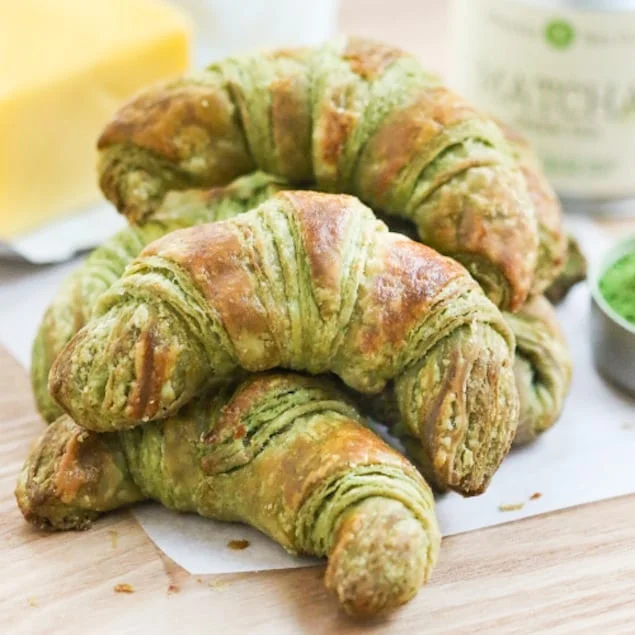 Thirsty for Tea
One of my fondest remembrances of studying in Spain was the joyous simplicity of my regular breakfast each morning, cafe con leche y un croissant. It was over croissants that I practiced speaking Spanish with baristas and patrons of my favorite cafe, and so, croissants are dear to me. The floury dough of these croissants are infused with matcha, making them more savory than sweet, and a delicious way to start the day in any country. Get the recipe here.
These whole wheat muffins are sweetened with maple syrup and energizing matcha. In his blog post, Andrew Olsen of One Ingredient Chef explains the different compounds found in tea and coffee, and why matcha is the highest quality Japanese green tea. Get the recipe here.
Green Tea Shortbread Sandwiches

Buttery shortbread cookies tend to quickly disappear from serving trays, and these matcha alternatives are no exception. As an easy to eat finger food, green tea cookies are ideal for a party. Get the recipe here.
This cake is a culinary work of art, ornamented with chocolate leaves and lovely shades of green. The base layer of dark chocolate sponge cake compliments mousse infused with matcha. Get the recipe here.
White Chocolate Green Tea Cookies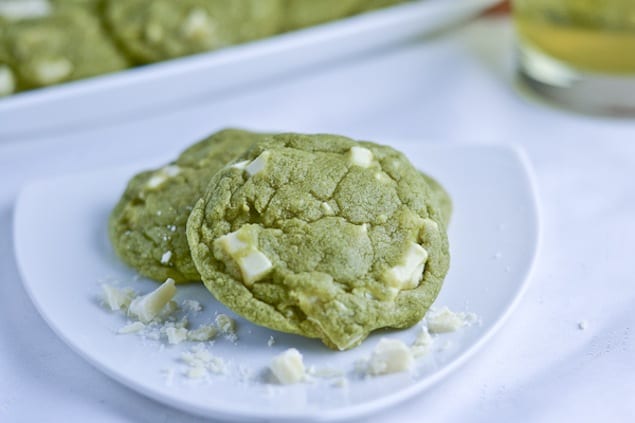 Salu Salo Recipes
A little matcha brightens up chocolate chip cookies, the favorite after-lunch dessert, packed in brown bags the world over. White chocolate chips look delish nestled into the pastel green cookie. Get the recipe here.
The peanut butter cup goes green! Matcha powder mixed with coconut butter, almond flour, and a little bit of sugar makes a fudge-like filling in these chocolate covered candies. Get the recipe here.
Matcha White Chocolate Pistachio Cups
If an exclusively green candy cup is what you desire, Sweetest Kitchen has just the recipe- a matcha white chocolate shell filled with pistachio nut butter. Eating your greens just got a lot sweeter. Get the recipe here.
See Also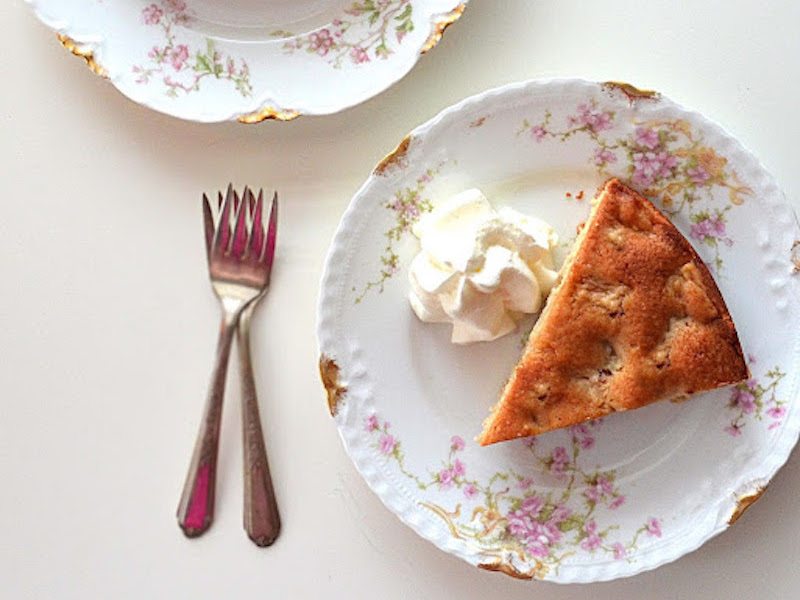 Mixing flavors of different cultures always yields incredible creations, so why not infuse some Japanese green tea into the French crêpe? Then why not stack the crêpes into a cake? Zen Chef recommends adding a bit of orange zest to the pastry cream filling as a citrusy complement to the matcha. Get the recipe here.
Crispy on the outside, moist on the inside, and a hint of green tea. Pair a slice of pound cake with a homemade matcha latte or smoothie for a tasty all-matcha breakfast. Get the recipe here.
Macarons, the tiny, colorful sandwiches, may just be the cutest treat there ever was.  Adding a bit of matcha to buttercream filling tints these macarons naturally. Lovely to look at, even better to eat. Get the recipe here.
If your traditional Italian grandparents scoff at the sight of this new take on Italy's favorite tiramisu, just wait until they try a bite. They'll love it. Enjoy with an espresso. Get the recipe here.
Kate Devine
Kate Devine began cultivating her culinary insight at the age of 13 during her first trip to Italy. While studying at Rutgers University, she spent a semester traveling through Spain sampling the regional fare. As an editorial intern for Honest Cooking, Kate couples her love of good food with her love of writing.