Healthy sweet potatoes seasoned with spices and baked in oven. It's a prefect healthy snack.

By Anita Mokashi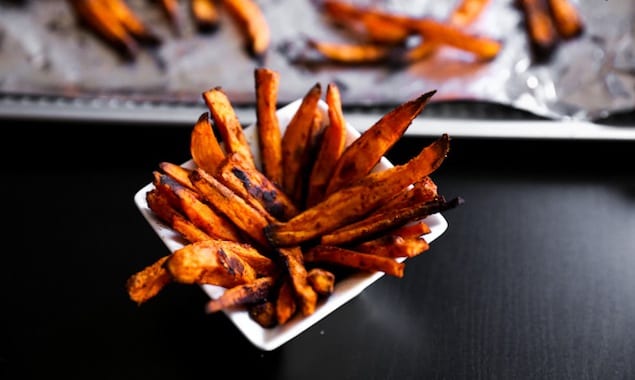 Baked Spicy Sweet Potato Fries
Crispy, sweet and spicy sweet potato fries.
Ingredients
2 sweet potatoes
1 tbsp oil
1 tbsp creole seasoning
1 tbsp salt
1 tbsp sugar
1 tbsp cayenne
1 tbsp coriander powder
Instructions
Cut the sweet potato into ¼ inch thick fries. Pop them into a bowl of water for about an hour
Preheat your oven to 425 degrees.
In a large bowl combine the oil, creole seasoning, salt, sugar, cayenne and coriander powder. Add the potatoes and mix well.
Spread on a baking sheet.
Bake for 30 minutes, or until crispy and brown on one side. Turn the fries over using a spatula, and cook for another 30 minutes, or until they are all crispy on the outside and tender inside. Thinner fries may not take as long.
Anita Mokashi
Anita Mokashi is based in California, but born and brought up in Mumbai, India. Her blog Crave Cook Click is mostly about Indian cooking, but occasionally she shares recipes from other cultures and cuisines too. Anita is also the publisher of a popular photography blog.