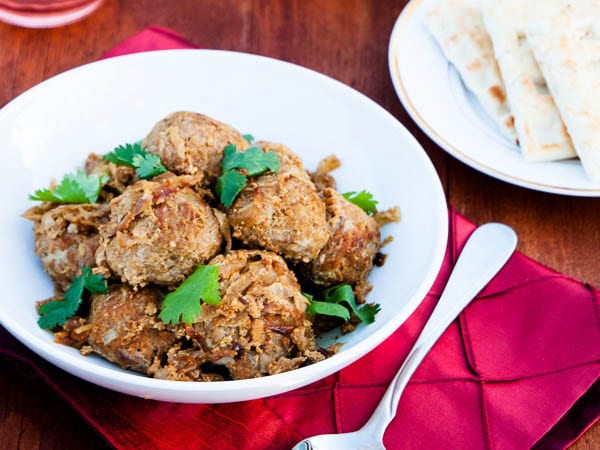 The meatballs, or kofta, are baked, which not only keeps the dish healthy, it leaves your hands free to work on the luxurious gravy.
By Lail Hossain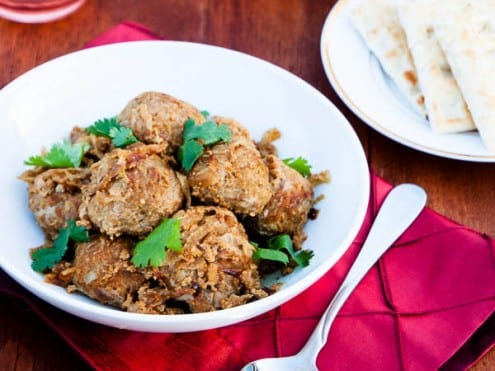 Baked Meatball Curry
The meatballs, or kofta, are baked, which not only keeps the dish healthy, it leaves your hands free to work on the luxurious gravy.
Ingredients
2 lb of ground beef
1 teaspoon garlic paste
1 teaspoon ginger paste
½ teaspoon garam masala
1 egg
3-4 green chili, chopped
1 cup onions, finely minced and liquid discarded
1 cup cilantro, finely chopped
2 tablespoon lemon juice
2 pieces of bread
Salt according to taste
Spray oil or 1 tablespoon oil to brush on kofta
For curry:
3 tablespoon yogurt
3 tablespoons oil
1 cup onion, sliced
3-4 green cardamom
2-3 cinnamon sticks, each about one inches long
1-2 bay leaf
2-3 green chili, slit lengthwise
1 teaspoon garlic paste
½ teaspoon ginger paste
Cilantro, for garnish
Salt according to taste
½ teaspoon sugar
Instructions
Steps to make kofta:
Preheat oven to 350 degrees Fahrenheit.
Grease a baking tray with spray oil or by brushing some oil. Set aside.
Mix all ingredients and shape into golf ball size kofta.
Place the kofta gently on the tray and bake about 20-22 minutes turning once.
Steps to make kofta curry:
Beat yogurt to a smooth consistency. Set aside.
Heat oil in medium high and add onions.
Add cardamom, cinnamon and bay leaves. Fry for 2-3 minutes.
Add the ginger and garlic paste, green chili and salt and sugar.
Add a cup of water little by little and the beaten yogurt.
Add the koftas in the gravy and lower the heat to medium low.
Cover and cook until desired consistency.
Garnish with cilantro.
Lail Hossain
Lail Hossain finds cooking to be an explosion of creativity. She is enthusiastic about modifying a laborious step of an old recipe, and experimenting with different ethnic recipes by adding her own spin to it yet keeping the recipes simple, healthy, and delicious. Originally from Bangladesh, Lail shares her journey of food, creativity and family in her blog "With A Spin". She is also very passionate about highlighting Bangladeshi cooking to the international culinary space.