Wilson Mak with a simple but elegant crossover between asian and western finger food.
By Wilson Mak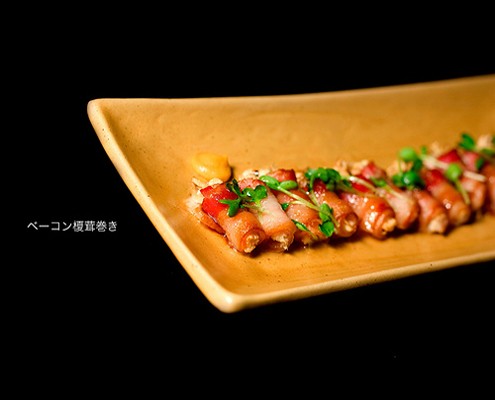 I've made this recipe several times so far and this dish has always been my friends' favorite. The recipe is easy to prepare and great for casual parties.

Bacon wrapped enoki
Recipe Type:
Appetizer, Side Dish
Ingredients
1 pack of bacon
1 pack of enoki mushrooms
1 pack of Radish Sprouts for garnish
Japanese mustard for dipping ( optional )
Sauce :
This measurement makes about ½ cup or 118ml )
½ cup (118 g) sugar
¼ cup (60 ml) light soy sauce
2 Tbsp ( 30 ml) cooking sake
1 tsp (5 ml) dark soy sauce
Note : The sauce measurement depends on how many package of bacon and enoki mushroom being used. If you happen to have an excess sauce after making this dish, you can refrigerate it and reuse it as teriyaki sauce or barbeque eel sauce.
Instructions
Cut one slice of bacon into three small slices. Put some enoki mushroom in each slice and wrap it.
Use about three bacon wrapped enoki and put them into one skewer.
Lay an aluminium foil on your baking tray and put all the bacon wrapped enoki skewers on it
Preheat the oven to 300°C ( 572°F)
Put all the sauce ingredients into a pan and heat it until it boils.
Gently pour or brush the sauce onto the bacon wrapped enoki.
Baked for about 15 minutes.
Remove the bacon wrapped enoki from the skewer and garnish them with radish sprouts