Try these bacon, cheddar, sour cream and chive potato skins as an appetizer and your next casual gathering.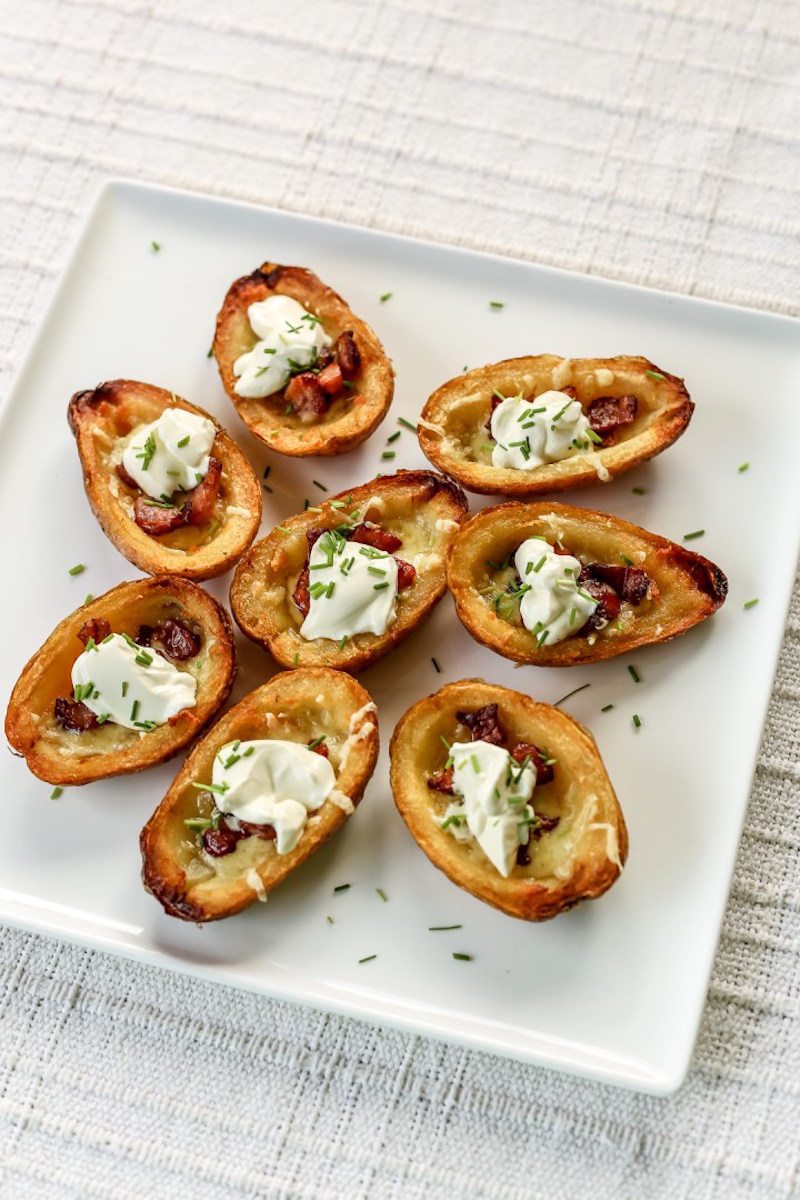 Potato skins is a dish popular in America meant to be eaten as a snack or appetizer. Commonly this dish is made of unpeeled potato halves, hollowed and filled with crispy bacon bits, grated cheddar cheese, sour cream and chives. Twice cooked where it is first boiled or baked then deep fried and baked again to achieve a very fluffy inside while having a crispy outer layer.
It is also commonly prepared in homes across America and very popular during the Super Bowl and popular events, I can understand why and if you haven't tried it well it's not yet too late.

Bacon and Cheese Potato Skins
Ingredients
4 long Russet potatoes or any starchy type potatoes, skin on
8 pcs streaky bacon
8 heaping tbsp grated smoked cheddar
8 heaping tbsp sour cream
Extra-virgin olive oil
chives, chopped
hot sauce, optional
Instructions
Rub the potatoes lightly with olive oil, pierce sides with fork to allow steam to escape then place them in a foil lined baking sheet and bake in a 200C preheated oven for an hour.
Remove from oven then let it cool for 15 minutes.
Cook bacon in a large skillet until crispy, once cooked then chop it into bits to be used as a topping.
Cut potatoes in half lengthwise, scoop out the middle leaving ¼ inch of flesh then brush surface with olive oil. Reserve scooped out potatoes for other use.
Set the oven to broil. Place a tablespoon of cheese and some bacon bits on top of each potato halves. Broil until cheese is bubbling.
Remove potato from the oven then top each it with a heaping tablespoon of sour cream, sprinkle chopped chives on top then serve.