Coated in peppery arugula pesto and served with sweet tomatoes and creamy burrata, this bucatini pasta is an easy warm weather dish.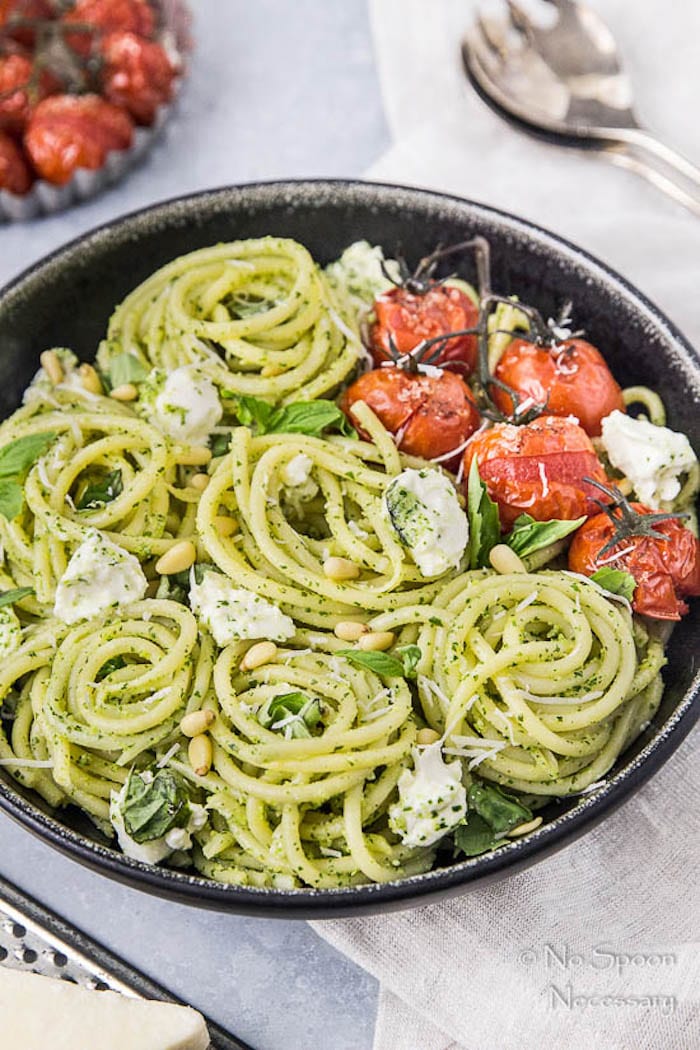 Bucatini pasta coated in rich, peppery arugula pesto and topped with creamy burrata; juicy, blistered tomatoes and sweet basil – this Arugula Pesto Pasta is light and legitimately delicious!
Savory, thick, twirl-tastic bucatini is tossed, coated and glistening in a peppery, rich and silky arugula pesto. Topped with creamy, dreamy, torn burrata; juicy, plump, blistered tomatoes; salty, crunchy pine nuts; sweet, herbaceous basil and sharp pecorino – this is the stuff light pasta dreams are made of.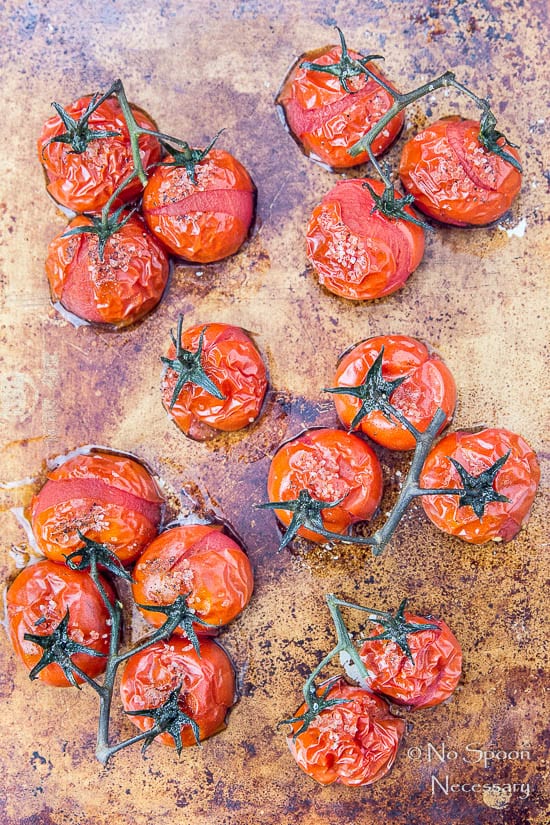 The Notes:

1. I used bucatini pasta because its thick, spaghetti-like texture holds up great with the pesto, but feel free to use whatever pasta tickles your fancy.
2. The arugula pesto recipe below will make enough for 1 pound of pasta, which is enough to feed 4-6 people. If you are looking to feed less mouths, simply halve the recipe.
3. The pesto will keep in the refrigerator, covered, for up to 2 weeks. But, be sure to give it a good stir before using.
4. The pesto pasta with burrata tastes seriously scrumptious cold the next day, so making enough for leftovers is highly encouraged.

Arugula Pesto, Tomato, and Burrata Pasta
Coated in peppery arugula pesto and served with sweet tomatoes and creamy burrata, this bucatini pasta is an easy warm weather dish.
Author:
Cheyanne Holzworth
Ingredients
1 Pound Cocktail Tomatoes on the vine (can substitute Cherry or Grape Tomatoes)
1 Pound Bucatini
8 oz. Burrata – torn into bite sized pieces
⅓ Cup Basil – roughly chopped
Extra Virgin Olive Oil
Sea Salt & Freshly Ground Pepper
Arugula-Pesto:
1 Clove of Garlic
⅓ Cup Pine Nuts, plus more for garnish
2 ½ Cups Arugula, packed - plus more for garnish
⅔ Cup Pecorino Romano – grated, plus more for garnish
1 ½ tsp Lemon Juice
½ Cup Extra Virgin Olive Oil
Instructions
Preheat oven to 425 degrees F. Line a rimmed baking sheet with aluminum foil for easy clean up.
Make the Arugula-Pesto: In the bowl of a food processor, combine the garlic and pine nuts. Process until finely chopped. Add the arugula, pecorino, lemon juice and a pinch of salt. Process until coarsely chopped. With the processor running, slowly add in the olive oil in a steady stream. Process until smooth. Taste and adjust for seasoning with salt and pepper.
Roast the Tomatoes: Place tomatoes on baking sheet and drizzle with1 tablespoon olive oil. Season with ½ teaspoon salt and ? teaspoon pepper. Roast in oven for 18-20 minutes, or until tomatoes are very juicy, but not broken down.
Meanwhile, Cook the pasta in salted water and cook until al dente according to package directions. Drain and transfer to a large bowl.
Add pesto, half the burrata and basil to bowl with pasta and toss until well coated.
Divide pasta between serving bowls and top with blistered tomatoes and remaining burrata. Garnish with additional arugula, pine nuts and pecorino if desired. Serve.
Notes
Pesto will keep, covered, in the refrigerator for up to 2 weeks.