The Art of Cheese — Aged Havarti and Mushroom Flatbread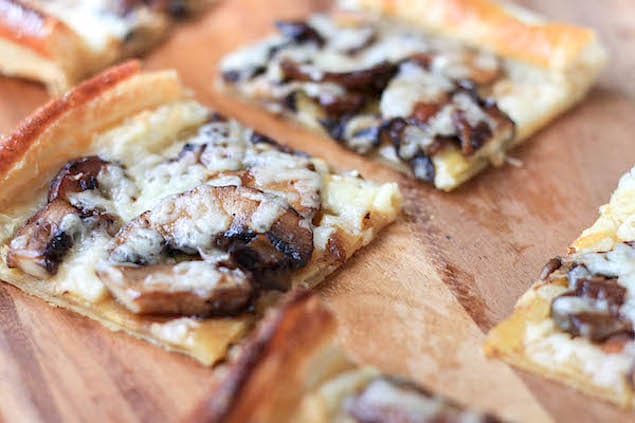 This post is part of "The Art of Cheese", a partnership between Honest Cooking and Castello Cheese.
Mushrooms sautéed in butter, garlic, and sherry wine with Castello Aged Havarti Cheese in one delicious puff pastry flatbread.
By Taylor Kadlec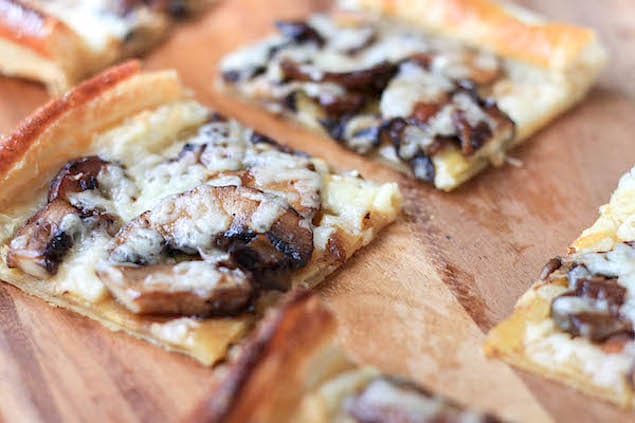 This flatbread is simple and so good. The mushroom are cooked in butter, shallots, garlic, sherry Wine. That's it, folks. I did cook them for quite awhile, which gave them a sort of caramelized flavor, but I think the secret to all the falvor is the sherry wine. After the mushrooms were all nice and cooked I added a few tablespoons of the sherry and let it simmer until it was all reduced, meaning all of it's goodness was soaked into the mushrooms. It made a mushroom hater love mushrooms, people!
Aside from the mushrooms, which really were quite simple, the entire flatbread is super easy. I used store-bought puff pastry and par baked it before adding the mushrooms and cheese so it wouldn't get mushy. Then I added the mushrooms and topped it all off with a handful of Havarti Cheese. Speaking of the cheeses, I used Castello Aged Havarti Cheese, the friendly folks who sponsored this post, and absolutely loved it. I have tried a lot of the different flavors Castello has for their havarti cheeses, and I love the depth of the aged havarti. Especially in a recipe with such few ingredients, it's important to have a cheese that stands out.
This flatbread would be so great for a holiday appetizer, and I can attest that it tastes great even after awhile out of the oven as we may have been snacking on it all day long. Okay, we were.

The Art of Cheese — Aged Havarti and Mushroom Flatbread
Mushrooms sautéed in butter, garlic, and sherry wine with Castello Aged Havarti Cheese in one delicious puff pastry flatbread.
Serves:
1 puff pastry flatbread
Ingredients
1 sheet of puff pastry
1 egg yolk
1 tsp water
3 tbsp unsalted butter
8 oz cremini mushrooms, rinsed and sliced
2 medium shallots, thinly sliced
½ tsp kosher salt
1 clove garlic, minced
3 tbsp sherry wine
½ cup havarti cheese, shredded
Instructions
Preheat oven to 400 degrees F.
Cut ½" strips off the end of each side of the puff pastry, and set on top of the puff pastry square, making a crust.
Place puff pastry on baking sheet and poke the center with a fork.
Whisk together egg yolk and water.
Brush puff pastry with egg yolk and water.
Bake in preheated oven for 15 minutes.
While puff pastry is baking, prepare the mushrooms.
Melt butter in large skillet.
Add shallots and mushrooms, cooking until mushrooms are tender and liquid is evaporated.
Season with salt.
Add garlic, cooking another minute.
Add sherry and cook until it has evaporated.
Once puff pastry is done, remove from oven. Reduce oven temperature to 350 degrees F.
Top with cooked mushroom and shallot mixture.
Sprinkle with cheese.
Bake for 10 minutes, until cheese is melted and puff pastry is golden brown.
Cut into squares and enjoy!

Taylor Kadlec
Taylor Kadlec is a lover of all things food including baking, cooking, and of course, eating. She is a self-taught baker and cook, and she shares her kitchen adventures on her blog Greens & Chocolate, where healthy cooking meets sinful indulgence.