The addition of the salted caramel to an apple crisp filling makes for a richer-than-typical apple crisp, which is balanced out with vanilla ice cream. If you're looking for an apple dessert to impress – this is it.
By Taylor Kadlec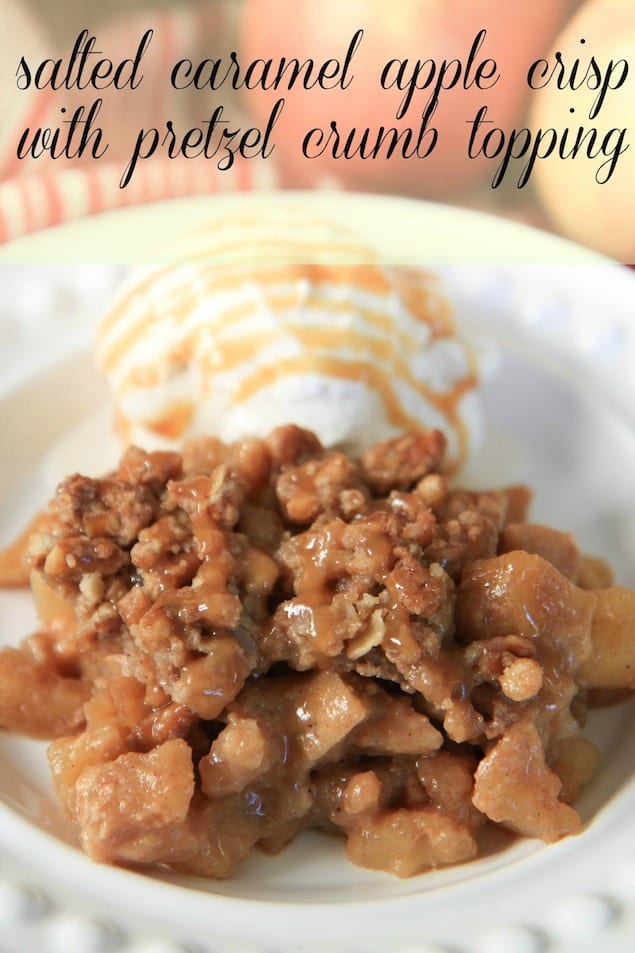 Apple crisp is one of my favorite fall desserts. I had the idea for adding some salted caramel to the apple crisp, and at the last minute decided to up the salty even more and make the crisp topping out of pretzels. I was worried that the pretzels in the topping would get soggy while baking, but they definitely did not. Combined with some butter, sugar, oats and flour, they transformed into a crunchy topping. I don't think I'll ever making apple crisp without a pretzel topping now!
The combination of salted caramel with the apples, was delicious as well. The addition of the salted caramel to the apple filling made it a bit richer than a typical apple crisp, which was balanced out well with the vanilla ice cream. If you're looking for an apple dessert to impress – this is it!

Apple Crisp with Pretzel Crumble Topping and Salted Caramel
Adding salted caramel to apple crisp makes for a rich dessert. If you're looking for an apple recipe with vanilla ice cream to impress – this is it.
Ingredients
Salted caramel
1 (14 oz) package soft caramel candy
½ cup heavy cream
½ tsp sea salt
for the apples:
2 tbsp unsalted butter
6 cups chopped apples (about 6 apples, I used a combination of Fuji, Braeburn, and Granny Smith)
½ cup granulated sugar
1½ tsp cinnamon
¼ tsp nutmeg
½ tsp salt
1 tbsp lemon juice
for the topping:
2 cups pretzels
¼ cup oats
½ cup flour
½ cup (1 stick) unsalted butter, melted
Instructions
Preheat oven to 400 degrees F.
Start by making the caramel.
In large microwave safe bowl, add caramels, cream, and sea salt.
Microwave in 30 second increments, stirring between each interval, until caramels are melted and sauce is creamy. Set aside.
Next, mix the apples with sugar, cinnamon, nutmeg, salt and lemon juice.
Heat butter in large, oven-safe skillet over medium-high heat.*
Add apples and sautee for 10 minutes, until softened.
Pour in all but ½ cup of the salted caramel sauce, stirring to combine.
To make the topping:
Place pretzels in small food processor and pulse until finely chopped, but not pulverized.
Combine all topping ingredients and stirring well to combine.
Sprinkle topping over salted caramel apple mixture.
Bake in preheated oven for 20-25 minutes, until mixture is bubbling and topping is golden.
Drizzle remaining caramel over top and serve with ice cream.
Notes
If you don't have an oven-safe skillet, transfer apple mixture to a 9x9" casserole dish for baking.
Taylor Kadlec
Taylor Kadlec is a lover of all things food including baking, cooking, and of course, eating. She is a self-taught baker and cook, and she shares her kitchen adventures on her blog Greens & Chocolate, where healthy cooking meets sinful indulgence.