Because it's Autumn, everything is better with apples – even super fudgy and moist brownies.
By Zerrin Gunaydin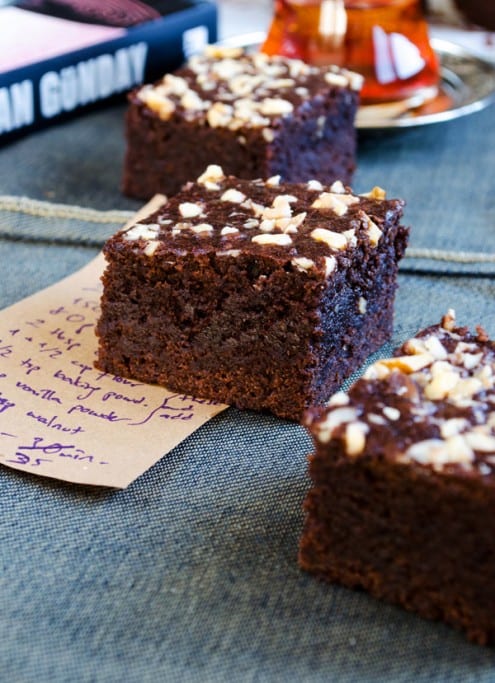 Apple Brownies
Because it's Autumn, everything is better with apples - even super fudgy and moist brownies.
Ingredients
150g butter
80g dark chocolate
3 eggs, room temperature
1 cup sugar
2 apples (makes ¾ cup when finely grated)
2 tbsp cocoa powder
1 and ½ cup whole wheat flour
1 tsp vanilla powder
¼ tsp baking powder
A pinch of salt
3 tbsp walnut, ground
Instructions
Preheat oven to 180C. Line a 40x27cm baking pan with parchment paper and set aside.
Melt butter and chocolate in a small heat proof bowl over boiling water or use a microwave.
Let it reach room temperature.
Mix eggs and sugar with an electric mixer until fluffy.
Add in finely grated apples and mix.
Pour in melted chocolate and butter and keep mixing.
Add cocoa powder and mix with a spatula.
Mix flour, vanilla and baking powder in a separate bowl and slowly add them sifting into the batter.
Pour the batter into the prepared pan.
Toss ground walnuts on it and bake 35 minutes.
Let it cool down before cutting into squares.
Zerrin Gunaydin
Zerrin Gunaydin is a food blogger living in Turkey. She loves to share recipes mainly from Turkish cuisine on her blog Give Recipe. Zerrin is trying to inform people around the world about Turkish cuisine, which has a very large repertoire with its various kind of dishes.