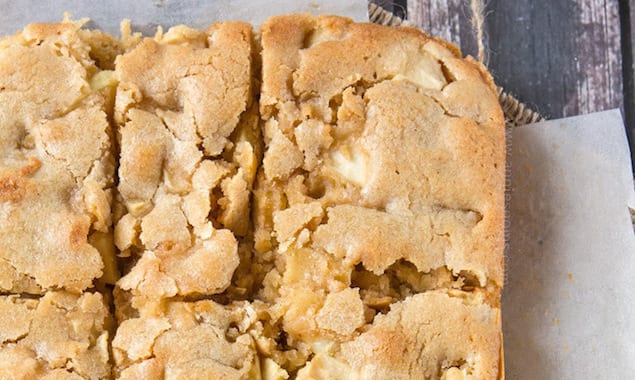 Chewy, soft blondies take on autumnal flavors of soft apple pieces and spices of cinnamon and nutmeg. They're a sweet delight!
By Annie Standing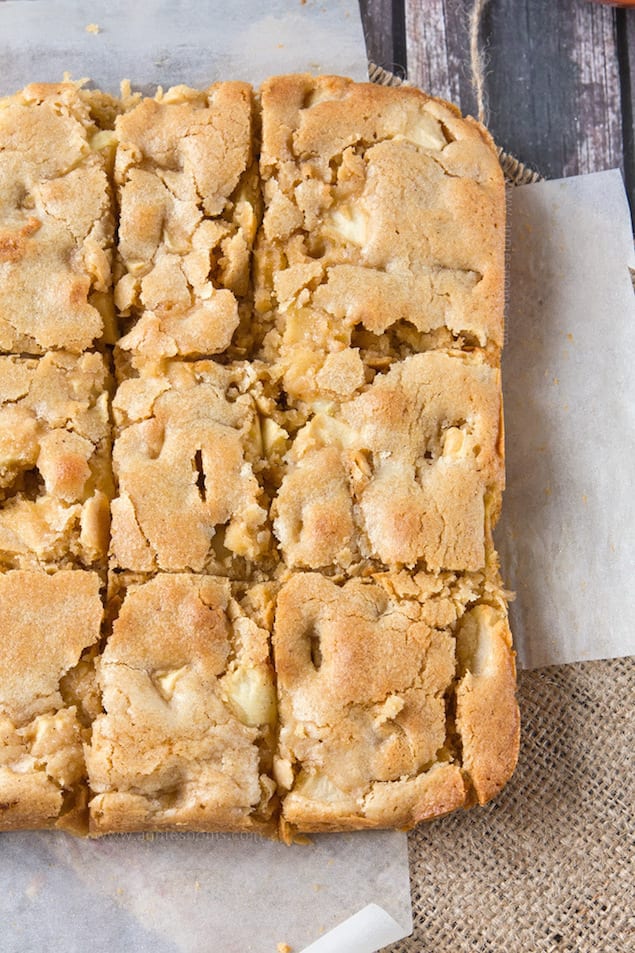 I've made these three times in the past few weeks. In pursuit of perfection of course…. and because they're so delicious I can't stop eating them.
There are three small apples mixed into these bars, (two medium if you have them) and you get a soft, tender apple chunk in every. single. bite.
Now, let's talk about the actual blondie batter. I always make my brownies/blondies by hand as I find they turn out better and you are less likely to over mix them; that means (with brownies at least) guaranteed fudge factor.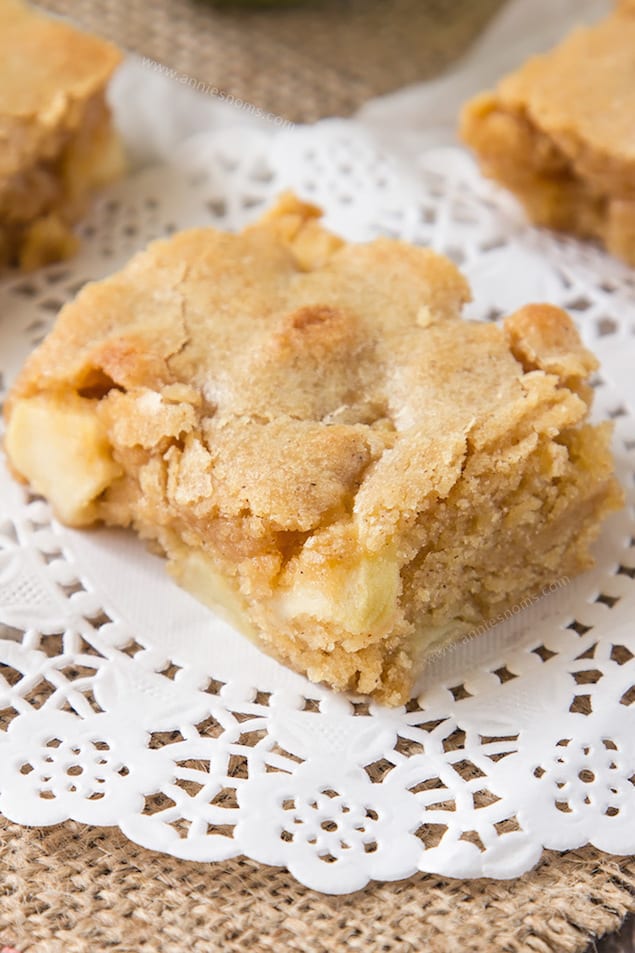 This is a thick mixture. It will probably look like you don't have enough to fill an 8×8 pan, but you do, I promise.
These blondies have the perfect butter to flour ratio and they turn out chewy, soft and heavenly.
I digress. Really, you just need to go and find your favourite apple (I used Granny Smiths) and make these blondies. I was going to add some frosting, but when I tasted them, they just didn't need anything else. Sometimes the simple things really are the best.

Apple Blondie Bars
Chewy, soft blondies take on an autumnal of soft apple pieces and spices of cinnamon and nutmeg. They're a sweet delight!
Recipe Type:
Dessert, Baking
Ingredients
1 stick (113g) unsalted butter, melted and slightly cooled
2 medium sized apples (or 3 small), peeled, cored and sliced into ¼ inch chunks
1tbsp lemon juice
½ cup (100g) caster sugar
½ cup (100g) light brown sugar
1 large egg
½tsp vanilla extract
½tsp baking powder
Pinch of salt
½tsp ground cinnamon*
¼tsp ground nutmeg
1 and ¼ cups (175g) plain flour
Instructions
Preheat the oven to 180C/350F and grease and line an 8x8 inch square pan.
Place chopped apple into a medium sized bowl and pour over lemon juice. Toss to coat the apple in lemon juice and leave to one side.
Place sugars, egg and vanilla extract into a large bowl and whisk until well combined and smooth.
Gradually pour in the melted butter, whisking while you add it in, until the mixture is smooth and pale.
Add in the baking powder, salt, spices and flour, then take 2tbsp of flour out and place in the bowl with the apples. Toss the apple chunks in the flour. Leave to one side, whilst you whisk together the flour with your wet blondie mix.
Once thick and well combined, tip in the coated apples and fold in with a spoon until all the apples are coated in blondie mix.
Tip into your prepared pan and smooth over with a spatula/wooden spoon.
Place in the oven for 24-27 minutes until the edges are lightly brown and the centre is a very pale golden colour. A skewer, inserted into the centre, should come out clean.
Leave to cool in the pan for 1 hour before transferring to a chopping board to cool completely. (I found leaving them to cool completely in the pan made them too soft to remove from the pan in one piece. The apple adds moisture, so taking them out and leaving them to cool out of the pan worked better.)
Once cool, slice into 9-12 pieces and keep in an airtight container, at room temperature, for 4 days.
Notes
*I found that ½tsp cinnamon was plenty for these blondies, you definitely taste it, but if you're a spice fiend and love really strong spices, up it to ¾tsp.