There's nothing quite like the taste and aroma of Almond Blood Orange Cookies. It makes the perfect companion for a hot cup of coffee.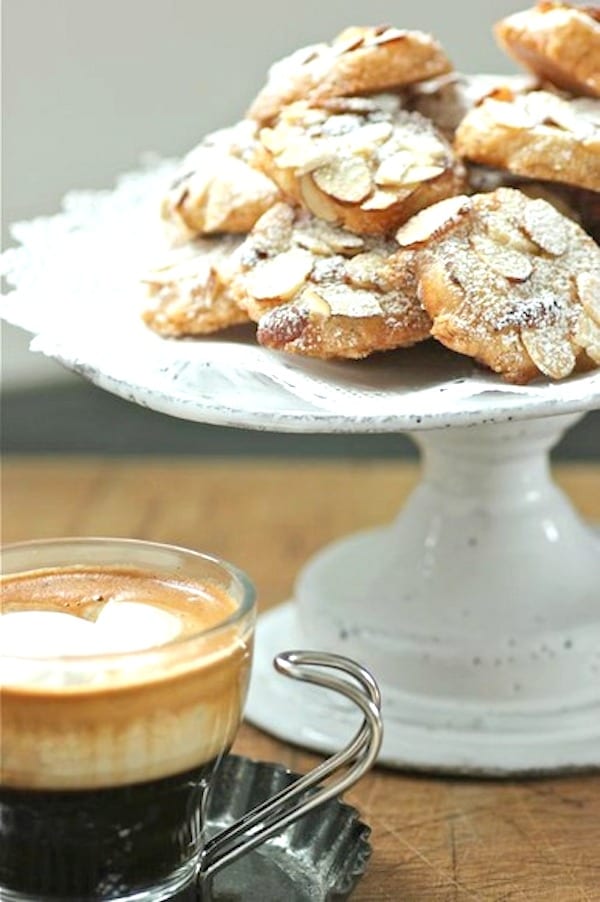 My mother had a very large vegetable garden behind our family home in Amana, Iowa. Tending to this garden demanded much of my mother's time during the growing season. But, oddly enough, I have vague memories of my mother in her garden. Instead, my memories are of baskets (beautiful handmade Amana "bushel" baskets) full of produce set by the kitchen door… and the production that was always underway in my mother's kitchen.
The reason I remember the fruits and vegetables more than my mother actually working the garden is because she was usually finished with her weeding, watering, and harvesting before I even woke up… and I woke up early! My mother did her chores before the sun was high and summer's heat made tending a garden unbearable.
And after a good amount of work had been completed by my mother, there was always a mid-morning coffee break. Everything stopped, coffee was made, and some sort of sweet treat was served. Now when I bake brioche, cookies, tarts, etc., I wish my mother were here to enjoy it all with a cup of coffee, and me.
See Also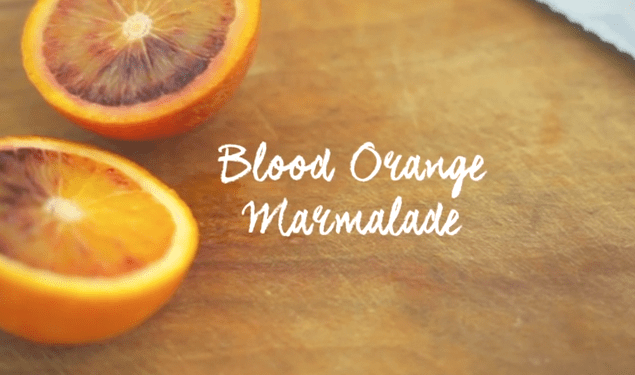 I've been stacking several of these Almond & Blood Orange Cookies on my husband's coffee cup saucer in the mornings. This is one of the best cookies I've made (and eaten) in a long time. And there's another bonus in addition to the wonderful taste — the citrusy, almond-laced aroma in the kitchen after you bake these cookies.
Print
Author:

Eileen Troxel

Category:

Dolci
COOKIES:
1/2 cup

sliced (blanched almonds, toasted and cooled (see note above))

2 cups

all-purpose flour

1/2 teaspoon

baking powder

1/2 teaspoon

salt

16 tablespoons

2 sticks unsalted butter, at room temperature

1 cup

sugar

1

egg yolk (white reserved)

1 teaspoon

vanilla

1

packed teaspoon blood orange zest (from

1

blood orange)
COATING:
1

egg white (reserved from egg above)

1 1/2 cups

sliced (blanched almonds)
Confectioners' sugar (for dusting)
Instructions
In the bowl of a food processor, pulse the toasted almonds until the consistency of cornmeal. Transfer almonds to a mixing bowl; add the flour, baking powder, and salt. Whisk to combine and set aside.
In a large bowl and using an electric mixer, beat the butter and sugar together until light and fluffy, about 3 minutes. Add the egg yolk, vanilla, and blood orange zest; beat mixture to combine. Slowly add the dry ingredients to the moist and beat until a dough forms. Divide dough in half and on a sheets of plastic wrap, roll each half into a log, 1 1/4-inch in diameter. Wrap each log in the plastic and refrigerate for at least an hour.
Line 2 baking sheets with parchment paper. Position oven racks in the upper and lower third of the oven. Preheat oven to 350?F. Place the reserved egg white in a medium-size shallow bowl (I added about 1/2 teaspoon water to the white; stir to combine). Fill another medium-size shallow bowl with the blanched almonds. Remove the cookie dough logs from the refrigerator. Using a sharp paring knife, slice each log into 1/4-inch pieces. Take a slice and dip one side in egg white (leave slice in egg white for about 10 seconds helps the almonds to adhere), then dip in the sliced almonds, pressing firmly into the almonds; place on baking sheets. Repeat with remaining cookie slices.
Place a cookie sheet on each shelf of the preheated oven. Bake for 15 minutes or until golden, switching position of the sheets half way through baking. Remove from the oven and cool for 5 minutes before transferring cookies to a cooling rack. Dust with confectioners' sugar.
Notes
To toast the almonds, preheat oven to 325?F. Spread the almonds onto a baking sheet and bake for about 7 minutes, or until golden.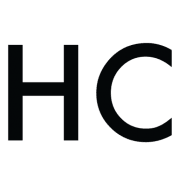 Eileen Troxel
I grew up in the Amana Colonies in Iowa; a German community made up of seven villages, where gardening, cooking, and hand-made were the center of our lives. I went on to study fiber at the Kansas City Art Institute and for many years created one-of-a-kind, crocheted linen bags that were sold through galleries, museums, and boutiques across the country. I have also restored Oriental rugs, done graphic design, worked as a colorist, catered, consulted (on whatever...) and raised two beautiful daughters. I now spend my days in my kitchen baking and asking myself, "Why didn't I go to France and study pastry?" I am now making up for lost time, sharing with you what I love to do most in the kitchen.