It's burger time in veggie-land. Joana Mendes with a fresh vegetarian hamburger that will have even carnivores coming back for seconds.
Text And Photo By Joana Mendes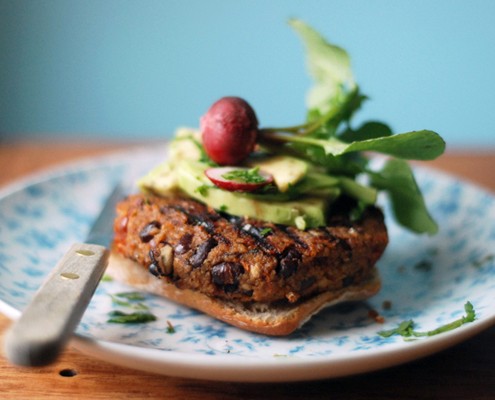 The recipe I'm sharing with you today is an old favorite from my blog. It's probably the most successful veggie burger I've made so far: they've got the right texture and consistency and a great, unusual flavor, thanks to the combination of adzuki beans, cooked millet, and tangy sun-dried tomatoes. A couple suggestions: if you don't have adzuki beans at hand, cooked black beans will make a great replacement; and also, if you don't want to pan-fry the burgers, either grilling or baking them will do, as long as they're coated with a little olive oil. Having millet and beans as dominant ingredients, I think they'd be quite dense if served in burger buns, so I my suggestion is to serve them in a similar fashion to bruschettas: over a thin slice of grilled bread and topped with fresh herbs and/or thin slices of avocado. If you happen to make these, I hope you like them as much as I do.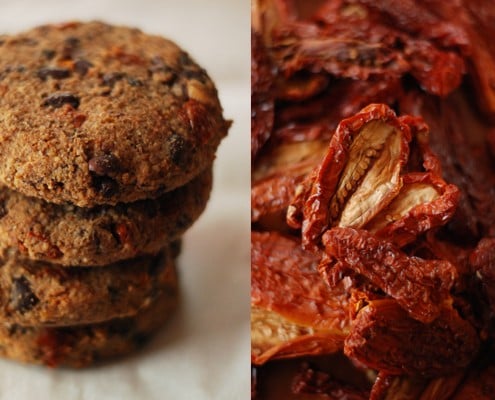 Adzuki Bean and Sun-Dried Tomato Burgers
Delicious veggie burgers
Ingredients
195 grams (1 cup) millet
750 ml (3 cups) water
teaspoon salt
60 grams (about 12 halves) dry-packed sun-dried tomatoes
teaspoon salt
400 grams (1 ¾ cups) cooked adzuki beans
4 large garlic cloves, peeled
5 tablespoons plus 3 olive oil
freshly grated black pepper
teaspoon dried thyme
teaspoon dried chives
Instructions
In a dry skillet over medium-heat, toast the millet for 3 to 4 minutes, stirring often, until it turns golden brown and starts smelling toasty.
Transfer the toasted millet to a pan filled with 750 ml (3 cups) water and bring to a boil. Once boiling, decrease the heat to low-medium, add ½ teaspoon of salt and cook, covered, for 30 minutes, or until all the water has been absorved and the millet is cooked through. Remove from the heat and let it cool down a bit at room temperature.
In the meantine, put the sun-dried tomatoes in a bowl filled with hot water (1 cup - 250 ml – should be enough). Cover, and let the sun-dried tomatoes rehydrate for 15 minutes. Drain them and coarsely chop them. Set aside.
Using a mortar and pestle, crush the garlic cloves with a pinch of salt. In a frying pan over medium heat, warm 5 tablespoons of olive oil. When hot, but not smoking, add the crushed garlic and salt mixture and fry until golden brown – 4 to 5 minutes. Let the garlic cool to room temperature.
In a food processor, process 2 cups of the cooked millet, ½ cup of the cooked adzuki beans, the fried garlic and the oil, the dried thyme and chives, black pepper, and half of the chopped sun-dried tomatoes. Process for 2 minutes, or until a thick purée comes together.
Add the remaining adzuki beans and sun-dried tomatoes to the purée and pulse no more than 2 or 3 times – you want the burgers to have some texture, so these ingredients only need to be broken down a bit. The mixture should now be thick and easy enough to handle and shape. Have a taste and season with a little more salt if needed.
Working with your hands, divide the mixture into 6 equal portions and shape them into patties the size of your hand palm.
In a large frying pan, heat 3 tablespoons of olive oil. Add the burgers when the oil is hot, and pan-fry them for 5 to 6 minutes on each side. Alternatively, you can either grill the burgers - in a hot grilling pan coated with a little olive oil - or bake them in a pre-heated oven at 180ºC (350ºF) for 5 minutes on each side, or until golden brown. Serve right after cooking with your favorite ingredients or as shown in the picture above: with radishes, thin slices of avocado and, to finish things off perfectly, a good squeeze of lemon juice.
Joana Mendes
Based in Porto, Portugal, Joana Mendes is the cook, photographer and editor of the Veggies On The Counter food blog. She loves seasonal and natural produce, and her focus as a cook and writer is on whole foods and vegan cuisine.