Acquacotta – A Traditional Tuscan Soup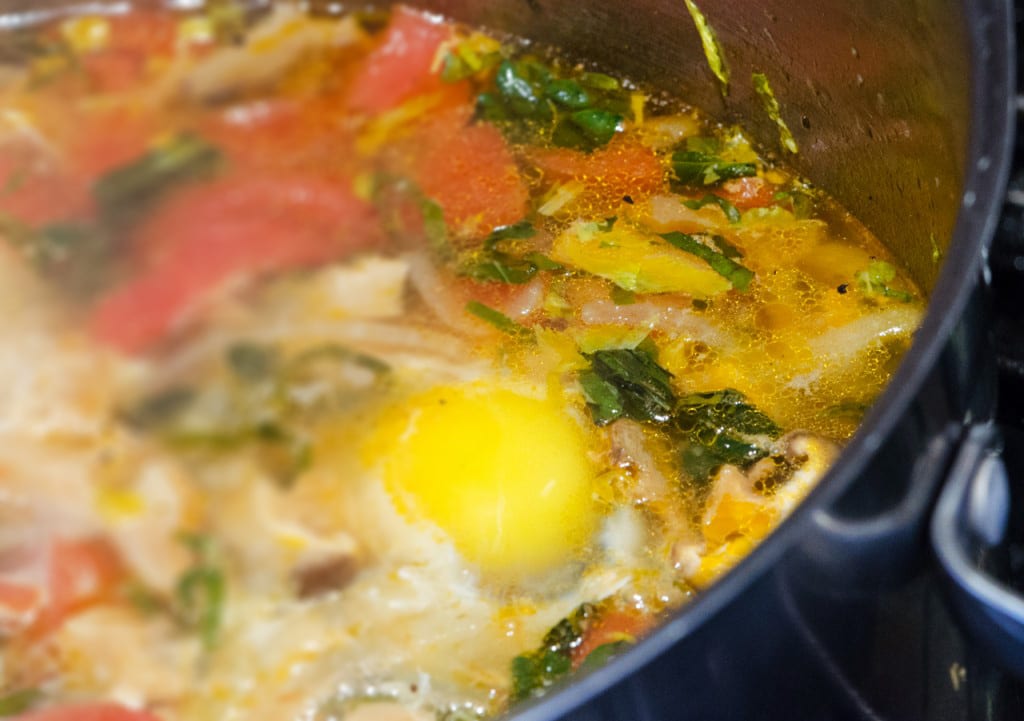 Acquacotta is a dish whose origins hail from the herdsman and shepards of the Maremma region of Tuscany.
By Kathy Bechtel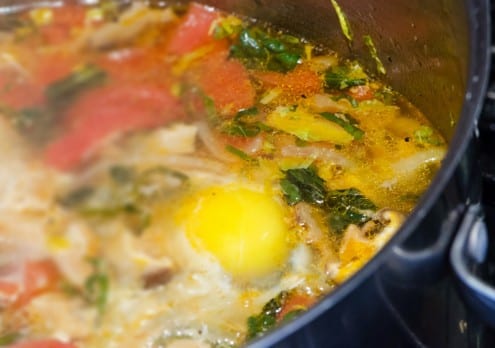 Here's the version I created, flavored with what I had on hand. I chose to include the onion, rather than serve it on the side. I served it over duck eggs that I poached in the soup itself.
Acquacotta – A Traditional Tuscan Soup
Acquacotta is a dish whose origins hail from the herdsman and shepards of the Maremma region of Tuscany.
Ingredients
3 tablespoons extra virgin olive oil, plus extra for drizzling
1 medium onion, sliced
12 stalks asparagus, woody ends removed and cut into 1 inch pieces
2 cloves garlic, one peeled and minced, one just peeled
3 tablespoons aromatic herbs (mint, basil, celery leaves)
4 kale leaves, thick stem removed and chopped
½ cup dried mushrooms, rinsed, and chopped if large
¼ cup grated pecorino
Kosher salt and freshly ground pepper
5 plum tomatoes, peeled, seeded and chopped
6 cups hot water
4 slices of bread, toasted
4 eggs
Instructions
Heat the olive oil in a wide pot over medium heat, add the onion and asparagus and sauté until soft and starting to brown, about 4 or 5 minutes.
Add the minced garlic, herbs, and kale. Cook 2 minutes. Season with salt and pepper
Add the mushrooms, 1 tablespoon of the pecorino, tomato puree and water. Bring to a simmer, and allow to cook for 15 minutes. Taste and adjust seasoning.
Rub the toasted bread slices with the peeled clove of garlic, and place into 4 bowls. Drizzle each slice of bread with olive oil.
Gently break the eggs into the simmering broth – it may be easiest to break them one at a time into a tea cup and slip them into the broth. Poach for 2 minutes. Remove the eggs, and place each in a bowl on top of the bread. Ladle a small amount of acquacotta into each bowl to cover the bread. Allow to sit for a minute or so, allowing the bread to soak up the soup.
Finish ladling the remainder of the soup over the egg and bread. Sprinkle each with the remaining grated cheese and herbs, and drizzle with olive oil. Serve.
Kathy Bechtel
Kathy Bechtel's obsession with food and cooking began as a teenager. After years following a traditional career path as a telecommunications engineer, she left to attend culinary school and wine training, and is now combining her passions for food and wine, the outdoors, and travel as owner and Culinary Tour Director of Italiaoutdoors. In this role, Kathy leads small bicycle, skiing and walking tours that explore the authentic regional cuisines, local products and undiscovered wines of Northeastern Italy.