If there is one thing Reid Nichols wished he paid more attention to while apartment hunting, it is the kitchen.
By Reid Nichols
If there is one thing I wish I had paid more attention to while apartment hunting, it is the kitchen. Having looked all over the place I came to believe that apartment living requires lowering your culinary standards. That, however, is not true. Apartment dwellers, I came to learn, just need to be a little bit craftier in the kitchen. The following are some sure fire ways to improve the room and functionality of your apartment kitchen.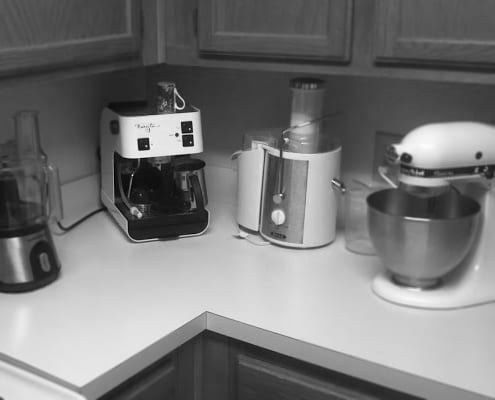 Prioritize space over appliances you seldom use
Do you really need to have that coffee machine out on the counter all week if you only use it on the weekends? Probably not. Find a place to store small appliances and items you seldom use in order to free up more workspace.
Learn to cook neatly
If cooking space is a premium, make sure to clean as you go. Don't let things sit out on the counter taking up valuable real estate. By reducing the number of things you get dirty, you will reduce the number of items you use, as well as the amount of space you take up.
Add extra storage space
Take a walk through Ikea to get some ideas of how to save space. One great idea is having a pegboard wall or magnetic knife holder on the wall. Use any space available to you to find ways to store your kitchen supplies.
Purge your old and unused items
There is a running joke in my apartment household; we can never have enough spices. This joke started because we never threw out old spices and the little bottles seemed to multiply over night. When we finally got rid of the unused or old containers we freed up a lot of space and saved a lot of time! We did the same thing with the refrigerator and things stayed a lot cleaner/roomier.
Skip the microwave
See Also
I want to say that I know how crazy this sounds, but I can't. It was so easy to do and saves a lot of room. Since moving into my current apartment, I have only missed having a microwave once or twice- when I was craving gross junk food I shouldn't eat anyways. 
Go light, avoid dark
A well lit apartment kitchen will look larger than a dark one. This includes bringing in as much natural light as the building allows. When the wall is painted a light color, you will get more of a spacious feeling.
Do your research
One thing you can do before you ever find an apartment to rent is research! Go online to different apartment finder services and read reviews and view kitchen layouts. I can't stress how important this is- not only for the kitchen's sake. You need to know what people are saying about the place you could call home.
I hope these tips help you out as much as they have come in handy for me.  Let me know what you think, and if you have any tips of your own!
Reid Nichols
Reid Nichols has enjoyed eating almost every day that he has been alive. He has a Bachelor's Degree in Communications from the University of Washington and a Master's Degree in Business Administration from The Rollins College Crummer Graduate School of Business. He provides freelance writing and consultation out of Central Florida.