Add these innovative conversation pieces to your breakfast table for a fun-filled morning. The egg cup has been around for centuries, if you don't have some already it is time to get inspired and add some to the cupboard.
By Annelise McAuliffe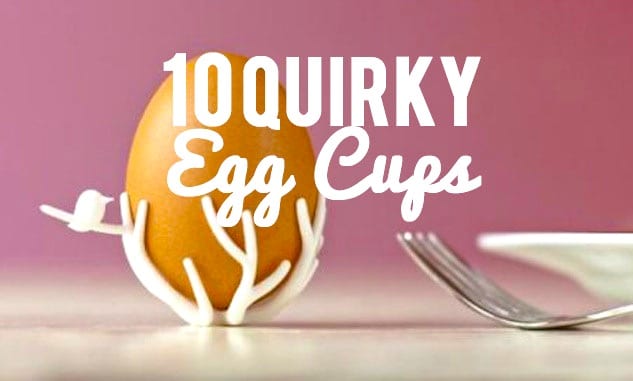 www.inewidea.com
An egg cup, also know as an egg server or footie, is the proper dish-ware to serve a soft-boiled egg. Or, for many others it is a collector's item. The formal act of collecting egg cups is know as, pocillovy, a literal Latin translation for 'small egg cup'. Use that new word at a the next party to impress all your friends. Historians and archeologists have found relics to predict that the little dish has been in use since the prehistoric times. Regardless of how often soft-boiled eggs are eaten, egg cups can be fun pieces to add to a brunch table. From wooden to porcelein or silver, over time the cups have been made of a variety of materials reflective of the culture and the resources. Here are ten quirky egg holders to turn you into a pocillovist.
1. Cork Holder
Made from cork, these egg cups will cuddle your egg and keep it warm until you are ready to eat. Bonus, while you are eating, the cork material will grip your plate and prevent it from sliding away from you. Don't worry about ruining the cups during cleanup, they're water-repellant.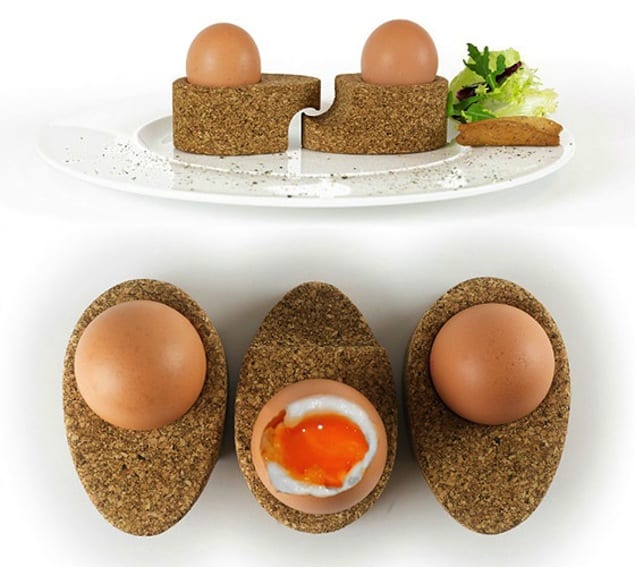 www.designswan.com
2. Breakfast Train
You will want for nothing at breakfast with this complete set. A car for your egg, another with toast slots, and the caboose complete with salt and pepper. Hop on this train for a delightful breakfast.
www.freshdesignblog.com
3. Magnetic Holder
Made out of modern-looking concrete, these egg cups are durable and stylish, too. You will never lose track of your messy, yolk-covered spoon because your egg cup has a magnet for that. Try this magical-looking piece and wow your diners.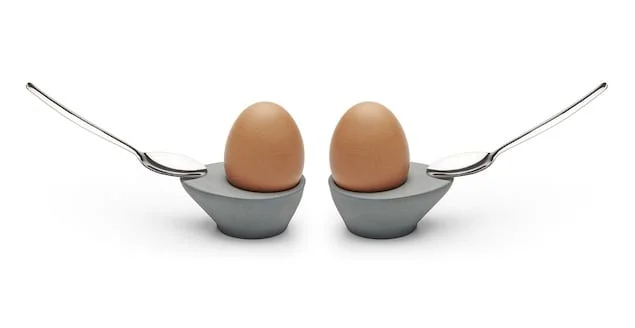 www.menschmadedesign.com
4. Eiko Egg Boilers
With this handy egg tool you won't have to lift a finger. From cooking to eating it can do it all and without the hassle of fishing the egg out of hot water.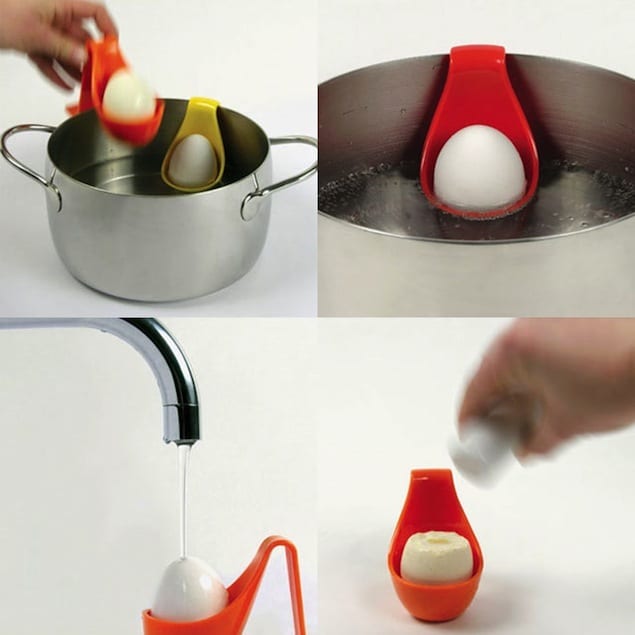 blogof.francescomugnai.com
5. Self-Cooking Egg Cup
Made from recycled paper products, this cup is designed to carry the egg from the fridge to the breakfast table. With a built in catalyst to heat the egg, all you have to do it pull the tab to start the reaction. In minutes, and without a stove, you have a 'boiled' egg.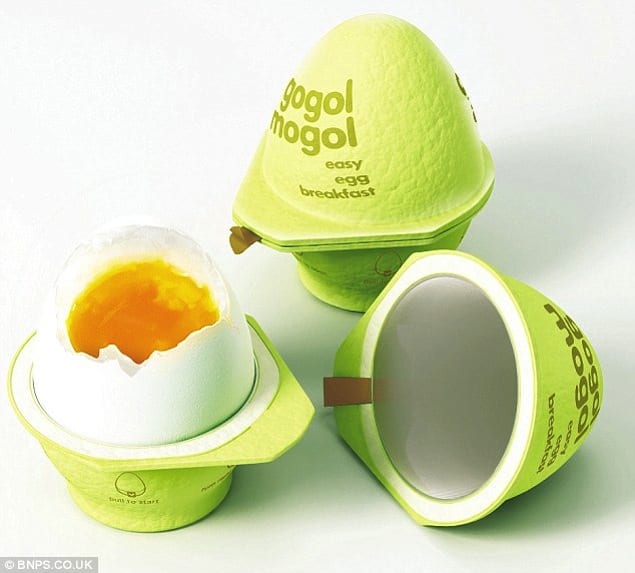 www.dailymail.co.uk
6. Egg Timer Cup
Use this glass egg cup to time your way to a perfect egg. Go ahead and multitask this morning and let your egg cup do the rest. Flip it to start the yolk sand timer and when the sand it gone flip it again to use as a cup.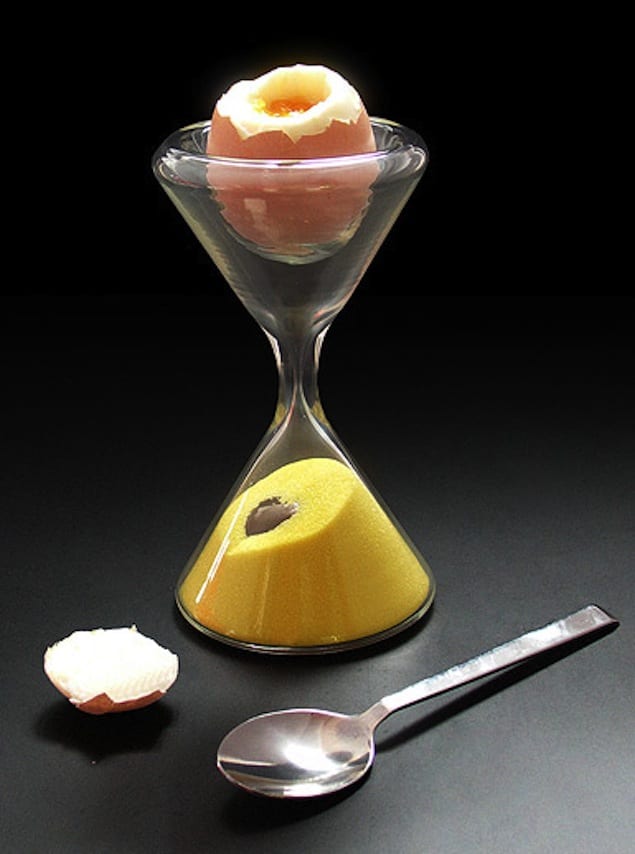 nerdapproved.com
7. King Arthur Egg Holder
Have some fun in the morning with this tough egg cup. Your egg's knight in shining armor comes bearing a spoon, too. Create a morning army for a fun breakfast table.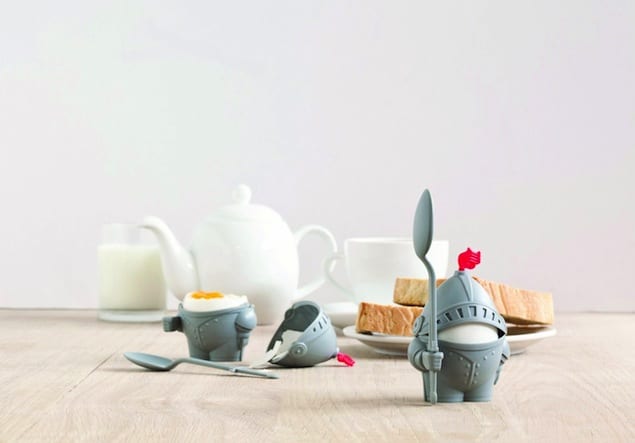 http://www.amazon.com
8. Egg's on Their Side
Take a step back in history to the original egg holder shape. Designed to accommodate longer and larger eggs, this egg cup creates a different approach to a soft-boiled egg. The lateral lying shape provides more room for toast dipping, too.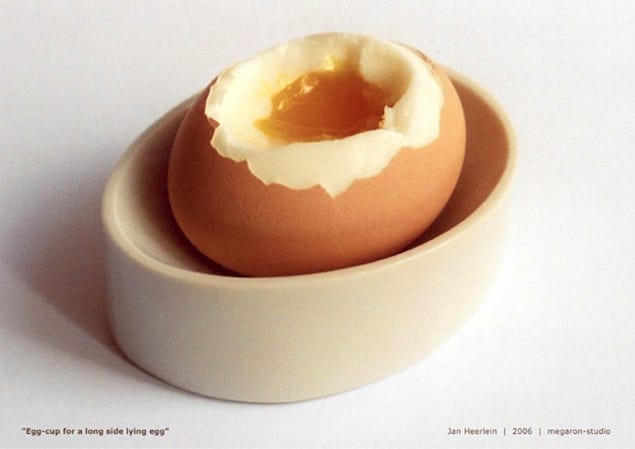 http://www.designboom.com
9. Big Ears Egg Cup
Start your collection off with the wooden Big Ear Noddy family from the 1950's. Not only will your eggs sit in a goofy, collector's cup, but they will also stay warm. Each character comes with a hat to complete their outfit and insulate your breakfast.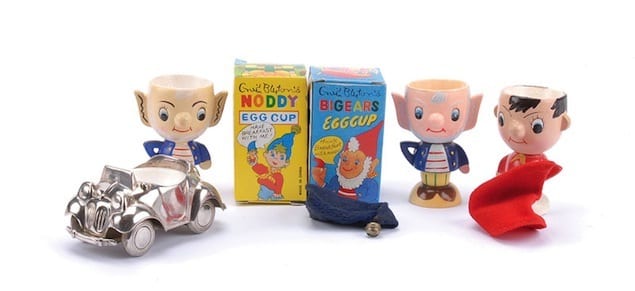 www.vectis.co.uk
10. Egg Shell Cutter
While this may not be a collectable cup, it will give your egg's shell a clean, crisp crack to match the fancy holder. Get this chicken strutting and Once you get the peeling going with this tool there will be no stopping you.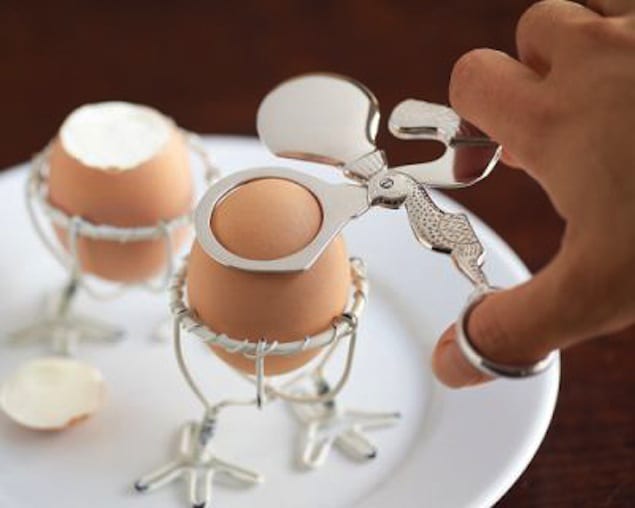 arbtalk.co.uk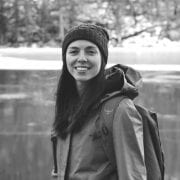 Annelise McAuliffe
Mandatory family outings to the Detroit farmers' market and nightly home-cooked meals cultivated Annelise's respect and curiosity for food. A graduate of The Culinary Institute of America, she spends her free time in New York City recipe testing, eating breakfast all day, and dreaming up international culinary adventures.