Pulled pork or beef receives an Asian twist of five spice as it cooks low and slow in the oven. Pile it high in your next taco with a cool slaw and a spicy Sriracha sauce.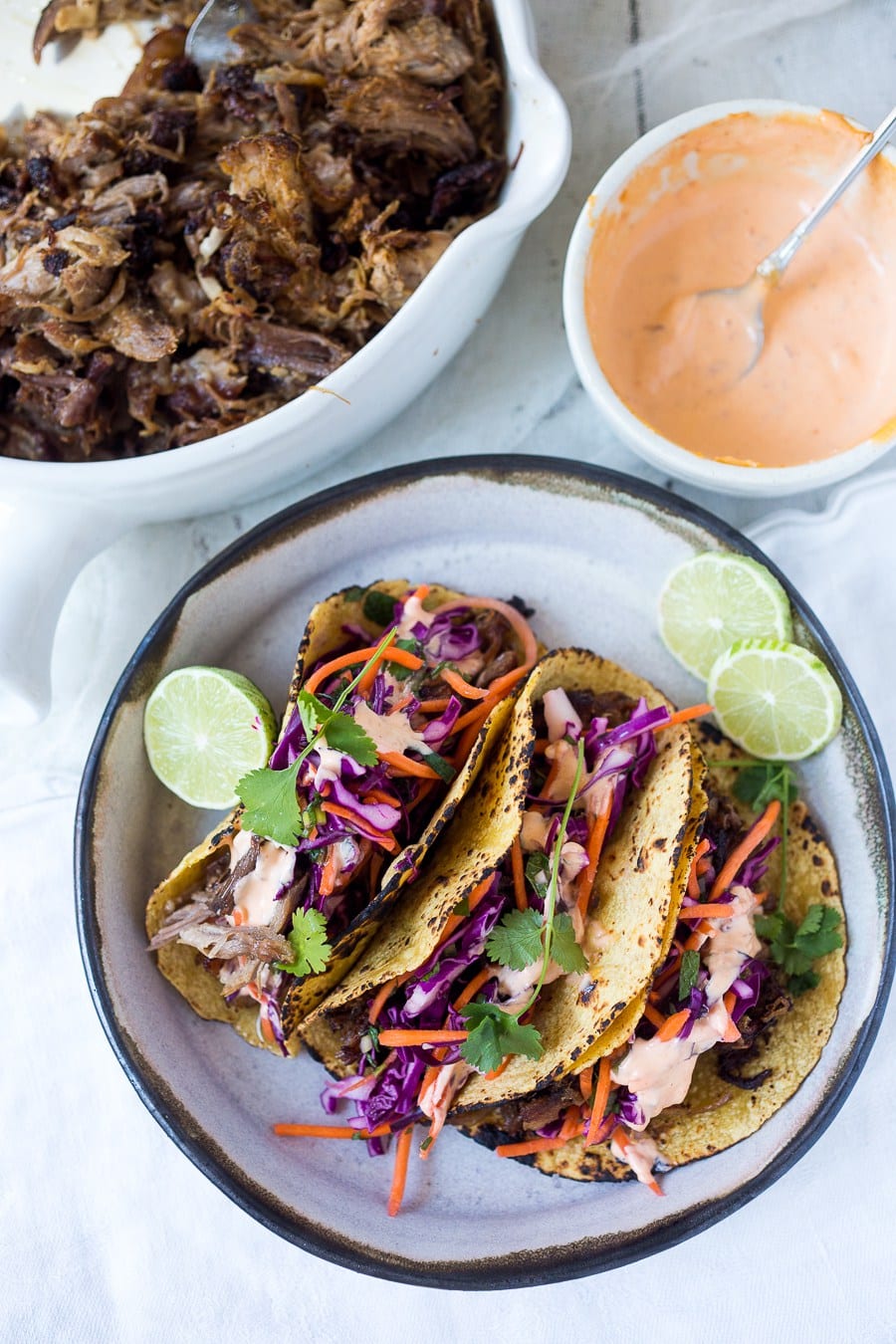 A simple, flavorful recipe for Five Spice Pulled Pork Tacos with fresh, Carrot Cabbage Slaw and Spicy Aioli inspired by ingredients from my CSA. The pork (or beef) can be roasted in the oven low and slow for about 6 hours on a lazy Sunday, or cooked in a slow cooker during the workweek — a quick and easy weeknight meal. When it's done, the meat is meltingly tender with a surprising exotic flavor from the five spice. Together with the fresh and crunchy Asian Slaw and the creamy Sriracha-spiked aioli, it makes for the perfect taco. And the leftovers make great tacos too. (For non-pork eaters, feel free to substitute a beef roast. )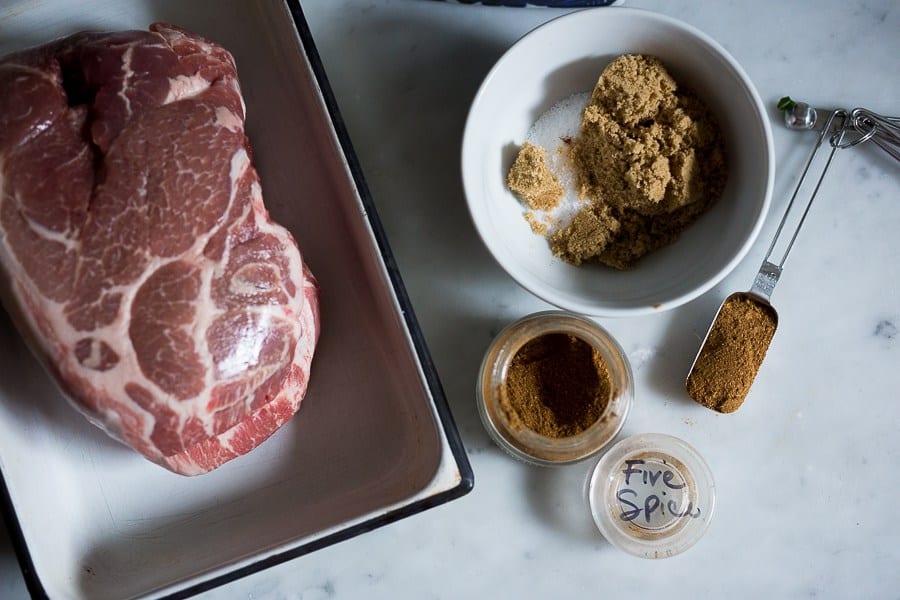 For this recipe Use a boneless 3 ½ pound pork roast. You can substitute an equivalent Beef roast. Coat with rub and let sit two hours or overnight in the fridge.
In the morning, place it in a warm oven, or a slow cooker and let the delicious aromas fill your house.
When the roast is done, the edges will be crispy and the meat ….oh so tender. Shred with two forks and stir in a little vinegar. Voila.
If you like your meat extra crispy, you could give it a quick stir fry in a cast iron skillet.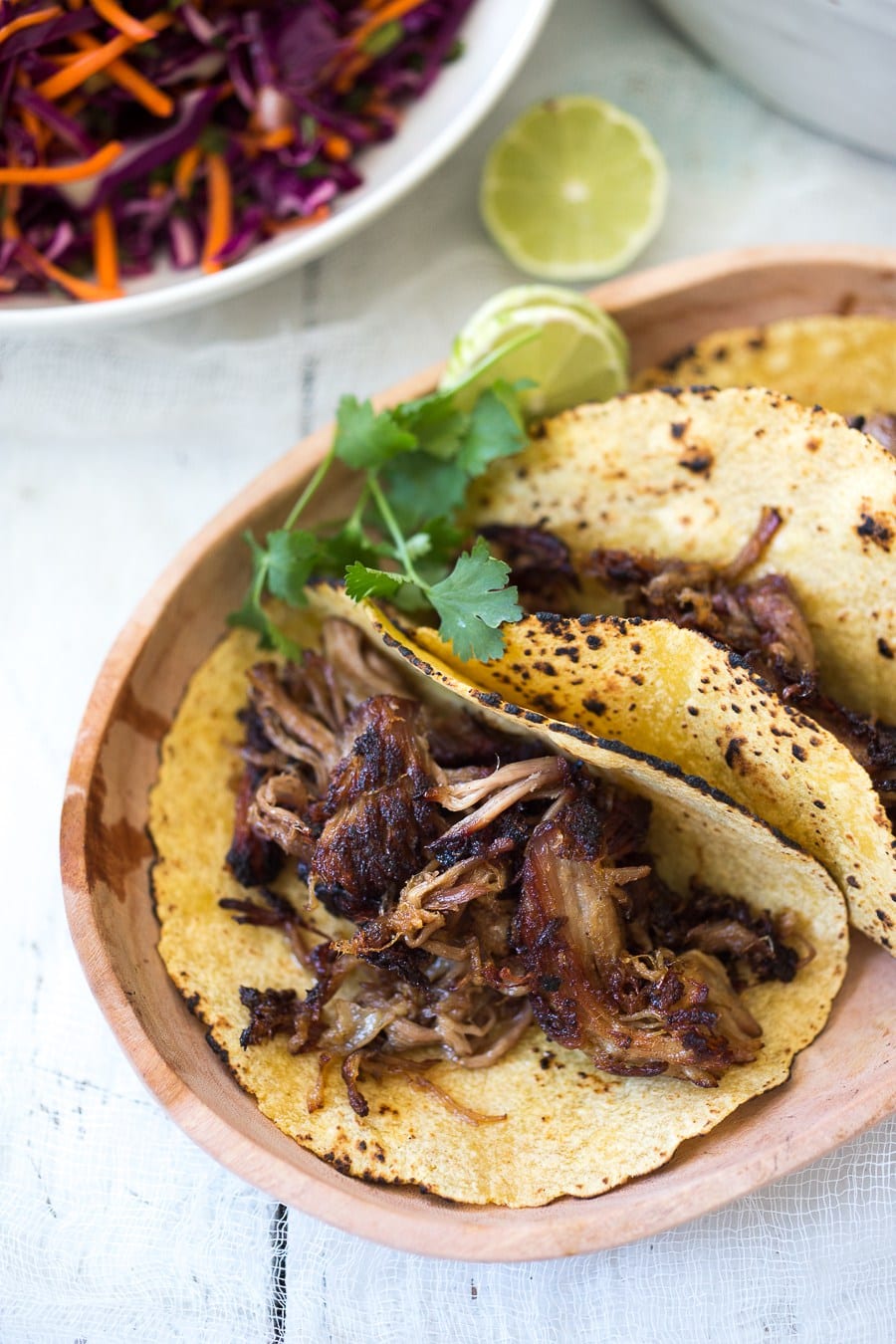 Top with slaw, sauce and serve with lime, avocado and cilantro.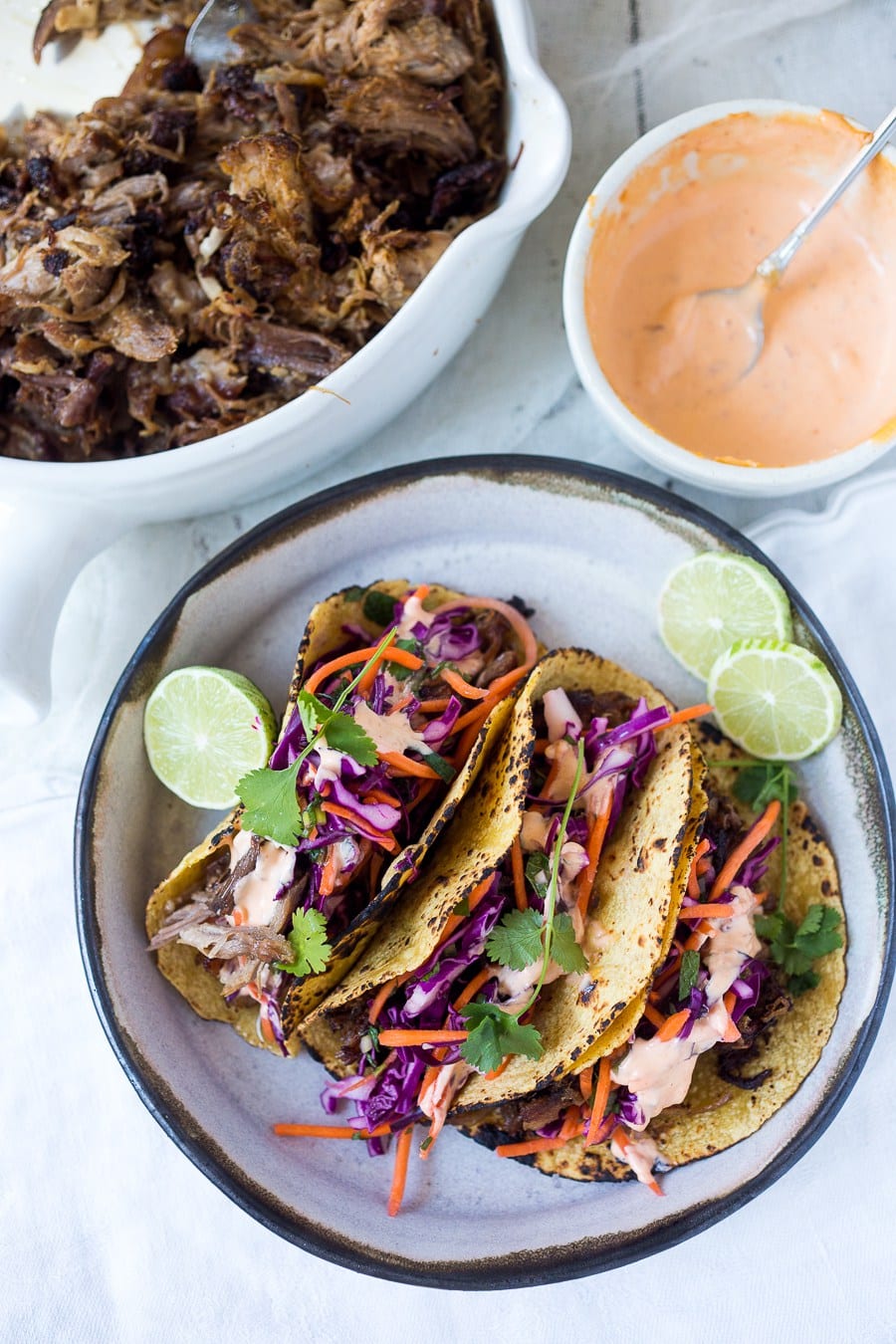 Five Spice Pulled Pork Tacos
Pulled pork or beef receives an Asian twist of five spice as it cooks low and slow in the oven. Pile it high in your next taco with a cool slaw and a spicy Sriracha sauce.
Ingredients
Pulled Pork
? cup salt
? cup brown sugar
1 ½ teaspoons Five spice (use store bought or see recipe below)
3.5 pound boneless pork shoulder ( or substitute beef roast)
1 tablespoon rice wine vinegar
Cabbage Carrot Slaw
3 cups cabbage, shredded or finely sliced
1 cup carrots- shredded
¼ cup red onions sliced thin or 3 scallions, chopped
¼ cup chopped cilantro, mint or thai basil
3 tablespoons lime juice,
2 tablespoons sugar
1 tablespoon fish sauce
Spicy Sauce
½ cup mayo
2 tablespoons Sriracha or chili garlic sauce
1 tablespoon rice wine vinegar
Serve with warm or toasted corn/flower tortillas, pickled onions, cilantro, lime, avocado slices ( optional)
FIVE SPICE SEASONING
1 teaspoon ground cinnamon
campaignIcon Coupons
1 teaspoon ground cloves
1 teaspoon fennel seed, toasted and ground
1 teaspoon ground star anise
1 teaspoon szechuan peppercorns, toasted and ground ( or sub regular peppercorns, although szechwan is more authentic)
Instructions
Mix salt, sugar and 5 spice together. Coat all sides of the Pork roast well, discarding excess. Place in a small baking dish and cover with plastic wrap ( or wrap the whole roast in plastic wrap) refrigerate overnight (or for at least 2 hours). Bake in a 250F oven for 6 hours, uncovered, basting with the flavorful pan juices once every couple hours. Pull it from the oven and let it cool a bit. ( Alternatively, if using a slow cooker, cook for 4-5 hours on high, or 7 hours on low, adding a ¼ cup water to the bottom first) Shred the pork with two forks. Mix in the vinegar.
Keep warm in the oven, slow cooker, or refrigerate, and reheat before serving.
To make the slaw, mix all the ingredients in a medium bowl, and let stand a few minutes before serving, to allow flavors to meld.
To make the sauce, mix mayo, sriracha and vinegar in a small bowl.
Toast tortillas in a toaster oven, or "grill" directly over a gas flame, over the stove until warm.
Place a little sauce on the tortilla, top with pulled pork and slaw. Garnish with avocado slice ( optional) and fresh cilantro and lime wedges.
Notes; To make Five Spice form scratch, toast all whole spices, then grind, add to ground spices.
To get the pork crispy, saute in a skillet, letting it brown up, right before serving.
If subbing beef for the pork, cooking time may shorten slightly- to be safe check one hour earlier.