Jessie Chien Bryson is back in the United States after nearly two years abroad in China. These end-of-summer zucchini patties prove why there's really no place like home.
By Jessie Chien Bryson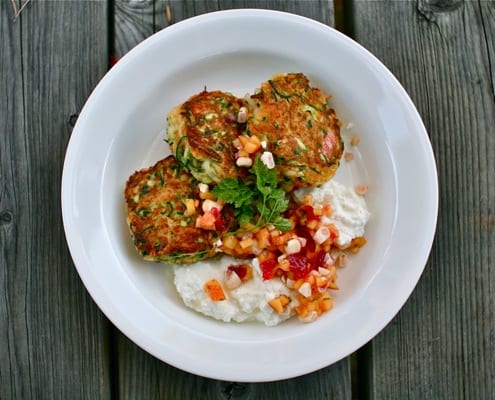 My husband and I are both from the Bay Area, so for most of this summer, we were back home enjoying the blue skies, clean air, and orchard-grown peaches of San Jose, California. Our childhood homes are a two-minute drive apart, so we spent our days shuttling from one set of parents to another, raiding the fridge and the pantry as if we were still in high school.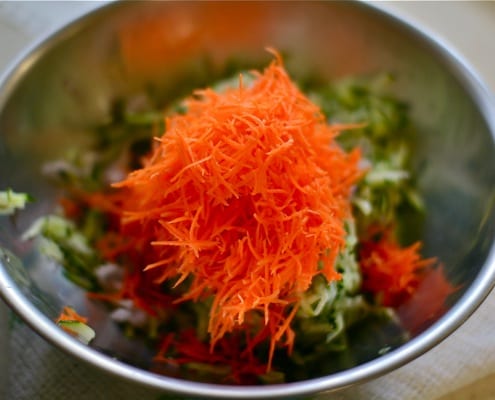 Every morning we mixed the ripest, sweetest peaches and plums into our oatmeal while my father-in-law told us about the man who sells these fruits, the man who is the namesake of one of the old grocery chains in town, and whose business he won't pass on once his body does. I observed the flowers blossoming from my mom's zucchini plants in her backyard, amazed that every three days brought a new crop of buds (but no zucchini in sight). We strolled the Saturday farmer's market at our local junior college, where the kettle corn was popping just as it had when I visited in high school. We bought the sweetest ears of corn from a guy who I'm convinced was practicing for a stand-up act on Comedy Central. In between eating and tasting things, we also gathered with many of our family and friends. Summer vacation was very good to us.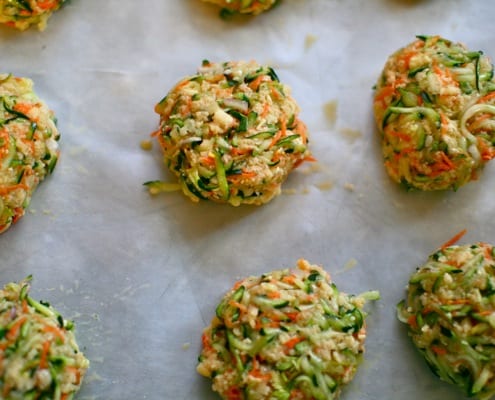 Fall is settling upon us this week, and we're back in our own home on the East Coast. While these visions of my great summer linger on the mind, the summer produce is quickly disappearing on the grocery shelves. The stacks of ripe tomatoes and peaches and crispy sweet corn are slowly diminishing, making room for squash and broccoli stems and apples. Take advantage of summer's last hurrah while memories are still fresh, grab the last of the summer's harvest, and try this vegetarian-friendly entree tonight!
See Also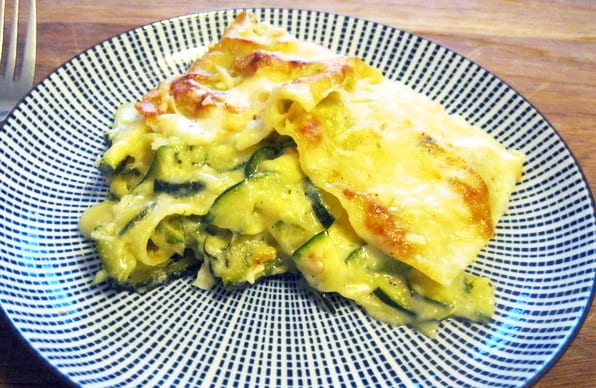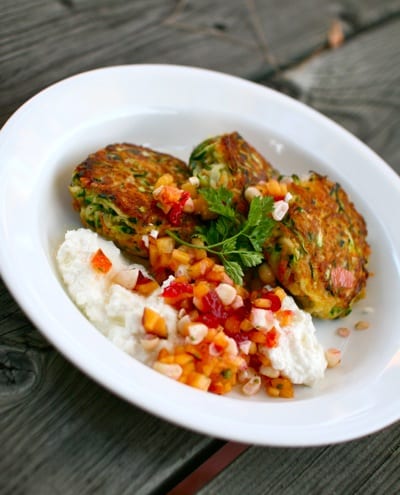 Zucchini Patties with Nectarine and Corn Salsa
This is a filling yet still light vegetarian entree, that highlights the best of a late summer's harvest.
Author:
Jessie Chien Bryson
Ingredients
3 small to medium zucchini, grated
½ lemon
1 large shallot (or 2 small ones)
1 ripe nectarine, finely diced
1 small plum, finely diced
1 large ear white corn, boiled and cooled
1 small bunch chervil (10-15 leaves)
1 small carrot, finely grated
1 cup panko breadcrumbs
2 eggs
⅓ cup pine nuts, finely chopped
4-5 zucchini blossoms (if available), thinly chopped
olive oil
balsamic vinegar
salt and pepper, to taste
fresh ricotta cheese
Instructions
Grate zucchini with the large holes of a grater. Lightly season and set over a double layer of paper towels lined in a colander. The zucchini will start to 'sweat', so set aside to drain for 30 minutes.
Meanwhile, make your peach and corn salsa. Boil one ear of corn, cool, and pat dry. Finely mince ½ of a large shallot and combine in a medium bowl with lemon juice and 1 tsp. salt. Finely dice peach and plum, and cut kernels off one ear of corn. Add into bowl and incorporate thoroughly. Coarsely chop chervil and mix in. Cover and set in refrigerator to cool.
One handful at a time, squeeze excess liquid from zucchini and transfer to a large bowl. Finely grate a carrot, mince the other half of the shallot, and mix with zucchini. To chop pine nuts, pulse in a food processor or spice mill a few times until roughly chopped. Or, use my method, which is to seal in a ziploc bag and pound with a rolling pin for a minute. Add pine nuts, breadcrumbs, eggs, salt and pepper, and mix well. Finely slice zucchini blossoms and mix, then add a dash of olive oil and a few splashes of balsamic vinegar. Taste, and season according to your preferences.
Line a large baking sheet with parchment paper. Using a ¼ cup measuring cup, spoon zucchini mixture into the palm of your hand and form into a small, 2-3 inch patty. The mixture will be fairly wet, but will stay together easily. There should be just about enough to make 12 patties.
After lining up all the patties, heat olive oil in a large nonstick skillet over medium high heat. When the oil starts to let off a bit of smoke, turn heat down to medium. Carefully drop zucchini patties into the pan, 4-5 at a time so as to not overcrowd the pan. Cook for 3-5 minutes on each side, depending on how hot your oil (and how crispy/burnt you like your patties!).
Transfer cooked patties to a plate lined with a paper towel to drain/cool.
On each plate, spoon a hefty dollop of fresh ricotta and season with salt and olive oil. Place a few patties on top, and dress with the peach and corn salad.
Notes
Fresh ingredients are key to making this recipe light and tasty. Use the freshest ricotta cheese you can find from your grocer or local market. In this recipe zucchini is used, although any squash or pumpkin can be substituted in its place.
Jessie Chien Bryson
Jessie Chien Bryson grew up spending sunny California Thanksgivings eating 20lb. free-range turkeys along with sides of Chow Mein, which is what she thinks cemented her insatiable interest of food cultures and sustainable methods as an adult. She recently spent two years in Guangzhou, China, where the locals were said to eat anything with four legs but a table and anything that flies but a plane. She's now on the other side of the world in Dar es Salaam, Tanzania, where she keeps a diary of food, travel, and expat adventures at www.jessbopeep.com