Zucchini Olive Oil Cake with Crunchy Lemon Glaze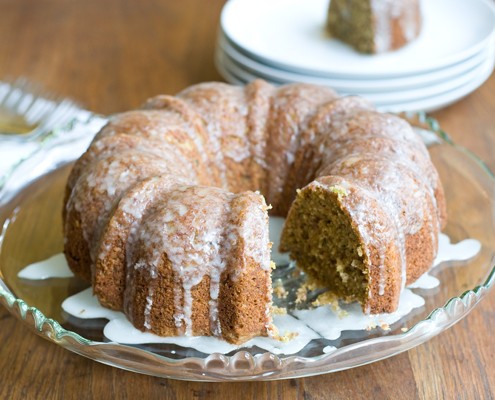 A delicious cake using zucchini and olive oil. The crunchy lemon glaze is especially good and takes this cake to a whole new level.
By Laura Davies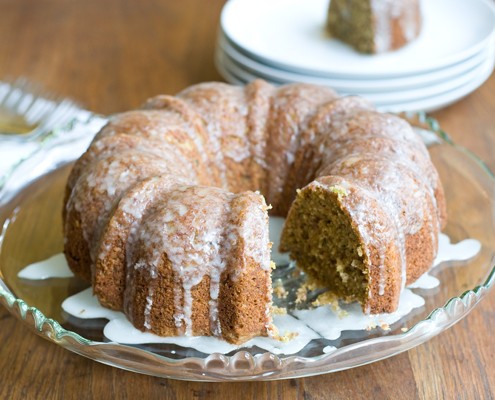 Here is an Italian cake that I ran across in my internet travels.  I was completely intrigued by using olive oil in a cake.  Olive oil is not usually used for baking in American cakes and I was hesitant even though it is a staple in my kitchen and use it often.  It is commonly used in Italian cakes and given the abundance of zucchini this summer and my quest to use it in as many new ways as I can come up with, I could not resist sharing this recipe with all who still have zucchini in their kitchen.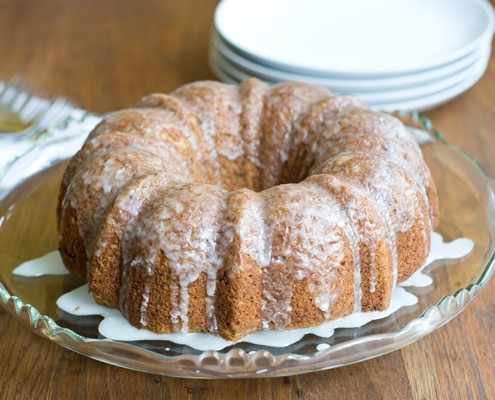 This recipe is adapted from Dolce Italiano:  Desserts from the Babbo Kitchen by Gina DePalma.  I first saw it on David Lebovitz's website and was so intrigued by the crunchy lemon icing I had to go seek it out and bake it for myself.  The first time I made this cake the recipe was followed exactly as written and was truly delicious.  I like it with pecans and walnuts more than almonds.  Substituting brown sugar for some of the white gives more depth of flavor and substituting white whole wheat flour for half of the all purpose flour adds more texture.  A mild extra virgin olive oil is best because the recipe calls for a cup of olive oil and a stronger olive oil could overwhelm the flavor of the cake.  For me, the cake was very good the first day but the flavor was incredible the second day.  This cake is delicious and the crunchy lemon glaze is surprisingly good because at first, frankly, I wasn't too sure.
Zucchini Olive Oil Cake with Crunchy Lemon Glaze
Adapted from Dolce Italiano: Desserts from the Babbo Kitchen by Gina DePalma. A delicious cake using zucchini and olive oil. The crunchy lemon glaze is especially good and takes this cake to a whole new level.
Author:
Laura Davis adapted from Dolce Italiano: Desserts from the Babbo Kitchen by Gina DePalma
Recipe Type:
Dessert, Baking
Ingredients
CAKE:
1 cup (135 g) toasted almonds, walnuts, or pecans, finely chopped
1 cup (120 g) all purpose unbleached flour
1 cup (120 g) white whole wheat flour
1 teaspoon baking powder
½ teaspoon baking soda
1 teaspoon kosher or sea salt
2 teaspoons ground cinnamon
1 teaspoon ground dried ginger
½ teaspoon ground nutmeg
3 large eggs at room temperature
1 cup (201 g) light brown sugar
¾ cup (144 g) white granulated sugar
1 cup (250 ml) light extra virgin oil
2 teaspoons vanilla extract
2½ cups (310 g) finely grated zucchini
GLAZE:
¼ cup (60 ml) lemon juice, freshly squeezed
⅓ cup (65 g) white sugar, granulated
1 cup (140 g) powdered or confectioner's sugar
Instructions
Preheat oven to 350 degrees F (180 degrees C). Prepare a 10 cup bundt or cake pan by spraying with non stick spray or rub with butter, dust with flour and dump out excess.
Grate the zucchini and set aside.
Mix the dry ingredients together and set aside: flours, baking powder, baking soda, salt, cinnamon, ginger and nutmeg.
In a stand mixer using the paddle attachment, beat together the sugar, eggs, olive oil for about 3 minutes on medium speed until the mixture is light and fluffy. Mix in the vanilla.
Add the dry ingredients on low speed and then beat for 30 seconds on medium speed.
Stir in the nuts and zucchini.
Pour batter into the prepared cake pan and bake for 45 to 50 minutes.
The cake is done when a toothpick or wooden skewer comes out clean. The cake will also slightly pull away from the cake pan.
Allow the cake to cool for 10 minutes in the pan. During this time make the glaze by whisking together the lemon juice, confectioner's sugar and granulated sugar. Turn the cake out on a cooling rack or onto a cake platter (according to how neat you want the cake to be! I like the extra icing around the cake for people who like a little extra, like me.) and using a pastry brush, brush the glaze onto the cake. Allow to cool a little longer and then enjoy a piece of this cake. Save some for the next day because the flavors only get better!
Notes
Regular whole wheat flour can be substituted for the white whole wheat flour but the cake will be denser. I find that this type of substitution works well with baked goods that use oil as the fat. Also regular AP unbleached flour can be used as in the original recipe called for totaling 2 cups of flour in all.
Laura Davis
Laura Davis is the author of the blog Sweet Savory Planet and has a life long culinary passion with southern roots originating in her home state of Alabama. She has a degree in nutrition from University of Texas at Austin.