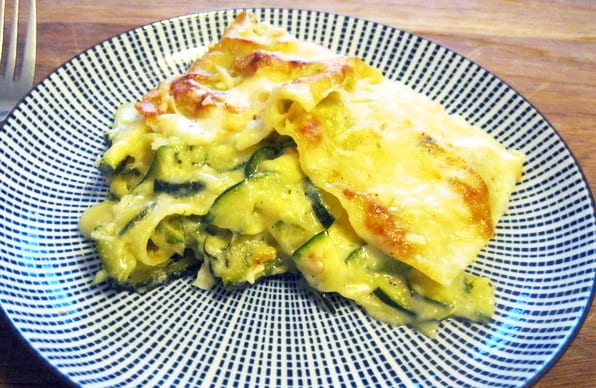 Zucchini, or "courgette" as it is sometimes known, replaces meat in this lightened version of comforting lasagne.
By Jess Lacey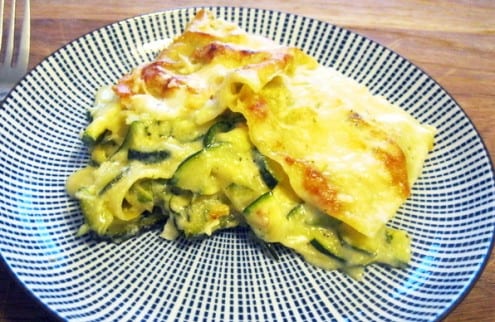 Zucchini Lasagne
Zucchini, or "courgette" as it is sometimes known, replaces meat in this lightened version of comforting lasagne.
Ingredients
1 pack of dried or fresh lasagne (how much you will use depends on size and shape of dish)
1kg zucchini
1 small onion, chopped
3 cloves of garlic, chopped
2 tablespoons fresh parsley, chopped
25g butter
25g flour
500ml milk
Pinch of nutmeg
40g grated parmesan
30g grated pecorino (or just do 70g parmesan)
Instructions
Wash and trim the zucchini.
Slice them lengthways, and then start slicing each half into thin semi circular shapes.
If you are using dried lasagne, blanch each piece individually (they'll stick together if you do more) in a pot of boiling water for a minute or two to soften, then refresh with cold water and set aside.
Unless you have a really big pan, you'll probably have to cook the zucchini in batches.
Heat some olive oil in over a medium heat and saute the zucchini for five minutes.
Season with salt, pepper and a pinch of nutmeg.
Add some garlic (if cooking in batches) and cook for another five or so minutes, until the zucchini is meltingly soft.
Repeat with the remaining batches.
Toss the cooked zucchini with fresh parsley.
To make the bechamel, melt the butter in a large saucepan over medium heat.
When the butter is fully melted, stir in the flour and cook for 2-3 minutes to form a roux.
Gradually stir in the milk until it is fully combined with the roux.
Cook while gently stirring until the sauce is thickened to a slightly liquid paste – this can take up to fifteen minutes.
If there are lumps of roux at the start, don't worry, they'll usually melt away and if they don't, strain them out at the end.
Season the bechamel heavily with salt, pepper and nutmeg (it will take much more than you think, but taste throughout).
Stir in ¾ of the cheese.
Butter the dish and spread a little bechamel over it.
Reserve about ¼ of the bechamel to spread on top.
Mix the courgette and remaining bechamel.
Layer the lasagne and zucchini.
Spread the bechamel on the top piece of lasagne, and sprinkle with the remaining cheese.
Jess Lacey
Jess Lacey is an Irish food blogger and soon to be lawyer. She has found a home in London, Dublin, Leiden, Melbourne and Aarhus. After a brief foray into the world of Michelin starred cooking, she decided to keep cooking and food as relationships based purely on passion rather than income. She travels frequently, and justifies this by writing about it. More of her musings and recipes are available on her blog, Canal Cook.