If you like french fries — and who doesn't? — try these zucchini fritters. The process can also be applied to eggplant.
By Sukanya Ghosh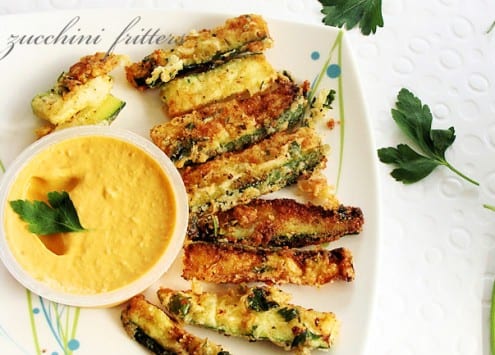 Zucchini Fritters
If you like french fries -- and who doesn't? -- try these zucchini fritters. The process can also be applied to eggplant.
Ingredients
Zucchini (green ) : 1
Egg : two lightly beaten
All purpose flour : 1 cup
Bread crumbs : ½ cup
Salt to taste
Oil for shallow frying
Herbs (dried or fresh) : parsley or thyme (2 tsp if using dried) / 3-4 tsp finely chopped if using fresh
Instructions
Wash and cut the zucchini in finger size slender sticks.
Mix the flour and salt together.
Mix the herbs with the bread crumbs.
Heat some oil in the pan up to the smoking point.
Coat the zucchini sticks first in flour mixture, then dip it in the beaten egg and finally dusted it with herb and breadcrumb mixture and gently dropped it in the hot oil.
Fry the zucchini sticks in batches until golden and crisp.
Serve the hot zucchini fritters / fries with yogurt, sour cream or any cheese dip.
Sukanya Ghosh
Sukanya writes the blog Saffronstreaks, a food and travel blog where she experiments in the kitchen spiced up with interesting food stories and gourmet travelogues. She loves to cook with fresh produce, enjoy both spicy and sweet and her many dining out experiences become cherished memories. Sukanya is from India but now lives in North Carolina, USA.