A delicious vegetarian appetizer, these cheesy arancini are made with brown rice and zucchini.
By Tori Cooper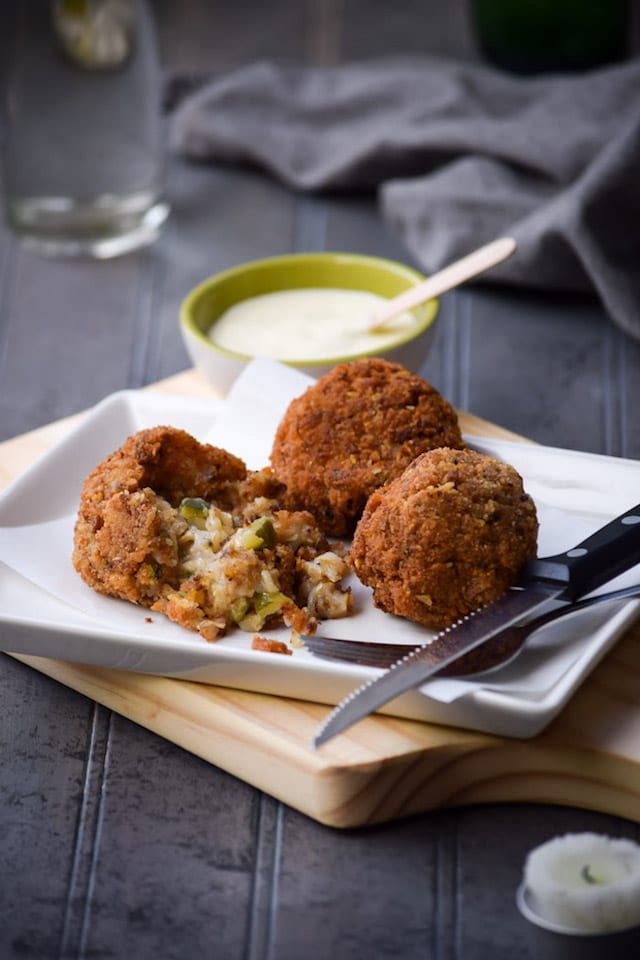 I first made these rounds of delight for a party. The best part for me was watching everyone take their first bite of these creamy wonders. I was also happy to have these to take to said party as a vegetarian option for those who prefer not to eat meat because most of the other snacks I made were stuffed with some kind of pork, or at least chicken.
I say tater tots, shmater snots, arancini is where it's at people! Just imagine you're favorite bowl of warm and creamy risotto. Okay, now picture it wrapped in a delicious coating of crispy, salty breadcrumbs and filled with spots of melty mozzarella cheese. Heavenly perfection right there.
See Also
Really though, you've gotta try them. I know the risotto takes a little extra time, and even a bit longer with the brown rice, but if anything was ever worth a little extra TLC, these are. So have you started making any early holiday plans for this year?
Print
Zucchini Arancini
A delicious vegetarian appetizer, these cheesy arancini are made with brown rice and zucchini.
Author:

Tori Cooper

Prep Time:

20 minutes

Cook Time:

1 hour

Total Time:

1 hour 20 minutes

Yield:

18

to

20

balls

1

x
Category:

Antipasto, Appetizer

Cuisine:

Italian-Inspired
3

tablspoons olive oil

4

cloves garlic (minced)

1

medium zucchini (diced)

2 cups

short- or medium-grain brown rice

1/3 cup

dry white wine

3 cups

whole milk

1 teaspoon

freshly ground nutmeg

1 teaspoon

dried thyme leaves
salt and pepper to taste

1/2 cup

heavy cream

1/2 cup

freshly grated paresan cheese

4 ounces

mozzarella cheese (chopped into small cubes)

2 cups

seasoned breadcrumbs
peanut or vegetable oil for frying
Instructions
Heat oil in medium high-sided pan or dutch oven over medium high heat. Add garlic and zucchini and cook for 2 to 3 minutes until browned and fragrant. Add brown rice and stir over heat for about 5 minutes until starting to brown. Pour in wine and cook until mostly evaporated, about 2 minutes. Add 1 teaspoon salt, nutmeg, thyme, and 3 cups of water to pan. Reduce heat to medium low and cover for about 15 minutes, or until water is absorbed.
Start adding milk 1/2 cup at a time and stir gently while keeping heat about medium high. When the liquid is almost completely absorbed add another 1/2 cup. Continue adding milk until all 3 cups have been added and rice is mostly soft, you can add a bit more water and cook longer if needed to get it completely soft.
Add cream and continue stirring until rice becomes very thick. remove pan from heat and add parmesan cheese, then salt and pepper to taste. Allow risotto to cool for about 15 minutes, or until cool enough to handle, then stir in mozzarella and form into 2 inch balls and dip into breadcrumbs. Place balls on a parchment lined tray and cover with plastic wrap then place in fridge for at least 1 hour and up to overnight.
Once completely chilled and fairly solid, remove rice balls from fridge. Heat about 2 inches of oil in a large saucepan over medium heat until a thermometer registers 350 degrees F (180 C). Carefully drop a few balls at a time into oil and fry on each side for about 1 minute until golden brown. Remove gently with a slotted spoon and place on a plate lined with paper towels. Continue frying until all are cooked.
Season with more salt and pepper if desired and serve hot.
Notes
If you need to get these done faster you can freeze the balls for about 45 minutes instead of refrigerating. Although, if you leave them in freezer longer than that (like overnight), be sure to thaw them out completely before frying or you'll have fried r-ICE cubes.
Tori Cooper
Tori is a food blogger with a passion for what she does. She shares all her recipes, photography, and bits about her life living in Patagnia Chile on her blog, Gringalicious.