Zucchini and Roasted Tomato Tarte Tatin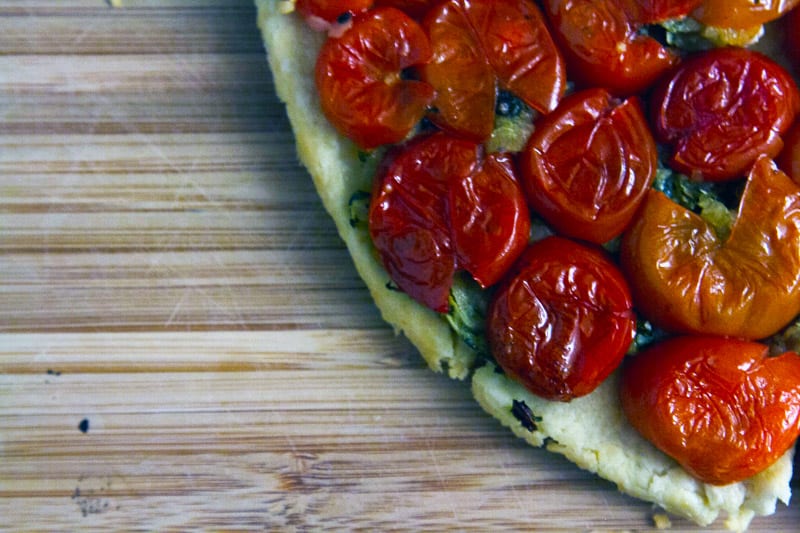 This savory take on a tarte tatin makes a comforting dinner all on its own or a crowd-pleasing appetizer for your next dinner party.
By Katherine Sacks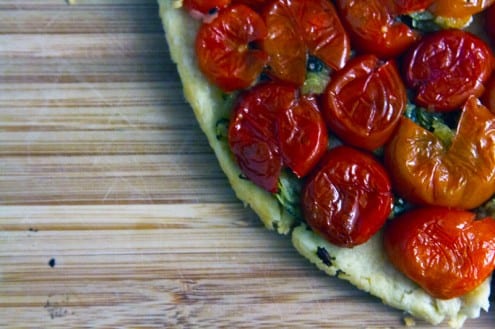 Zucchini and Roasted Tomato Tarte Tatin
This savory take on a tarte tatin makes a comforting dinner all on its own or a crowd-pleasing appetizer for your next dinner party.
Ingredients
Crust
200 grams flour
1 teaspoon salt
100 grams butter, cut into cubes and chilled
1 egg
Filling
2 pounds tomatoes, plum work best but cherry tomatoes will do
Olive oil
Basil flowers or other herbs, chopped
Salt
Black pepper
1 large onion or 1 cup shredded zucchini, squeezed to remove excess water and packed tightly
¼ cup grated fontina or parmesan cheese
Instructions
Crust
Combine flour and salt into a medium bowl.
And butter and work into the flour using two forks or a pastry cutter until a sandy texture is formed.
Add the egg and mix until just combined and a dough forms. If the mixture is too dry, add ice cold water one teaspoon at a time.
Refrigerate for 30 minutes.
Tarte Tatin
Cut tomatoes in half; carefully core and remove the seeds, reserving pulp for tomato sauce or soup.
Drizzle oil in a 10-inch round baking dish or sauté pan and lay the tomatoes skin side down in the pan, tightly filling to accommodate for shrinkage. Top with basil flowers or herbs, salt, and pepper and roast for 30 minutes or until the tomatoes begin to soften and caramelize.
While the tomatoes are cooking, cut your onion into thin slices. Place a sauté pan over low heat, add some olive oil, and cook onions, stirring occasionally, until soft and caramelized. If using zucchini, turn up the heat to medium high. Season with salt and pepper.
Just before you take the tomatoes out of the oven, remove dough from refrigeration and roll out to a 10-inch round. Spread the onions/zucchini on top of the tomatoes, add the grated cheese and top with the dough, tucking the edges in. Return pan to oven and bake until dough is golden brown, another 30 minutes. Remove from oven, cool 5 minutes, and unmold by running a pairing knife along the edges. Place a serving tray on top of the pastry, flip over, and serve.
Katherine Sacks
Katherine Sacks is a Berlin-based freelance writer and recipe developer specializing in travel, food, lifestyle, and health topics. A graduate of Drexel University's culinary arts department and Northwestern University's Medill School of Journalism, Katherine combines seven years of restaurant experience with her reporting and editing background. Her work has appeared in Chicago magazine, the Chicago-Sun Times, and FoodandWine.com, among other publications. She also contributes to culinary trade publication StarChefs.com, Forbes Travel Guide, and Snooth Eats, and blogs at LaVitaCucinare.com.