You Say Kibbeh, I Say Kubbeh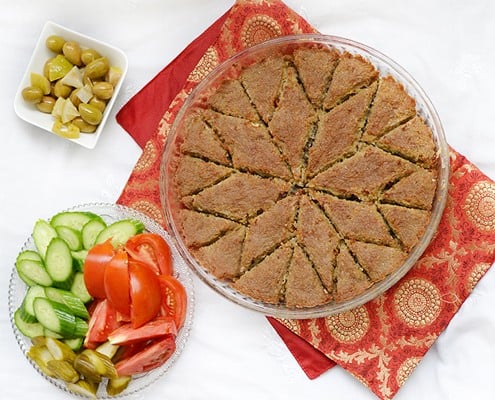 No matter how you spell it or say it, kubbeh is a dish that is sure to impress family, friends and company.
By Sawsan Abu Farha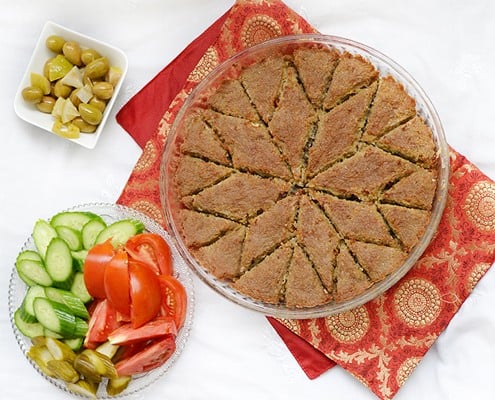 Kibbe, Kibbeh, Kibbi, Kubbeh, Kebbeh no matter how you spell it or pronounce it, Kubbeh  is a very famous Levantine dish.It is served as an appetizer, main dish, party food or even the perfect portable lunch. Kubbeh comes in many shapes, forms and types. Aleppo in Syria is famous for having over 17 types of it! These include kubbeh prepared with sumac , yogurt ,quince , lemon juice, pomegranate sauce, cherry sauce, and other varieties, such as the ,disk kubbeh  and the raw kubbeh.
Today I am sharing one of the most famous types of Kubbeh , baked kubbeh or kubbeh bil sanieh. This is basically a layer of minced meat seasoned with spices baked between two layers of a meat and bulgur mixture. Traditionally kibbeh is cut into a beautiful pattern that makes this an elegant main dish or appitizer to serve to friends and company alike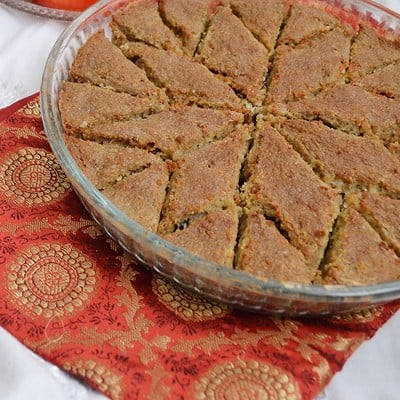 To make the pattern easier, I took step by step pictures of it.I hope they will help

You say kibbeh, I say kubbeh
No matter how you spell it or say it, kubbeh is a dish that is sure to impress family, friends and company
Ingredients
For the stuffing
250g beef or lamb mince
2 heaped tablespoons (28 g)pine nuts or almonds (optional)
1 tablespoon (15 ml) pomegranate molasses (optional)
1 small, finely chopped onion
Olive oil
Pinch cinnamon, cardamom, all spice
Salt
For the base and top
250 g bulgur wheat
250 g minced beef or lamb
½ teaspoon (2 g) all spice
¼ teaspoon (1 g) sumac
¼ (1 g)teaspoon (1 g) coriander
¼ teaspoon(1 g) cardamom
¼ teaspoon (1g) cumin
A litre of vegetable oil
zest of one orange (optional)
1 egg
½ teaspoon(2 g) baking powder
1 teaspoon (4 g)bread crumbs
¼ cup (60 ml) olive oil or melted butter
Instructions
To make your stuffing:
in a pan or pot saute the onion in olive oil until soft.
Stir in the minced meat, breaking it up with a wooden spoon, then, as it browns, season with salt and spices.
When the meat has browned all over, and most of its water has been cooked off turn off the heat and allow to cool.
To make the base and top
Soak the bulgur wheat in cold water for an hour (but no longer)
Drain the water off and place the bulgur into a sieve and leave it to drain for 15 minutes
Using a meat grinder to grind the bulgar wheat three times until it is almost a dough.Do the same with the meat then add the egg, baking powder, seasoning and bread crumbs.
If you don't have a meat grinder then pulse the meat, bread crumbs,egg, baking powder and seasoning in the food processor until it is smooth then add the bulgur gradually to the food processor and pulse until you incorporate the whole amount of the bulgur. (This will take time and you'll have to scrape down the edges repeatedly)
Knead the meat and bulgur mixture until it is smooth and homogenous
To make your kibbeh:
Grease your baking dish
Get a bowl of water and wet your hands.
Take half of the meat and bulgur mix and spread it in the base of the baking dish.
Spread the stuffing over the base leaving 1 cm (0.5 inch) margin
Spread the other half of the meat and bulgur mix on a piece of parchment paper until it is slightly larger that your pan
Use the parchment to transfer the top onto the baking dish
cut the excess
With your wet hands smooth the top and press from the center to the edges to expell any air trapped between the layers.
Using a wet knife cut the pattern you like into the kubbeh
Pour the olive oil or melted butter over the top of the kubbeh
bake in a 180 oven until the base is golden brown
put under the broiler to get the top to turn golden brown
Sawsan Abu Farha
Passionate food explorer Sawsan Abu Farha lives in Jordan and enjoys mixing east and west in her kitchen aiming to get the best of both worlds.Juggling work, motherhood, blogging and a passion for food and food photography, she shares her journey in her blog "Chef in disguise".