This fresh cold soup has a heated kick from chili and a fresh twist from the cilantro.
By Joy Zhang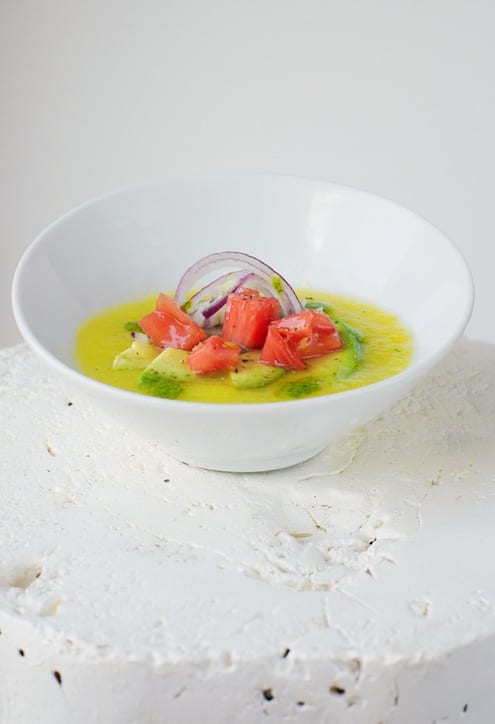 With another year under the belt, life continues to serve unexpected surprises. The Age of Question seems to only deepen with time as I find myself slowly inching towards 30. Does anyone know when it becomes the Age of Answers?
Summer was kind to us here in Texas. With mild temperatures and ample rain, we've had an abundant harvest this year. Especially our tomatoes: Teardrops, Green Zebras, Brandywine and assorted Heirlooms – Nature has been very kind and giving this season. There's something intrinsically magical and pure about growing your own food – though it takes countless hours of work, sweat and patience – the pay off seems to nourish in more ways than one. You can literally find the beauty of life in a tomato.
To think what once laid as a dormant seed, given water, soil and light, it awakens and sprouts. And with time, care and a little homemade compost — it grows into a healthy plant that flowers and ultimately produces the lusciously juicy fruit. We often forget to appreciate these tiny miracles but they are constantly around us: growing, thriving, living as the World intended.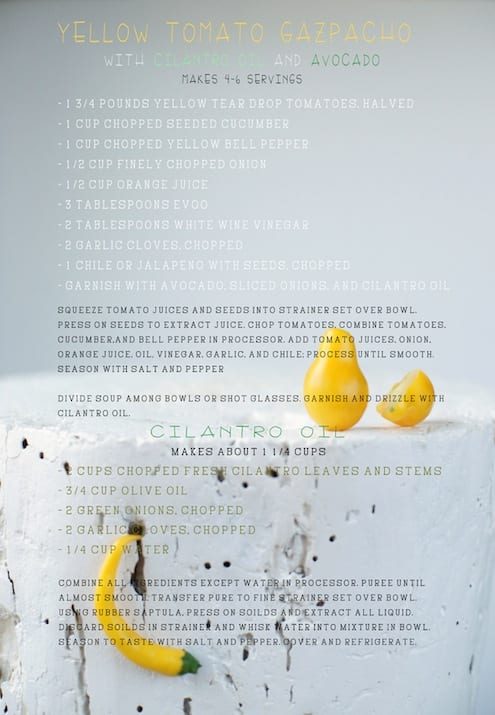 See Also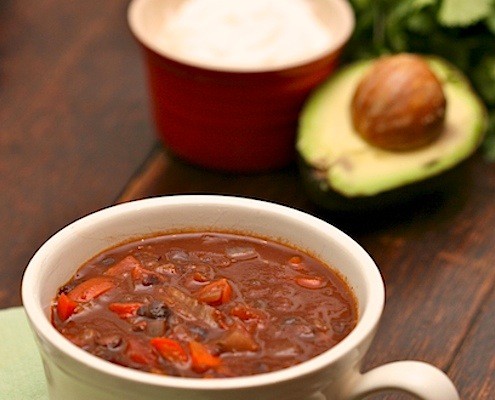 The best part with this soup is, it can be made ahead and would serve as the perfect starter for any party. Feel free to serve in shot glasses or tiny bowls and always make sure you serve this soup ICE COLD. Your guests will thank you.
If yellow tomatoes are not available to you, feel free to use red tear drops — though the color will be different the flavors will still be wonderful. For those who aren't a fan of heat, leave out the chile but being the thrill-seeker that I am, I put a yellow thai chili from our garden and rest assured, it did the job.
As chiles vary in heat, always be sure to taste the spiciness level and adjust accordingly.
Print
Yellow Tomato Gazpacho
A chilled soup that will leave you wanting more.
Author:

Joy Zhang

Prep Time:

15 mins

Cook Time:

5 mins

Total Time:

20 minutes

Yield:

6

1

x
1 3/4

pounds yellow tomatoes, halved

1 cup

chopped seeded peeled cucumber

1 cup

chopped yellow bell pepper

1/2 cup

finely chopped onion

1/2 cup

orange juice

3 tablespoons

extra-virgin olive oil

2 tablespoons

Champagne vinegar or white wine vinegar

2

garlic cloves, chopped

1

medium jalapeño chili with seeds, chopped (about

1 tablespoon

)
Garnish with cubes of avocado, thinly shaved onion and meaty cubes of heirloom tomato.
Cilantro Oil
2 cups

coarsely chopped fresh cilantro leaves and tender stems

3/4 cup

olive oil

2

green onions, chopped

1

medium jalapeño chili with seeds, chopped (about

1 tablespoon

)

2

garlic cloves, chopped

1/4 cup

water
Instructions
Squeeze tomato juices and seeds into strainer set over bowl. Press on seeds to extract all juice.
Chop tomatoes. Set aside 1/2 cup chopped tomatoes, 1/4 cup cucumber, and 1/4 cup bell pepper.
Combine remaining tomatoes, cucumber, and bell pepper in processor.
Add tomato juices, onion, orange juice, oil, vinegar, garlic, and jalapeño; process until smooth. Season with salt and pepper.
Transfer soup to bowl; add reserved vegetables.
Cover and chill overnight.
Divide soup among 6 bowls. Garnish and drizzle with cilantro oil.
Cilantro Oil
Combine all ingredients except water in processor.
Puree until almost smooth. Transfer puree to fine strainer set over bowl. Using rubber spatula, press on solids to extract as much liquid as possible; discard solids in strainer.
Whisk 1/4 cup water into mixture in bowl. Season to taste with salt and pepper.
Can be made 1 day ahead. Cover and refrigerate. Rewhisk before using.
Joy Zhang
A 25 year-old free-lance photographer, home-chef and writer from Dallas, Texas, Joy finds inspiration for her photography and recipes through music, art and nature. Her work has been featured on Elle Girl Korea and Gourmet Live. Join her culinary adventures through her kitchen and discover fresh, simple and delicious recipes.