Yam Soup with Coconut Milk and Saffron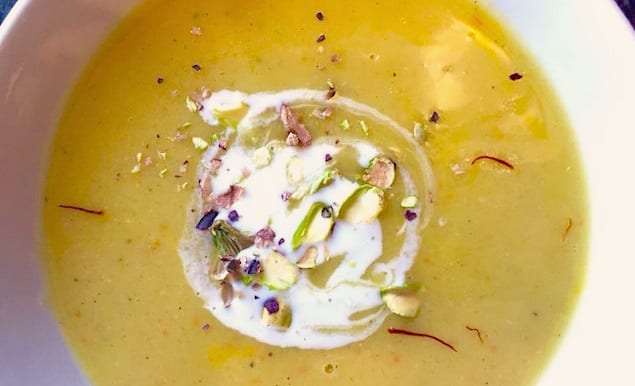 A hint of color, a touch of creamy coconut, and a crunch of pistachios make this soup a cohesive bowl of warm goodness.
By Rita Anastasiou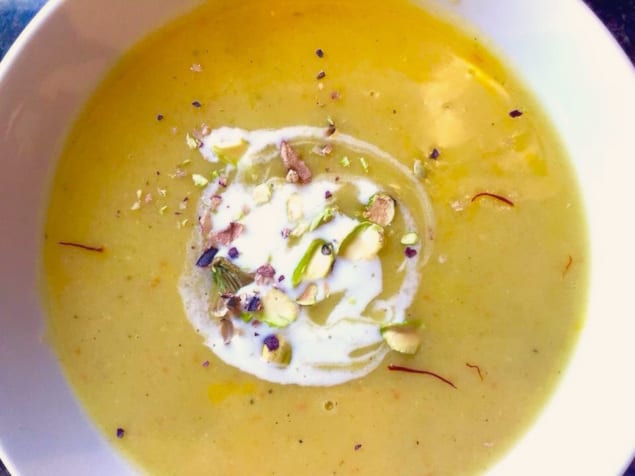 The first time I tried saffron was probably twenty years ago. Greece produces saffron, but it is very expensive to buy.
The combination of yams with creamy coconut and bright saffron is simply divine. So light, luscious and the flavors are cohesive.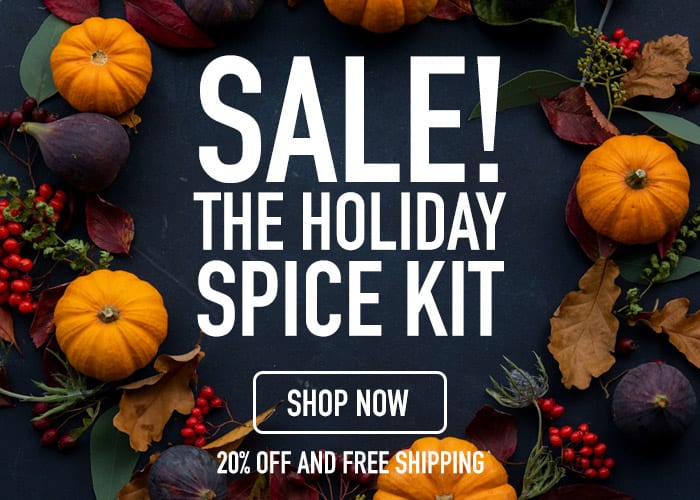 Yam has very similar taste with sweet potato and it's a very versatile vegetable. It can be barbecued, roasted, grilled, boiled, fried, smoked, baked and also when grated it is processed into a dessert.

Yam Soup with Coconut Milk and Saffron
A hint of color, a touch of creamy coconut, and a crunch of pistachios make this soup a cohesive bowl of warm goodness.
Ingredients
1 yam
1 quart vegetable broth
½ cup coconut milk
2 cloves of garlic,finely chopped
3 spring onions, chopped
2 carrots, chopped
1 stalk of celery,chopped
salt and pepper
a pinch of saffron
1-1½ tablespoon canola oil
½ teaspoon fresh thyme
Instructions
Peel,wash and cut all your vegetables.
Over medium-high heat, heat a big pot with the canola oil, add all the vegetables. Stir for 4-5 minutes.
Add in the vegetable broth and coconut milk, season with the salt, pepper and thyme. Let it simmer for approximately 25-30 minutes over medium-low heat.
When the vegetables are soft, transfer it, carefully, into a blender and process it until smooth. For smaller blenders, break up the soup to do a smaller amount at a time.
When it's finally all pulverized, transfer it into the pot and add the saffron. Stir under medium heat,for 2-3 minutes and serve.
You can top the soup with a little bit of coconut milk and pistachios.
Rita Anastasiou
A Greek foodie and dessert-aholic, Rita lives in the crazy rhythms of Las Vegas with her daughter and husband. A graduate of the Academy of Tourism and Culinary Arts of Greece, she has worked as a cook for five years, but she hasn't stop there. At her blog, Gluten Free Home Bakery, she shares gluten free recipes from Greece and beyond.