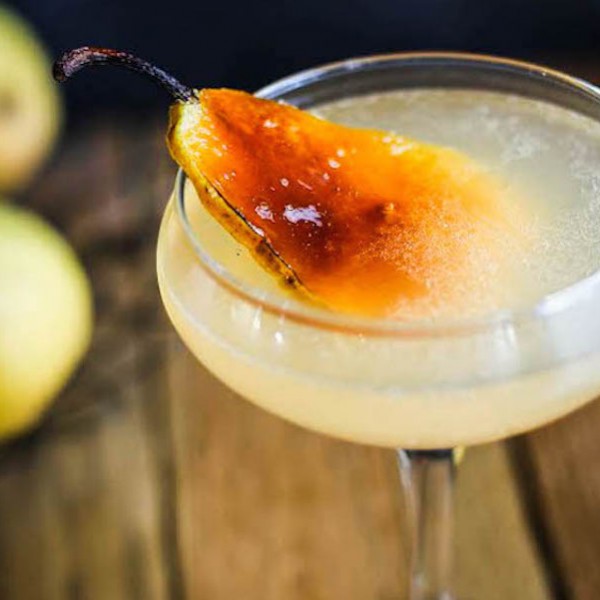 The Brûléed Pear Cocktail
A simply spiced pear cocktail is garnished with a beautiful brûléed for smokey sweet flavor that a fall evening deserves.
For the Toasted Pear Simple Syrup:
1

pear

cut into thick slices

2

cinnamon sticks

4

whole cloves

1/4

cup

sugar + 1 tablespoon

1

cup

water
To make the simple syrup, put the pear slices, cinnamon sticks, and cloves in a nonstick skillet over medium-high heat. Without disturbing the pear slices, toast them on one side for about 3 minutes or until they begin to turn golden brown. Flip and toast on the second side.

Sprinkle 1/4 cup of the sugar over the pears and spices and stir until it begins to melt and caramelize just a bit. Carefully add the water and bring to a simmer, stirring until the sugar has dissolved. Continue to simmer for about 5 minutes or until the liquid reduces by about half.

Pour the syrup through a strainer into a glass jar or liquid measuring cup. Set aside to cool.
For the cocktail:
Begin by bruléeing the pear slices. Sprinkle with the remaining 1 tablespoon sugar. Using a torch, melt the sugar until it is golden and bubbly. Allow to cool slightly.

While the slices cool, fill a cocktail shaker with ice. Add the rum, lemon juice and simple syrup and shake vigorously for 30 seconds. Pour into a cocktail glass and garnish with a bruléed pear slice.