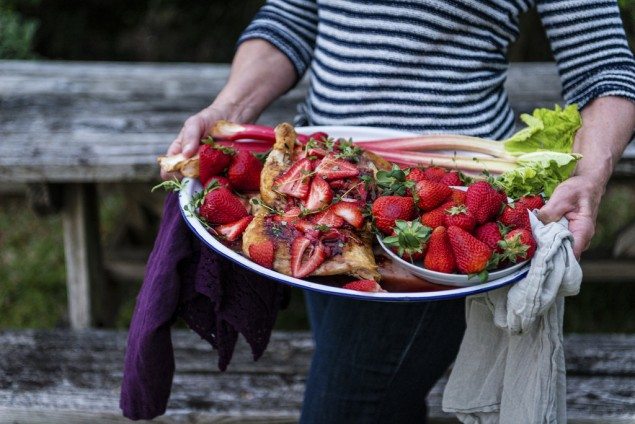 Chicken with Strawberry Rhubarb Balsamic Glaze
This cast iron chicken with strawberry rhubarb balsamic glaze is the perfect mix of sweet and savory, made with humble ingredients, and perfect for sharing with those you love most.
For the Strawberry Rhubarb Glaze
3/4

cup

Bonne Maman Strawberry Preserves

1/2

cup

chopped onion

1

tbs

balsamic vinegar fig reduction

1

tbs

red wine vinegar

salt and pepper

2

stalks rhubarb

trimmed and chopped
For the Chicken
2

tbs

grape seed oil

4

lbs

bone in skin on chicken quarters

fresh thyme and sliced strawberries for garnish
Preheat the oven to 425 degrees F.

In a small saucepan, combine the strawberry rhubarb glaze ingredients. Bring to a boil, stirring, then reduce heat to a simmer over low heat and allow the sauce to thicken over time. Keep an eye on it and remove from heat if needed. If sauce thickens too much, add a bit more of the strawberry preserves.

Meanwhile, heat the grape seed oil in a large cast iron skillet until very hot. Pat the chicken dry and season with salt. Place the chicken skin side down and allow to crisp and golden,7 to 10 minutes. Flip the chicken carefully, cover, and place in the oven, cooking for another 20 minutes. Remove the lid and spoon a bit of the sauce over the chicken. Place in the oven and cook another 5 to 7 minutes.

Serve the chicken on a platter with additional sauce on the side to spoon over the top.