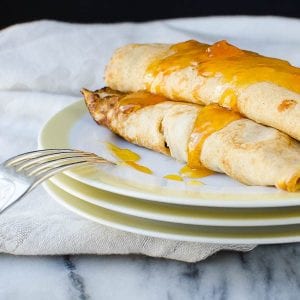 Whole Wheat Apricot Crepes
Make a batch of these hearty whole wheat crepes loaded with apricot preserves, ricotta, and topped with a brandy apricot glaze.
For Crepes
1/2

cup

whole wheat flour

1/2

cup

milk

1/4

cup

lukewarm water

2

large eggs

1 1/2

tablespoons

sugar

1/8

teaspoon

kosher salt
For Ricotta Filling
1 15

ounce

part skim ricotta cheese

1/2

teaspoon

lemon zest

1 1/2

tablespoons

honey
For Apricot Filling
1/2

cup

dried apricots finely diced

1/4

cup

water

1

teaspoon

butter

1/4

cup

Apricot Preserves preferably Bonne Maman

2

tablespoons

brandy or cognac

2

tablespoons

unsalted butter melted
For Brandied Apricot Glaze
For Crepes
In a blender or using a medium bowl with a whisk, combine the flour, milk, water, eggs, butter, sugar and salt. Blend or whisk until well combined and let rest for 30 minutes or cover and refrigerate for up to two days. (This allows the flour to absorb the liquid and for the gluten to relax.
For Apricot Filling
In a small saucepan combine the diced apricots and water. Heat over medium heat and simmer (stirring constantly) until apricots are softened and water is half evaporated, about 5 minutes. Stir in the butter and apricot preserves and heat through until preserves are melted. Stir in 2 tablespoons brandy/cognac and cook for 1-2 minutes. Taste -- to see if it needs more brandy/cognac and add as necessary. (Brandy/cognac shouldn't be a dominant flavor, but rather an enhancer.) Set Aside.
For Apricot Glaze
Add apricot preserves to a small bowl and microwave for 1 minute or until liquid-y. Add the brandy/cognac and stir to combine. Set aside.

Cook The Crepes with a nonstick pan or crepe pan

Place the pan over medium heat and coat the pan with a little unsalted butter. Pour about 2 tablespoons of the batter into the pan, lifting and swirling so that the batter coats the bottom of the pan, forming a thin, even layer. Cook until top is set and underside is golden. Flip the crepe using a spatula or your fingers. (I used a combination of both) and cook on the other side until lightly browned. Transfer to a plate and continue making crepes