Shepherd's pie, a delicious casserole (also great to get rid of leftovers) and fast to prepare. An easy recipe for cold, freezing days.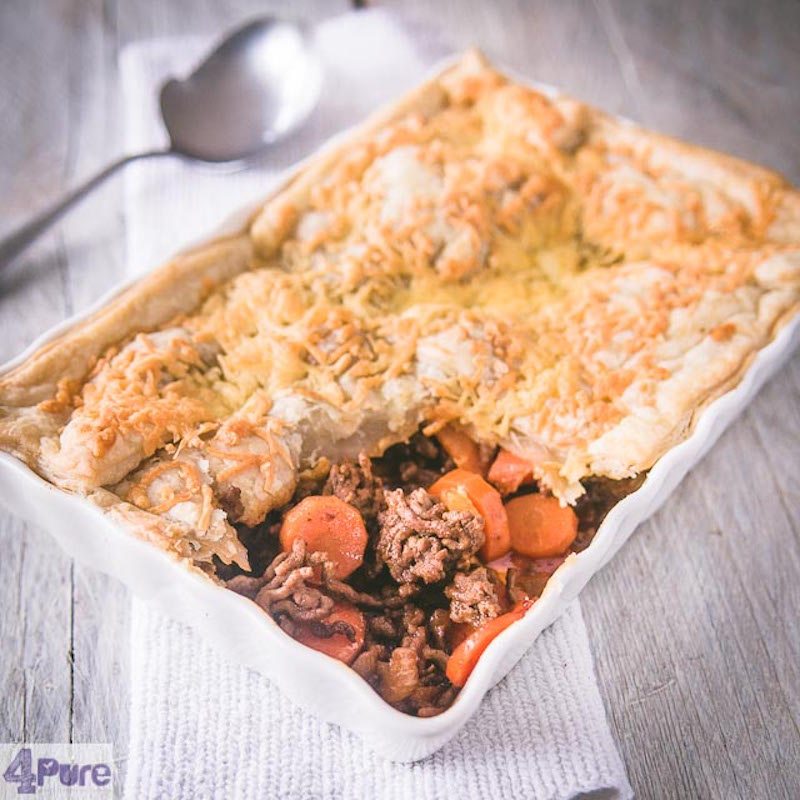 It was cold outside! Freezy weather. There was ice on the roads, but sometimes the sun came through and everything looked so much more friendly. Nevertheless, it was dark outside in no time.
So I got the feeling that I should make a shepherd's pie. A shepherd's pie a la Andréa, because everybody makes his own version so why shouldn't I. And it was delicious. No scraps left.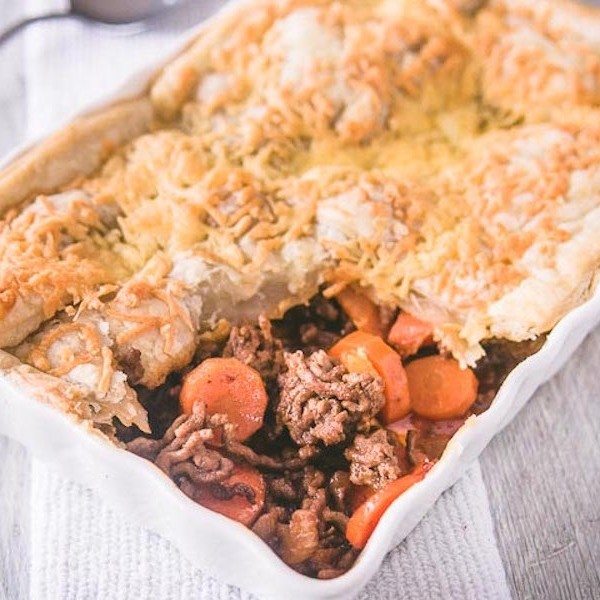 Andrea Janssen
Ingredients
1

onion

3

stalks celery

2

carrots

500

grams

ground beef

2

tablespoons

sweet soy sauce

15

grams

tomato puree

200

ml

water

salt and pepper at taste

10

sheets puff pastry thawed

50

gram

matured cheese grated
Instructions
Preheat the oven to 220 degrees Celsius.

Slice the onion fine.

Cut the carrot and celery in small strips.

Pour olive oil in a frying pan and add the onion.

Bake for 3 minutes until the onion is translucent (but not brown).

Add the beef and bake until it's done.

Then add the carrot, celery and tomato paste and stir everything well.

Bake for another 2 minutes, while stirring.

Flavor the meat with soy sauce, water, salt and pepper.

Bring to the boil and let it simmer for 3 more minutes.

Turn of the heat.

Brush a casserole dish with butter.

Place the sheets of puff pastry on the bottom (about 5-6 sheets, the other sheets you will need for the topping.)

Put the meat in the puff pastry bowl.

Cover the meat with the remaining puff pastry.

Sprinkle the grated cheese on top.

Take the casserole to the oven en bake for 25 minutes.
Andrea Janssen
Andrea is a wife, mom of three boys and a passionate cook. She loves to make everything from scratch and loves to entertain. She shares her recipes on her blog: http://www.4pure.nl/en