Made with a red grape, this white Sangiovese wine is a fun expression that sparks a conversation with its rose-gold color and fresh palette.

To make this rule-breaking wine, the grapes' skins are removed as soon as possible so that little to no color is transferred to the wine. Intrigue your guests with this rose gold-colored wine.
We enjoyed this wine at Wine Disciples Enoteca with paired with the dishes described below. The best part? After having a three ounce taste and falling in love, we could walk right next door to their wine shop and buy a bottle to take home. Now that's convenience!
Because of its cool, crisp acidity, this wine is great with fried Italian foods like artichokes served with an aioli sauce. The freshness of the glass will refresh the palette from the heavy bites. Its lightness also does well light seafood and white meats. A great summer wine!

Wine: La Selva Sangiovese Bianco Toscano IGT, 2014
Grape: 100% Sangiovese
Price: about $17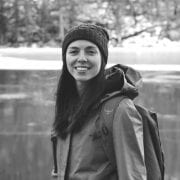 Annelise McAuliffe
Mandatory family outings to the Detroit farmers' market and nightly home-cooked meals cultivated Annelise's respect and curiosity for food. A graduate of The Culinary Institute of America, she spends her free time in New York City recipe testing, eating breakfast all day, and dreaming up international culinary adventures.