If it's really time to only drink refreshing chilled wines, let's go all the way with it. Let's make some wine popsicles.
By James Houston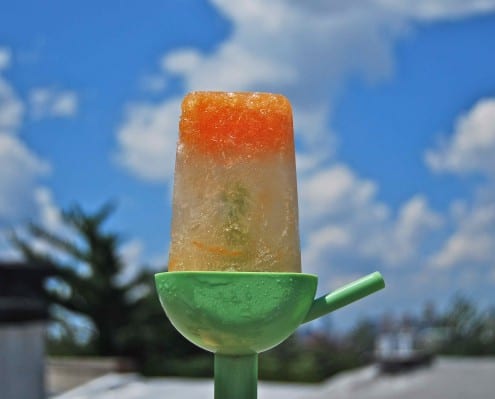 OK, OK, it's summer. To hear it from some of the culinary cognoscenti, we're only supposed to eat summery foods and drink summery drinks and hide away our love for the roasted, the heavy and the warming in some closet next to our ugly winter coats, right?
The all-or-nothing logic there bugs me a little, but that's for another post. On these dog days of early July (puppy days, maybe), perhaps it's best to relax and embrace the curmudgeonliness. If it's really time to only drink refreshing chilled wines, let's go all the way with it.
Let's make some wine popsicles.
As the folklore has it, popsicles were discovered in 1905 by a precocious 11 year-old (take that, Mark Zuckerberg) who left soda outside on a cold night. History has forgotten who first tried it with wine–maybe the more temperate sibling of the wild child who invented the Jell-O shot?
Whoever you are, thanks. Winesicles are versatile, tantalizing and they supply just enough of a buzz in the kind of weather where you want to stay hydrated. Not to mention they deliver that restorative, melty icepop coldness you just won't get from a sweaty glass of Pinot Grigio.
As with using wine in "hot" cooking, the juice's finer nuances will be lost in your manipulation of it here. Which is to say, don't turn your Cheval Blanc into winesicles. I'm using three unpretentious, easy-to-find bottles that I rarely see priced over $10: Indaba Merlot 2011 and Indaba Chenin Blanc 2011 from South Africa, and Freixenet (FRESH-eh-net) Cava, a Spanish sparkling wine. You only need one wine, but I wanted data to compare since I'm doing this for (junk) science.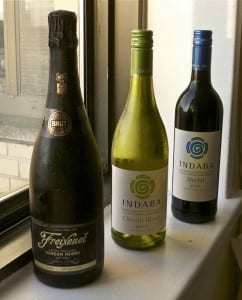 The idea is to add two things to the wine or wines before freezing:
A little sweetness, because a "dry" popsicle is about as much fun as Huey Lewis without The News.
Flavors that either echo or complement the ones already present in the wines.
My popsicle molds are four-ouncers, but these are simple enough proportions to adapt easily to whatever you're using.
To the Chenin Blanc, a wine with great natural acidity and stone fruit flavors, I added 2 oz. peach nectar to 2 oz. wine. Remembering how I used to love Frozfruit pops, I also threw in 2 tsp. finely chopped apricot.
To the Merlot, dark and mellow, I added 2 oz. pomegranate juice to 2 oz. wine, as well as 1 tsp. each finely chopped plum and blackberry. Since the liquid wasn't terribly sweet at this point I added 1 tsp. white sugar and stirred to dissolve. Finally, to accent the anise notes in the wine, I kicked in 2 dashes Peychaud's bitters.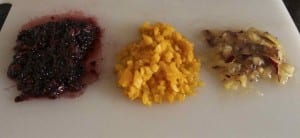 I wasn't inclined to add fruit pieces to the Cava, hoping the bubbles themselves would freeze and add a dimension of texture–without causing the mold to crack, of course (you know what I mean if you've ever stuck a six-pack into the freezer to chill and forgotten about it).  So to 2 oz. Cava I added 1 oz. each passionfruit cocktail and soursop nectar.
At this point one slot in the popsicle mold was left, and I was momentarily out of ideas. Then a bolt of inspiration came "out of the blue":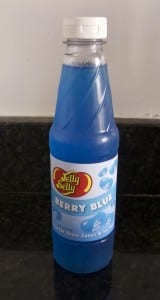 But which wine to use? I went with the Cava again, since (full disclosure) I recently worked a vintage in South Africa with the winemaker who oversees the Indaba operation, and I'd fully expect him to be on the next plane from Cape Town to stomp my grapes  once he learned I added Jelly Belly syrup to any of his wines.
So the final winesicle was 3 oz. Cava and 1 oz. Jelly Belly Berry Blue Syrup.
The next day…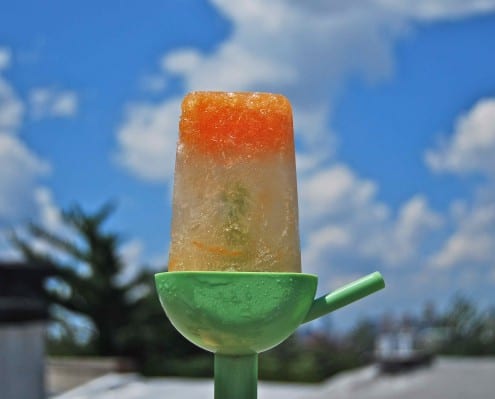 The Chenin Blanc had integrated the peach flavor nicely, but the pop could have been sweeter. The apricot pieces had concentrated near the top, since they had sunk before freezing. A thicker (i.e. sweeter) liquid may have kept them better distributed. I would add 1 tsp white sugar to this next time.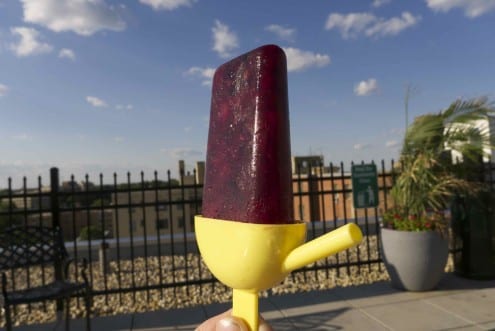 The Merlotsicle was substantial and chewy, with the plum and blackberry well-distributed. Essentially a free-form sangria pop, I would have had no problem downing a few more. (NB: Do not go anywhere near one of these wearing white clothing.)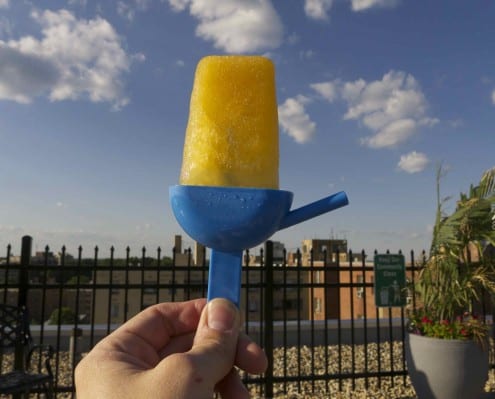 The most pleasant surprise was the first Cava pop. Not only was there an electric tingle throughout from the frozen bubbles, the smooth and sorbet-like texture of the ice itself was superlative.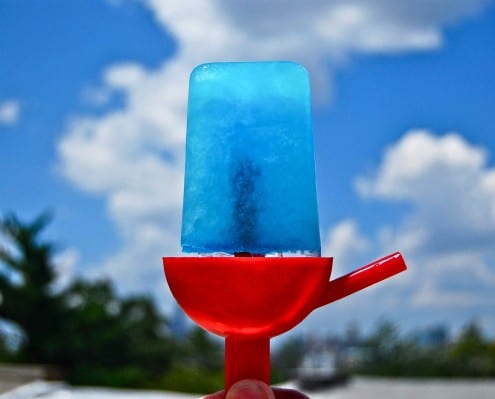 And the Jelly Belly bomb? Well. We've taken wine, a simple, elemental expression of nature's ancient genius and adulterated it with a viscous, synthetic sludge containing enough corn syrup and Blue #1 to make a bathtub full of Slush Puppies.
All I can say is, no regrets whatsoever. The first bite transported me to July evenings circa 1994 at a gloriously dumpy old amusement park in Sheepshead Bay, Brooklyn, gripping the rails of the Tilt-a-Whirl with my sugar-sticky kid hands. You can keep your "Call Me Maybe" and your lighter fluid-flavored burgers, this is the essence of summer as far as I'm concerned.
Some might say it's an abomination to do this to wine, but don't be deterred by their big heads–which happen to be the perfect size for jellybean target practice.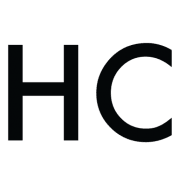 James Houston
James Houston spent the better part of the last four years in the wine industry, paying his dues in sales before training as a winemaker at wineries in France, New Zealand, South Africa and the North Fork of Long Island in New York. Now a full-time nomad, he is writing this from his hometown of Brooklyn, New York but does not plan to stay long. Check out more of his writing at blog.jamesbhouston.com and doubledecanted.blogspot.com.