SPONSORED STORY – BROUGHT TO YOU BY CASTELLO ALPS SELECTION
There are a few basic rules that you can follow to make your next wine and cheese tasting perfect. Julia Mueller with a 101.
By Julia Mueller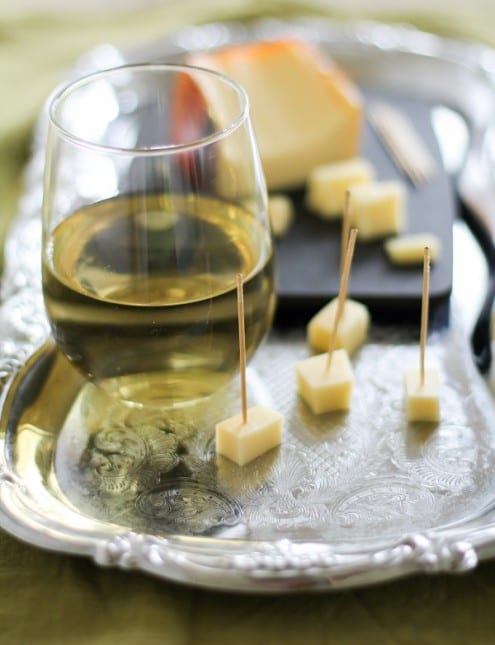 Back in my college days, my idea of a perfect pairing would represent the following:
Susan and Mike Delfino on Desperate Housewives.
Snyder's of Hanover Hot Buffalo Wing Pretzels and Cookie Dough ice cream (this is real…this happened on many-an-occasion).
The most affordable bottle of wine with store-bought chocolate chip cookies.
Bourbon & Ginger. Oh gaaaawl, how does one climb out of that hangover? Likely with hot buffalo wing pretzels and cookie dough ice cream.
Sweet iced tea & Jerry Lee
Cholula and ranch dressing. On anything. On everything.
While all of the above are certainly wonderful pairs, it wasn't until I began working for a vineyard that I gave much attention to food and wine pairings. The vineyard I work at has a tasting room where we offer all of our customers wine and cheese pairings. We even have a cheesemonger on staff. She rocks the casbah.
I have been wanting to share my cheesey learnings with you for quite some time and I feel right now is a great time to do so.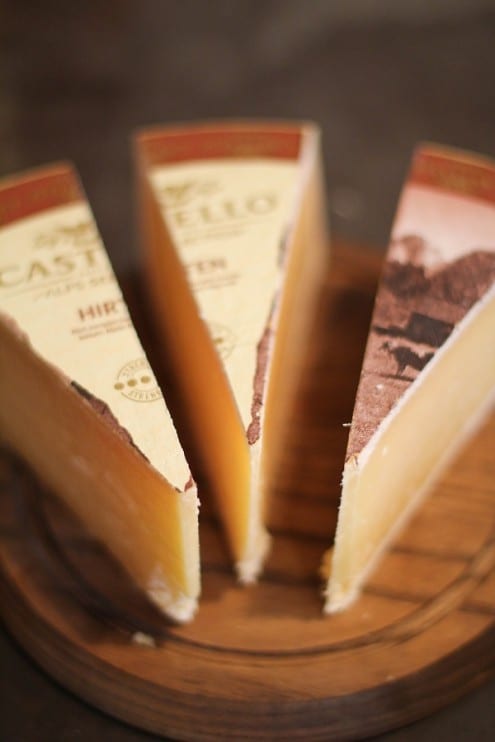 When I was sent three cheeses from Castello Alps Selection (in an absolutely gloriously unimaginably high volume), I called up my cheesemonger, my boss, some tasting room staff and set out to find the perfect pairings. The three cheeses, Hirten, Weissbier, and Classic, are Alp-style cow's milk cheese with subtle, approachable flavor.
I'm going to tell you all about the specific Castello cheeses and the varietal of wines with which I suggest to pair them, but first, a few cheese basics:
1. Opposites do not attract in the case of cheese and wine pairings. Pairing similar flavors is the way to go. A smoked cheese, for instance, pairs well with a medium to full-bodied earthy red wine, whereas softer creamier cheeses (such as brie), work great with white wines. Bleu cheese should always go with a big, bold wine such as a Bordeaux varietal (Cabernet Sauvignon, Malbec, Petit Verdot) – White and bleu do not mix! While there is always plenty of room for personal tastes and preferences when it comes to pairing wine and food, bleu cheese and white wine tend to make a toxic combination. This pairing is outlawed in our tasting room.
2. Younger cheeses should be paired with lighter bodied wines (whites or lighter reds such as Pinot Noir and Grenache), as their flavor tends to be more mild than aged cheese. When younger cheeses are paired with bold wines, the flavor gets lost in the wine and the two do not complement each other.
3. When going through a cheese and wine pairing flight, follow the same principals as though you were doing a beer tasting or wine tasting – start with the softer-flavored cheeses paired with the lighter white wines, moving to the medium-bodied cheeses and reds, followed by bold cheeses and reds, followed by port wines.
4. Topping cheese with various jams, chutneys and honey is a GREAT idea. Bleu cheese and honey are a stellar combination, and goat cheese and fig jams/chutneys are great together. Also consider pairing cheese and wine with nuts and fruit, such as marcona almonds, walnuts, cherries, raisins, etc.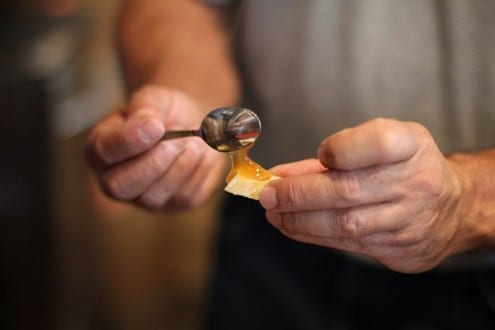 5. When serving the softer cheeses on a cracker, make sure the cracker does not contain a great deal of herbs or spices, as it will overpower the cheese. Thin wafer-like crackers are best for serving cheese.
Castello cheeses come from cow's milk of pasture-raised cows. You can detect this difference in the cheese as all three have a pasture, nutty, earthy quality to them, which is always my preference in cheese.
Weissbier:
This is a washed-rind cheese, meaning the rind has been soaked some form of liquid. In this case, the rind has been fermented with beer, giving this cheese a slight beer flavor (yum!). This cheese is mild, buttery, nutty, and works as a great melter for grilled cheese sandwiches, scrambled eggs, or pretty much anything you want to make delicious. It is similar to an Italian fontina, and is rustic with subtle hints of mushroom. The perfect pair for this cheese would definitely be a white wine, as anything red would likely overpower its soft, creamy flavor. Rolle, Semillon, Sauvingnon Blanc, and a white blend (Côtes du Rhône), paired nicely with the cheese.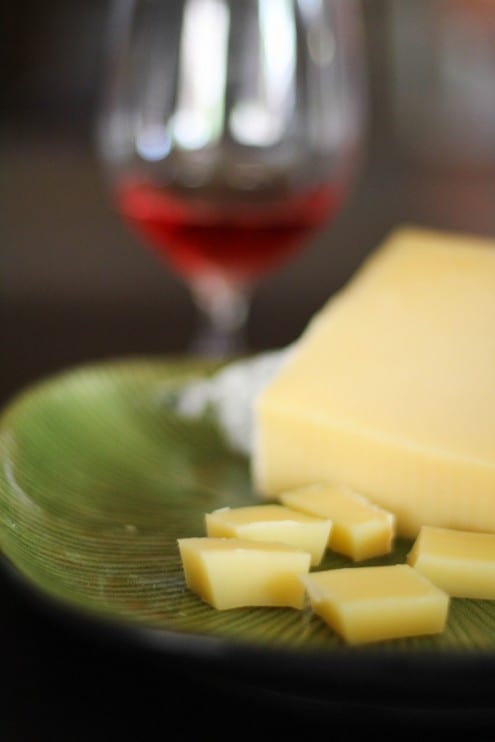 Classic:
Moving from the younger Weissbier to the Classic, the two cheeses seem to be on-par when it comes to wine pairings. The classis is similar to what we Americans know as Swiss cheese and has a tanginess similar to gouda. It is earthy and makes a great table cheese (can we say appetizer tray? Ding ding!). Out of the all the wines we sampled with this cheese, we enjoyed it best with a Côtes du Rhône blend and a Rosé. This cheese can also be paired with a medium-bodied red, such as Pinot Noir or Grenache, but I wouldn't suggest a bold red wine because it would drown out the light flavor of this cheese.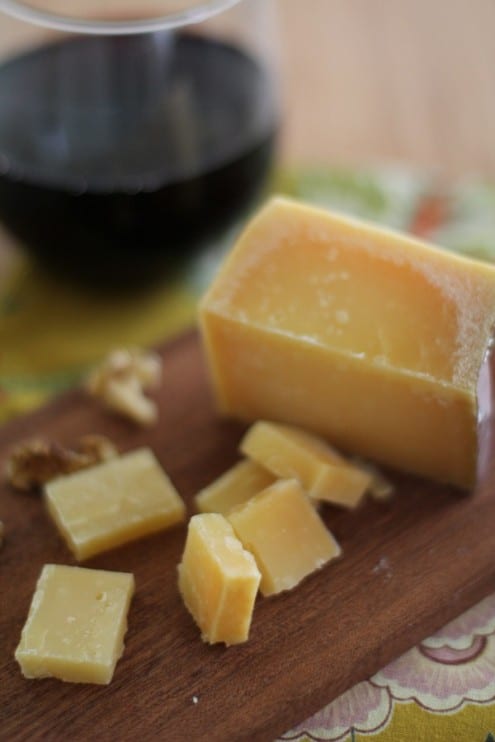 Hirten:
The most aged of out of these three Castello cheeses is the Hirten, which is similar in flavor and texture to parmesan. This cheese is my favorite out of the three and I enjoyed it best with a medium-bodied red. It could also be paired with a richer red but nothing too big and bold. This cheese seemed to be the most wine-friendly out of the three as it would pair with a wide array of red wines but also seemed to hold up to the wine the best. Honey went well on this cheese, too!
All in all, these three cheeses are very approachable to a wide array of pallets because they are not over-powering and can easily be paired with wine, beer, and other foods. We got the wine pairing down, next time around, we'll go for the beer pairing.
Now go. Go my friends, and pair some wine and cheese.

Win a Castello Alps Selection cheese tasting for you and your friends – enter below!
Win a Castello Alps Selection Cheese Tasting
This article is part of Castello Moments, a collaboration between Honest Cooking and Arla Foods USA.
Julia Mueller
As a fitness and nutrition enthusiast, Julia writes a food blog called The Roasted Root, where she share recipes that are mostly vegetable and meat based along with stories of her travels and day-to-day activities. Julia loves enjoying fresh home cooked meals with her friends and family, and the process of developing recipes, photographing, and sharing them.