Jessie Chien muses over the popularity of the egg roll in America, and offers a recipe that is more in tune to its etymological definition.
By Jessie Chien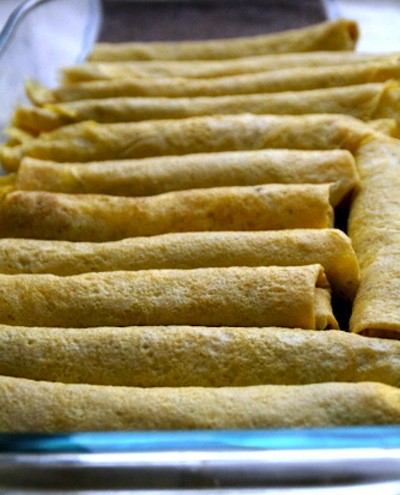 In the Chinese language, the appetizer that Americans know as the fried egg roll is actually called a "spring roll", stuffed with a light vegetarian filling comprised of vermicelli, shiitake mushrooms, carrots, Chinese celery, and green onions, then lightly fried and served piping hot. Rarely does the roll take the form of those large, fried, cold, meaty and chewy chimichanga-like foodstuffs I remember from my junior high school cafeteria.
I'm Chinese-American, and I can't recall any instances when my family sat down and ate egg rolls as part of our meal (apart from my unfortunate and unplanned run-ins with the school lunch lady), regardless of whether we were dining out or sitting around our own dining room table. I wonder, since when did egg rolls, along with the likes of one completely fabricated dish named General Tso's chicken, represent Chinese cuisine, both in the minds and tastes of America? Having seen the delineation of various regional foods and flavors possible in the Chinese cuisine, I bow my head in disgrace for the unfortunate miscommunication that happened somewhere across the Pacific.
Wait a minute though, I suppose we did have egg rolls growing up- or at least, a dish that when translated is literally "egg"+"roll".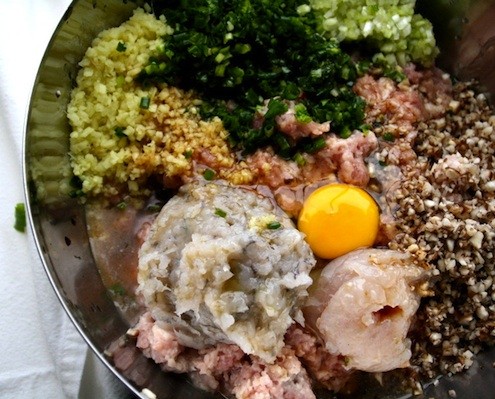 Mom would make these on special occasions, when we had Company over, or if by chance there was nothing going on over the weekends- no soccer games/piano recitals/basketball practice/OM meetings/birthday parties/speed reading classes/sculpture/oboe lessons/tutoring sessions/drawing classes scheduled (Tiger Mom ain't got nothin' on my mother).
Her egg roll was just that, a thin crepe-like layer of egg griddled into a pancake, then rolled up with a fragrantly seasoned ground pork stuffing inside. Cut thinly into bite sized pieces, on our table the egg roll would be arranged among a heap of simmered napa cabbage and vermicelli noodles.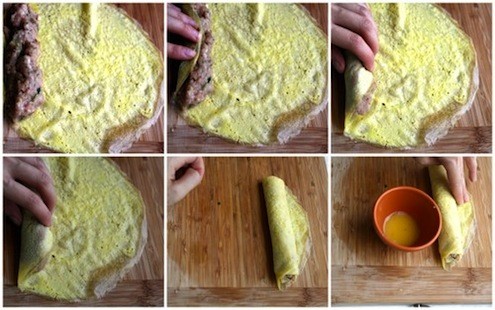 Pork is the meat of choice in China – although nowadays the country's interest in beef (not to mention dairy) is quickly gaining ground. Year-round availability of scallions, fresh mushrooms, and ginger gives the cuisine- and this dish in particular- its signature flavors. The chopsticks as lone utensil gives reason for the deliberate slicing into bite-sized pieces, and the laborious prep countered by a quick sauté/steam in a wok is exemplary throughout all Chinese dishes.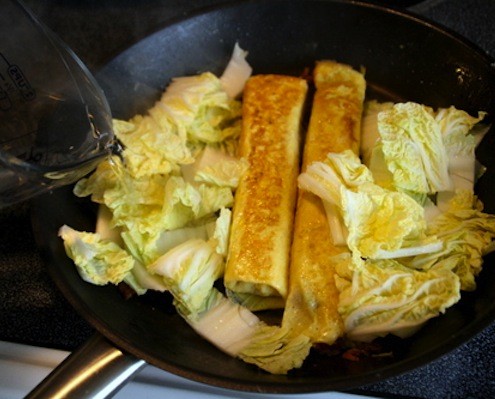 This is an egg roll that is much more representative of Chinese cookery than any egg roll you've encountered in the past. It is a distant cousin to its American counterpart- but really, the relation is so distant they're practically not related. They just somehow happen to share the same name.
Print
Homestyle Egg Rolls
---
Author:

Jessie Chien

Total Time:

1 hour 30 minutes

Yield:

4

-6

1

x
Description
A thin egg pancake is filled with a fragrant pork stuffing, providing a different take on the more popular egg roll.
---
For the filling:
2

pounds ground pork

1/2

pound shrimp, (about

12

individual), cleaned, shelled, and de-veined

2 Tbsp

. fish paste (optional)

1/2 cup

finely chopped shiitake mushrooms, about

8

mushrooms total

1/2 cup

chopped green onions, about

one

bunch, greens only

1/4 cup

chives, optional (chives have a strong flavor which some people dislike)

3 Tbsp

. ginger, finely minced

1

egg

1/4 cup

soy sauce

2 Tbsp

. Chinese cooking wine

1 Tbsp

. Sesame Oil
For the egg pancake:
11

eggs
salt and pepper
vegetable oil

1

–

2

cups water or stock, for cooking
---
Instructions
Finely chop the shrimp with a large knife or cleaver. The shrimp will easily become a smooth grey paste- when you are certain it does not have any chunks, add to the ground pork in a large bowl along with the rest of the ingredients.
With a wooden spoon, stir the ground pork and other ingredients until fully incorporated. The mixture should be a little wet, sound sticky when mixed, and smell very fragrant.
In another medium-large bowl, crack all 11 eggs and beat well. Ladle out ¼ cup of the mixture, and set aside. This small amount will be used as a binding ingredient to close up the seam of your egg rolls as you assemble them. Season the rest of the beaten egg with a pinch of salt and pepper.
On your kitchen counter, preferably close to the stove, set up a station where you will assemble your egg rolls one by one. You will need: a shallow pan to keep the finished rolls (preferably a large pyrex or something similar), a cutting board or any other flat surface to roll up the eggs, the meat mixture, and the ¼ cup of plain beaten egg.
Turn your stove onto a medium-low heat. When the pan is hot, using a brush- or as I prefer a paper towel dipped in oil- coat a 12-inch nonstick skillet with oil.
Pour ¼ cup egg mixture into the pan, quickly picking up and tilting the pan in a circular motion to ensure that you fill in any holes with the egg mixture and that there is a thin layer covering the pan. Make sure to act fast, as the egg will quickly begin to set (the first one is never very good, but don't give up!) Place back on the heat for 30-45 seconds.
When the bottom is congealed, but the top is still a bit raw, slide the egg pancake onto your cutting board at your station. Using a rubber heat-proof spatula to pry it off the pan helps, if necessary. It's fine if the top of the pancake is still wet- in fact this is optimal, as it helps the ground pork mixture stick better to the inside of the egg roll.
Taking one large spoonful, or about ¼ cup, of the pork mixture, spoon and form into a horizontal log at the edge of the egg pancake closest to you. Starting from this end, start to roll your egg pancake upwards away from you, making sure to roll it up as tight as you can without pulling and tearing on the egg pancake. Depending on your patience and the perfectionist within (or whether this is for personal consumption or for guests), fold in the edges midway through rolling like a burrito, to make what looks like a true egg roll.
To close the seam, dip your fingers into the beaten egg that you had set aside, and coat 3-4 inches across the top arc of the egg pancake. This will help seal the edge. Place, seam side down, onto a glass or any other non-reactive dish.
Continue repeating steps 6-9 with the remainder of the eggs and stuffing with the meat mixture, wiping the pan with oil between each pancake. Hopefully you will become efficient at the process, and as you fry one egg pancake can roll the previous one. Most likely you will have some ground pork leftover (the ratio is never correct), which you can make into meatballs or better yet- freeze for making dumplings and wontons.
Once you have finished assembling the egg rolls, in a large wok or pan pour in a couple tablespoons of vegetable oil. Making sure the temperature does not go above a medium high, place any or all of the egg rolls onto the skillet, turning to cook couple of minutes on all sides. (Here is where you would add napa cabbage and vermicelli, if making a family-style dish) then pour in one cup of water or meat stock, cover, and turn the temperature down to simmer. After 5 minutes, uncover- if the liquid is low, add another ½ cup of water or stock and let cook until most of the liquid is gone, about another 10 minutes.
Take the egg rolls out of the wok or pan and using a pair of tongs to help, slice into 1-inch pieces. Serve immediately.
Notes
This recipe produces about 16 10-inch egg rolls, which is usually more than enough for a dinner to serve 4, since each roll can be sliced into 8-10 pieces. I like to cook up half of the egg rolls this recipe makes, and freeze the rest for another evening. To re-heat, simply thaw and follow the cooking directions in Step 11. Or simply halve the recipe.
Also, fish paste and Chinese cooking wine can be found at any Asian grocery store. If it doesn't suite you, feel free to leave out the fish paste.
Prep Time:

1 hour 15 mins

Cook Time:

15 mins
Jessie Chien Bryson
Jessie Chien Bryson grew up spending sunny California Thanksgivings eating 20lb. free-range turkeys along with sides of Chow Mein, which is what she thinks cemented her insatiable interest of food cultures and sustainable methods as an adult. She recently spent two years in Guangzhou, China, where the locals were said to eat anything with four legs but a table and anything that flies but a plane. She's now on the other side of the world in Dar es Salaam, Tanzania, where she keeps a diary of food, travel, and expat adventures at www.jessbopeep.com