Try this wild rice medley with sautéed cranberries, roasted delicata squash and rosemary all tossed together with a maple vinaigrette. Prepare a day ahead for great flavor and less stress during your dinner party.
By Taylor Kadlec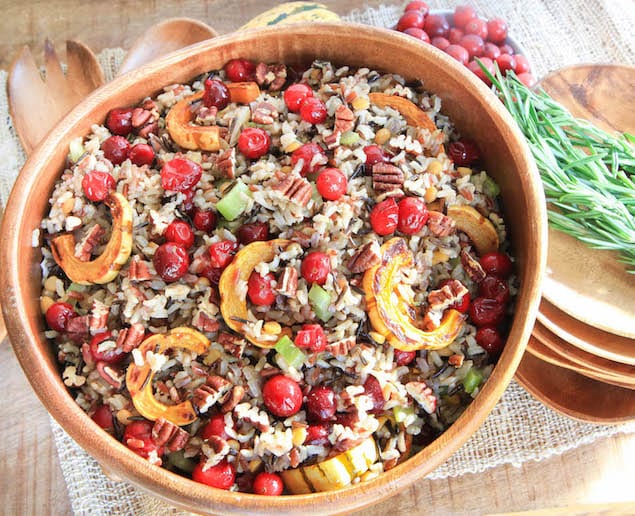 As a Minnesota transplant, wild rice is a kitchen staple that is quite new to me. I had the random bowl of wild rice soup here and there growing up, but it was definitely not a winter tradition, as it is in my husband's family. I've grown to absolutely love the heartiness of wild rice and I not only use it in soups, but in casseroles and grain salads whenever I can.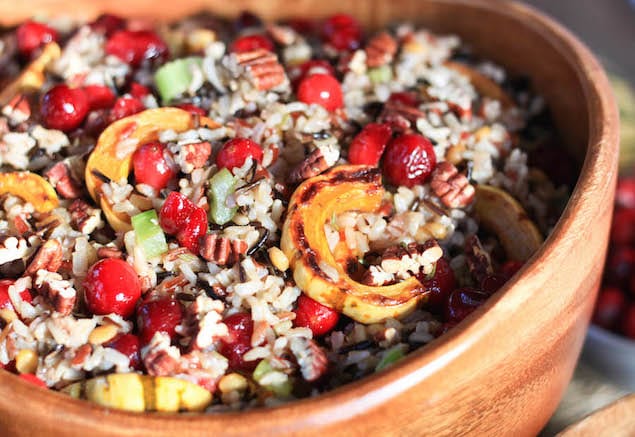 Along with the wild rice medley, I added fresh cranberries that were lightly sautéed in orange juice, honey, and rosemary to get them slightly softened and add a touch of sweetness. I also roasted slices of delicata squash, which is one of my favorite squash varieties, not only because it is delicious but it does not need to be peeled. The salad is finished off with a maple vinaigrette and some lightly toasted chopped pecans.
The last great thing about this salad is that it can be prepared a day in advance, which means one less thing to cook during a busy dinner party!

Wild Rice with Delicata Squash and Cranberries
A wild rice medley with sautéed cranberries, roasted squash and rosemary tossed with maple vinaigrette. Prepare ahead for less stress during the holidays.
Serves:
6-8 servings as a side dish
Ingredients
for the squash:
1 medium delicata squash
1 tablespoon olive oil
1 clove garlic
8 oz Lunds and Byerly's Wild Rice Medley (or 8 oz wild rice)
for the cranberries:
2 cups fresh cranberries
2 tablespoons orange juice
1-2 tablespoon honey, depending on how sweet you want them
1 tablespoon fresh rosemary, chopped
1 tablespoon olive oil
1 large shallot, finely diced
2 stalks of celery, finely diced
for the dressing:
¼ cup olive oil
1½ tablespoons maple syrup
1½ tablespoons apple cider vinegar
½ tsp salt
½ cup chopped pecans, for topping
Instructions
Preheat oven to 400 degrees F.
Slice delicata squash down the middle, the long way.
Scoop out the seeds, then slice into thin half circles.
Toss with olive oil and garlic, and season with salt.
Place on greased baking sheet and bake in preheated oven for 25-30 minutes, flipping halfway through.
While the squash is cooking, cook the wild rice medley according to the instructions on the package.
While rice and squash are cooking, you can start on the cranberries, and dressing.
To make the cranberries, combine the cranberries in a medium skillet with orange juice, honey, and fresh rosemary.
Season with dash of salt.
Cook over medium-high heat, stirring frequently, just until cranberries start to soften, about 5-7 minutes.
Remove from heat and place into a large bowl where you will combine all ingredients.
In same skillet, heat olive oil over medium-high heat.
Add shallots and celery and cook until they are softened, about 5-7 minutes.
Add to large bowl with cranberries.
Make the dressing by combining all dressing ingredients and stirring well until combined. Alternately, you can place dressing ingredients into a mason jar, seal tightly, and shake until well combined.
Add wild rice and squash to bowl with cranberries, celery mixture, and toss well to combine.
Drizzle with dressing, and toss gently to evenly distribute dressing.
Top with chopped pecans.
Notes
While there are a few steps in this dish, you can certainly cut down on day-of prep by making the wild rice, squash, cranberries, and dressing ahead of time. On the day of, you can combine all ingredients and it is ready to serve!
#mc_embed_signup{background:#fff; border: 3px double black; clear:left; font:14px Georgia,serif;  width:635px;}
/* Add your own MailChimp form style overrides in your site stylesheet or in this style block.
  We recommend moving this block and the preceding CSS link to the HEAD of your HTML file. */