This recipe could be done in parts where you cook the peas on a weekend or a week night and finish the dish on another night.
By Chitra Agrawal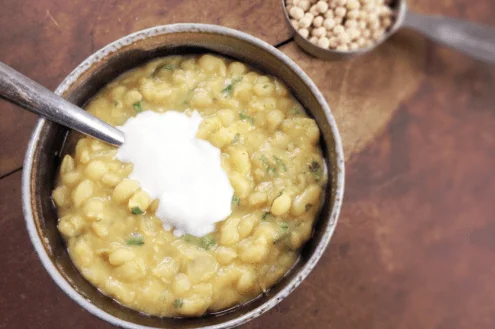 Whole Yellow Peas Curry
This recipe could be done in parts where you cook the peas on a weekend or a week night and finish the dish on another night.
Ingredients
1 cup dried whole yellow peas, soaked overnight
4 cups (pressure cooker); 7 cups (without pressure cooker)
2 tablespoons ghee or oil
1 teaspoon cumin seed
pinch of hing or asafetida
1 small onion, chopped
1 clove garlic, minced
1 inch ginger, grated
1 green chili or jalapeño, minced
⅓ teaspoon turmeric powder
1 teaspoon garam masala
juice of ½ lemon
cilantro, chopped
salt
yogurt
Instructions
Wash dried whole yellow peas in water and cover them with 2 inches of water to soak overnight.
Drain the dried whole yellow peas and put them into a pot with 7 cups of water if you are cooking cooking in a pot and 4 cups of water if you are cooking in a pressure cooker. Turn the heat to medium high heat. You will get some foaming on the top so skim that off with a spoon. When the foaming stops, mix in salt and the turmeric powder. When the peas are boiling, start to simmer them at lower heat until they are soft, about 60-90 minutes. If you are using a pressure cooker, you will cook them for about 10 minutes. If they are not completely soft at this point, boil them for a bit more but they will be close at this point.
In a separate pan, heat the oil under medium heat. Add in the cumin seed and asafetida. When the cumin seeds starts to brown and get fragrant, throw in your chopped onions. Let the onions cook until they are translucent. Add in your garlic, ginger and green chili and give a good stir. Cook for a few seconds and then add in the garam masala. Stir the pot well so you get the smell of the fried spices.
Add to the pot of fried onions and spices, the cooked dal. Mix well and add more water to get to your desired consistency and salt to taste. Cook together for 5 minutes at low-medium heat.
Turn off the stove. Add lemon juice and chopped cilantro and stir.
Serve in bowls with a dollop of yogurt with rice or roti on the side.
Chitra Agrawal
Chitra writes the food blog, The ABCD's of Cooking, which chronicles her adventures cooking American Born Confused Desi recipes. When she is not recipe blogging, Chitra can be found hosting her online cooking show and a supper club featuring Indian-inspired, vegetarian cuisine. She also teaches cooking classes and sells Indian street foods (sometimes yummy Indian tacos!) at events and artisanal markets in Brooklyn. Her cooking has appeared in the New York Times Dining Journal and she is a contributor to The Huffington Post, Gojee, The Daily Meal and Brooklyn Based.