Whole Wheat Waffles with Vanilla Yogurt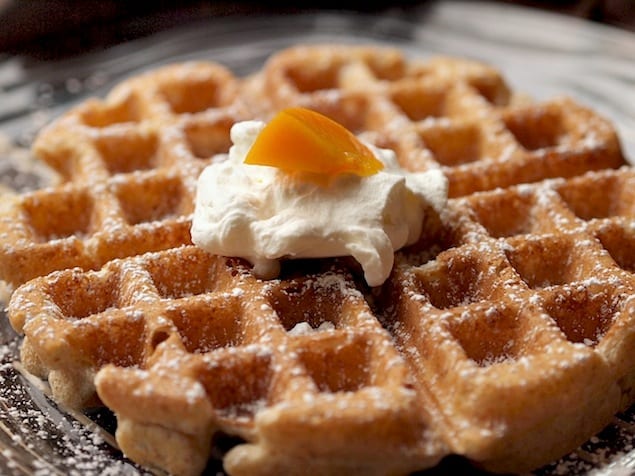 These fluffy, sweet smelling yogurt waffles are a one bowl wonder. So good and no need for a mixer, just a bowl and a whisk and you're ready to roll.
By Maya Moscovich
Who doesn't like homemade waffles? everyone does! whether you serve it with sour cream, fruits, cream, chocolate syrup, scrambled eggs or plain, they are just so good!
Yogurt generally reacts super good with baking powder so combining these two in the recipe added fluffiness and softness to the waffles.
And you want to know something else that's awesome? no mixer required here and the batter can be mixed used one bowl and one whisker/fork so this is really a no brainer.
Oh don't thank me – just turn your waffle maker on and get to work.

Whole Wheat Waffles with Vanilla Yogurt
These fluffy, sweet smelling yogurt waffles are a one bowl wonder. So good and no need for a mixer, just a bowl and a whisker and you're ready to roll.
Ingredients
1 ½ Cups Whole Wheat Flour
1 Tbsp Sugar
2 tsp Baking Powder
Pinch of Salt
2 Eggs
½ Cup Plain Yogurt
½ Cup Sour Cream
¾ Cup Milk
80gr Melted Butter
2 tsp Vanilla Extract
Instructions
In a bowl mix the flour, sugar, baking powder and salt together until combined,
Add in the rest of the ingredients and mix well until everything is fully combined and incorporated into smooth batter.
Preheat your waffle maker and once it's ready to use, pour in ? cup batter (or the amount recommended to be used in your waffle maker – depending on its size and instruction book) and close it.
Let the waffle bake for about 3-4 minutes and once it's ready, remove to an oven rack to avoid sogginess.
Maya Moscovich
Being born and raised in Israel, Mayas nutrition always consisted of food that's spiced well, light on the stomach and includes a lot of vegetables, fruits and olive oil. Now residing in Halifax, Nova Scotia, she is on a quest to reconnect with the food traditions of her home country.